This Bizarre Halloween Ice Cream Flavor Is Inspired By Hannibal Lecter
Step aside, candy corn. There's a new polarizing Halloween treat in town, and it's definitely scream-worthy. If you live in Minneapolis or just so happen to be visiting the Twin Cities during Halloweekend this year, be sure to stop by Bebe Zito Ice Cream for an unforgettable, Instagrammable experience — to say the least. Bebe Zito, a parlor well-known by residents for its eccentric and daring scoops, has created a flavor that pays homage to one of the greatest thrillers of all time, "The Silence of the Lambs." You know, the one where Anthony Hopkins plays Dr. Hannibal Lecter, a psychiatrist who is imprisoned for life for being a cannibalistic serial killer. A true cinematic classic, indeed.
The flavor, fittingly called Hannibal's Dinner, is raising eyebrows, creating goosebumps, and perhaps inducing a few customers' gag reflexes. As Ben Spangler, a renowned pastry chef, the shop's co-owner, and a competitor on Food Network's "King of Cones," put it, the festive variety "looks like a slasher film." So, what exactly is in this blood-curdling concoction? If you have a weak stomach, you've been warned.
What does Hannibal's Dinner ice cream taste like?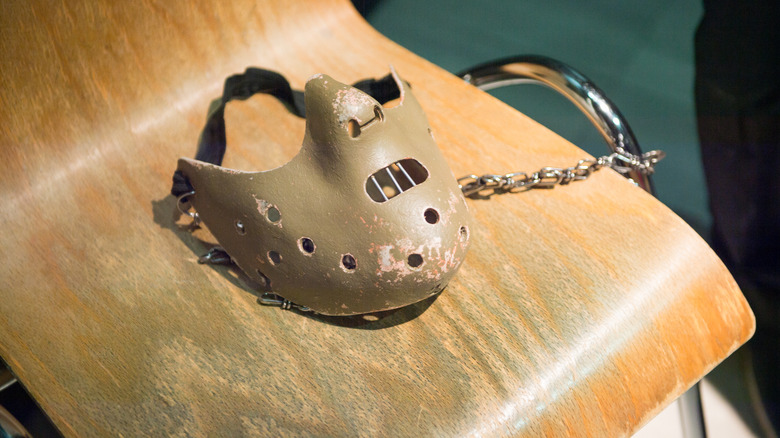 Anton_Ivanov/Shutterstock
For those who have seen the 1991 blockbuster horror film, this — ahem — unique flavor contains ingredients that are not only unorthodox in the world of ice cream, but they're also unexpected in just about any dish, dessert or otherwise. According to the shop's website, Hannibal's Dinner contains a sweet cream base with cookie dough-like foie gras, brain, and fava bean cake mix — all topped with a drizzle of caramelized Chianti wine gastrique. Hold up. Brain?! Yep, you read that right. If you're daring enough to try this flavor, you'll get a taste of salty, braised veal brain in each and every bite. The shop says the limited-edition flavor was created to fall within the Halloween theme, "food that's strange in the U.S. but isn't strange elsewhere."
"We were so stumped, and we were watching 'The Silence of the Lambs,'" Spangler told Mental Floss. "When Hannibal said the line, 'A census taker once tried to test me. I ate his liver with some fava beans and a nice Chianti,' immediately my brain went, 'Oh, I know how to make a sweet-savory fudgy mousse.'" Well, mission accomplished!
If you're in the mood for a more appetizing ice cream cone, Bebe Zito offers other flavors like Animal Frossting (frosted animal cookies and sprinkles), Breakfast Club (Fruity Pebbles and Lucky Charms), and Dad's Coffee (Vietnamese coffee and bourbon with chocolate chips).