Was Duff McKagan Really The Inspiration For The Simpsons' Duff Beer?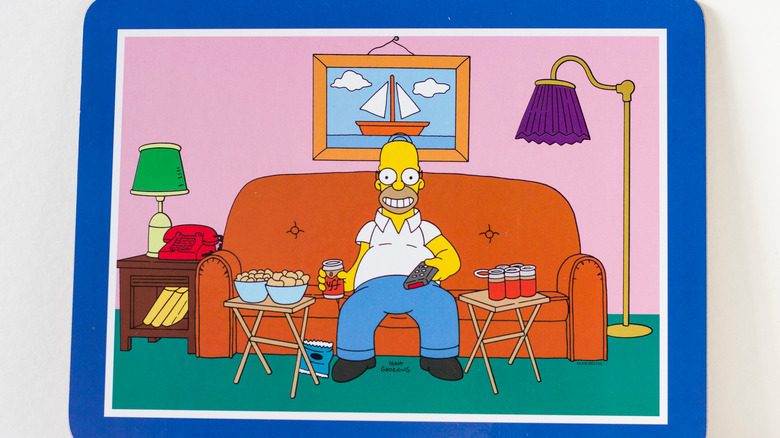 Haelen Haagen/Shutterstock
We may receive a commission on purchases made from links.
For more than 32 years, the animated sitcom "The Simpsons" has taken American popular culture by storm. The stories of the Simpson family have ranged from misadventures with monorails, casinos, former U.S. presidents, crazy murderous sideshow characters, vengeful overlord bosses, and other assorted oddballs. While the legacy of "The Simpsons" has impacted everything from catchphrases to fashion, perhaps one of the most well-known aspects of "The Simpsons" is the food.
From "steamed hams" (or fast-food burgers passed off in a bumbling web of lies to try and save dinner), rat milk, and three-eyed fish, the world of Springfield is filled with food that can be deliciously outlandish and sometimes just downright disgusting. The popularity of this fictional cuisine has inspired daring chefs such as Cartoon Cuisine and Binging with Babish to boldly take on these culinary challenges, all with rather varied results. 
But no proper discussion of food can be done without mentioning the famous glutton himself: Homer Simpson. Always thinking with his stomach, Homer's forays into cooking have resulted in everything from flaming cocktails made of expired cough syrup to a pie crust full of cloves and Tom Collins mix, but what most people think of when they see everyone's favorite nuclear plant operator is a pink-frosted doughnut and an ice-cold Duff Beer in his hand. Since Homer and Duff are so closely associated both in the show and in real life, just what is the story behind this fictional, yet mythical, beer anyway? Was it inspired by a famous rock star?
Duff Beer is not named after the Guns N' Roses bassist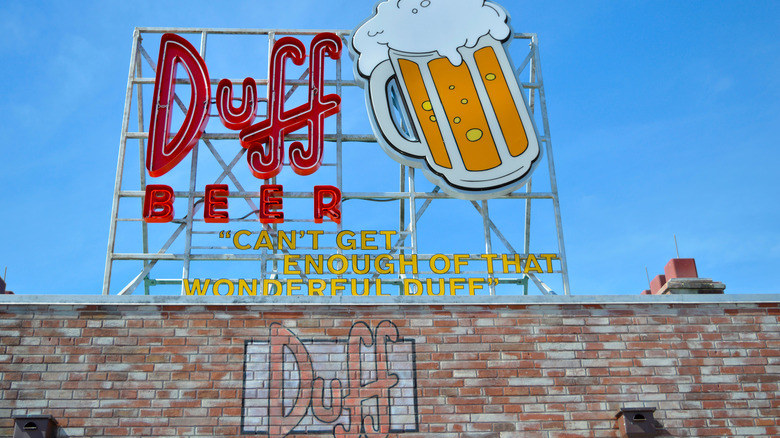 Peter Etchells/Shutterstock
Mike Reiss has worked on "The Simpsons" since episode one way back in 1989, so he's seen some of the series' most beloved episodes to some of the more controversial ones. In his 2018 book, "Springfield Confidential: Jokes, Secrets, and Outright Lies from a Lifetime Writing for The Simpsons" (via Amazon), Reiss delves into the backstage world of "The Simpsons," discussing everything from writing room antics, stylistic choices, and even celebrity gossip. One of the secrets he spills is the inspiration behind Homer's favored choice of beer, and dispelling the mythos, as Cinema Blend reports, that Duff is named after Guns N' Roses bassist Duff McKagan.
"We needed a name for Homer's favorite beer, and Jay Kogen came up with Duff." It was really just that simple, says Reiss, adding, "No, it was not named after Duff McKagan, bassist for Guns N' Roses; we'd never heard of this guy." According to McKagan's biography, "It's So Easy: And Other Lies," the bassist claims that the show's production team called him up and, assuming that "The Simpsons" was a "low-rent art project," McKagan gave them permission to use his name (via Loudwire). Reiss dismisses the idea, calling it "a cute fake story" that McKagan made up for his memoir.
While the association of the iconic beer and the famous rock bassist may just be a total coincidence, one thing is for certain: You can't get enough of that wonderful Duff.