Almost 23% Of People Said This Steakhouse Has The Worst Steak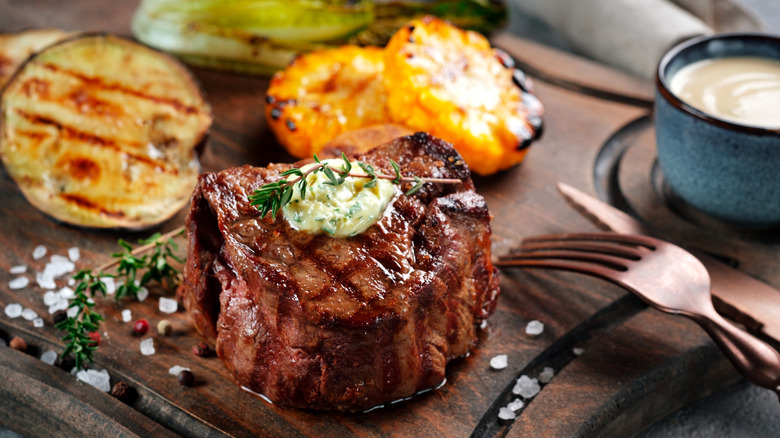 Andrei Iakhniuk/Shutterstock
If you're splurging on steak, you obviously want a deliciously juicy, buttery cut of meat. After all, no one wants to feel like they've paid a high price for a meal that wasn't up to standards. While there are many different steakhouses to choose from across the United States, they are far from equal quality. That's why Mashed asked readers which steakhouse they feel has the worst steak.
The poll included seven options, and a total of 590 people across the United States responded with their opinions. The following steakhouses were included in the survey: Texas Roadhouse, The Capital Grille, Fleming's, Outback Steakhouse, Morton's, LongHorn Steakhouse, and Ruth's Chris.
The favorite option among steakhouses in the poll was Ruth's Chris, which gained the fewest votes. Specifically, just 61 people (10.34% of the vote) said that they had the worst steak. Ruth's Chris has good name recognition and has used that to its advantage ever since Ruth Fertel started spreading the word about her steaks when she started franchising new locations in the 1970s, according to Fertel's online biography. It helps that the food and service are actually good, too. The city of Cleveland has a lot of steakhouses, but the reviewer at Cleveland.com decided there was room for one more after they found all of their party's steaks had been cooked to delicious perfection at Ruth's Chris. 
The next two places with the fewest votes were tied — both Morton's and Fleming's received 10.51% of the vote. Indeed, they were only separated from Ruth's Chris by one vote, with 62 votes each.
Our survey says Outback Steakhouse has the worst steak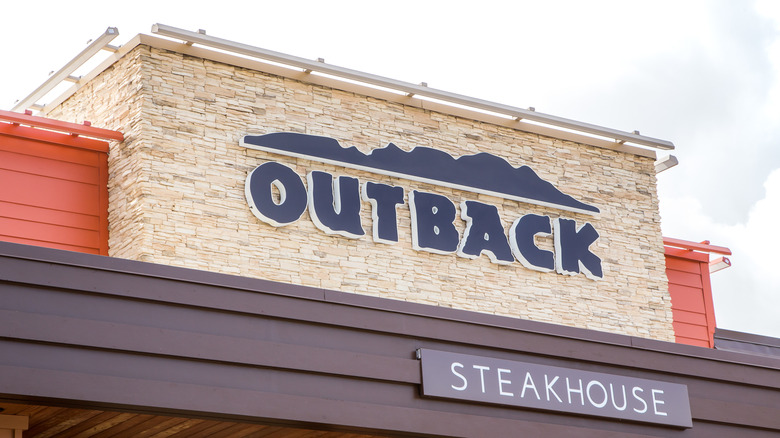 Ken Wolter/Shutterstock
While Ruth's Chris benefits from a widespread reputation for good food, some steakhouses in a "worst of" survey like this could gain an advantage from a lack of name recognition. After all, you're not going to vote for the place you've never heard of. Morton's The Steakhouse has locations in only 21 states and D.C., per the Morton's website. Fleming's Prime Steakhouse & Wine Bar is in 25 states, according to that chain's website. The Capital Grille's website also lists locations in 25 states, and only 12.03% voted for that chain in our poll.
When it comes to the remainder of our survey, it's possible we detect an anti-Texas and anti-Aussie bias. According to Mashed voters, the worst steaks in the U.S. are found at the Texas Roadhouse, LongHorn Steakhouse, and Outback Steakhouse chains. LongHorn Steakhouse, named after the official large mammal of Texas, per State Symbols USA, came in third place with 16.27% of the vote. Next up was Texas Roadhouse, with 17.63% of the vote. The chain with the most votes for worst steak was Outback Steakhouse, with 22.71% of the vote. 
Rather than suffering from any regional biases, the top three steakhouses in our survey (bottom three, really, in terms of public opinion) might have been victims of their own success. Outback, LongHorn, and Texas Roadhouse are the three biggest steakhouses in the U.S., according to Nation's Restaurant News. LongHorn is 39th on NRN's 2021 list of top restaurants, Outback is No. 32, and Texas Roadhouse is top dog among U.S. steakhouses as the 29th biggest restaurant chain overall.
One celebrity chef praised Outback's ribeye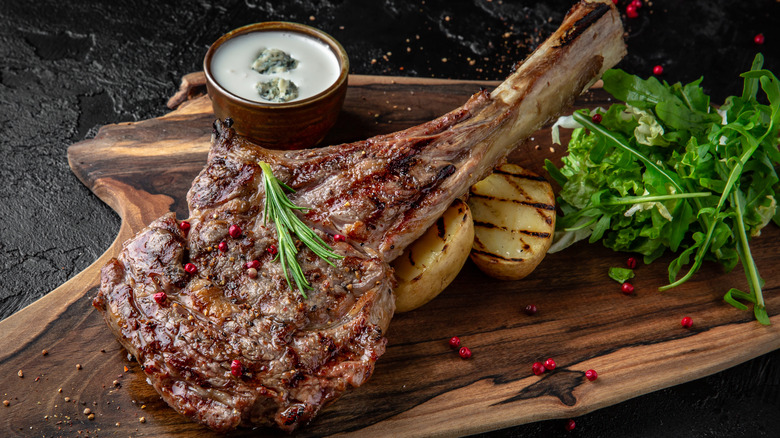 Catherine77/Shutterstock
What really separates the big, bad three? Business Insider compared them in 2019 and decided Texas Roadhouse was better than LongHorn and Outback steakhouses. While we asked our survey respondents to focus on restaurants' steaks specifically, Texas Roadhouse might have gotten some negative votes for its kitschy decor. But why are Outback's steaks the worst of the worst, according to the Mashed survey? Could it be that Outback is the only steakhouse where an appetizer overshadows the main attraction? After all, if we had asked respondents to name the eatery with the best Bloomin' Onion, then there would be only one right answer.
For the last word on Outback Steakhouse, we turn to a real chef who didn't find it beneath him to give (mostly) serious reviews of fast food and casual dining establishments: Carl Ruiz. The chef, known for his guest appearances on "Guy's Grocery Games," reviewed Outback on his YouTube channel, "OMG Carl's Food Show." In his Outback review video, Ruiz tries the best steak on the menu: the bone-in ribeye. He declared it perfectly cooked. The meat was tough and underseasoned, but aside from that it had great beef flavor, a fantastic char, and at $29 was better than some $50 ribeyes he'd eaten elsewhere. In the end, Ruiz gave Outback Steakhouse his typical understated compliment. "Overall I think you can eat here," he said. "I really do."