The Creamy Pasta Andrew Zimmern Makes If He Loves You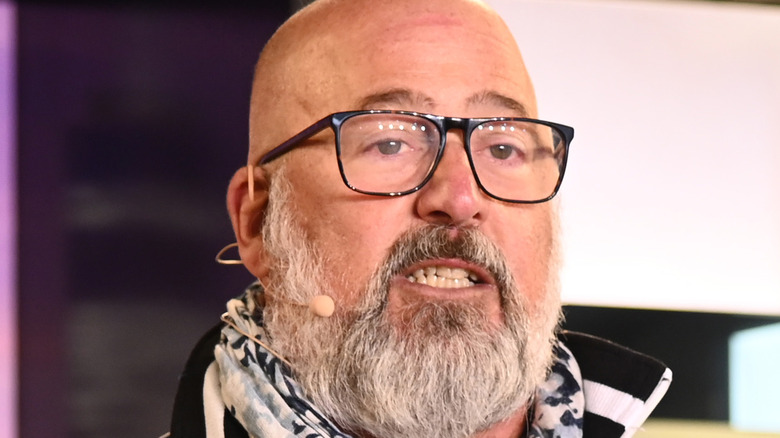 Dave Kotinsky/Getty Images
While the old saying suggests the way to man's heart is through his stomach, Andrew Zimmern shows his love with a simple, iconic creamy pasta recipe. As seen in a recent Instagram post, Zimmern showcases a tempting video that might have people drooling for a bite and yearning for the celebrated chef to love them, too. And as Zimmern said, the recipe for rigatoni carbonara is "simple, foolproof, and perfect for cooler weather." Looking at the various comments, home cooks agree. "In all my cooking arsenal, cabonara[sic] always draws the best compliments," @mrsgiovannini said, noting that it's also easy to make. The infatuation with the classic pasta dish filled the responses. From @cannadypatrick saying "carbonara is love" to @stacyluxury saying the dish is "the things dreams are made of," everyone is in agreement that this pasta needs to be added to the next special dinner night.
For those unfamiliar with pasta carbonara, Delish describes the basic recipe as a "pasta dish with Roman origins" that transforms five simple ingredients into the ultimate bowl of comfort food. Although recipes vary, the basic components are pasta, cured meat, eggs, cheese, and garlic. Sometimes a sixth ingredient — the love involved with the care in crafting this recipe — can make that dinner even more satisfying.
What is the secret to Andrew Zimmern's rigatoni carbonara?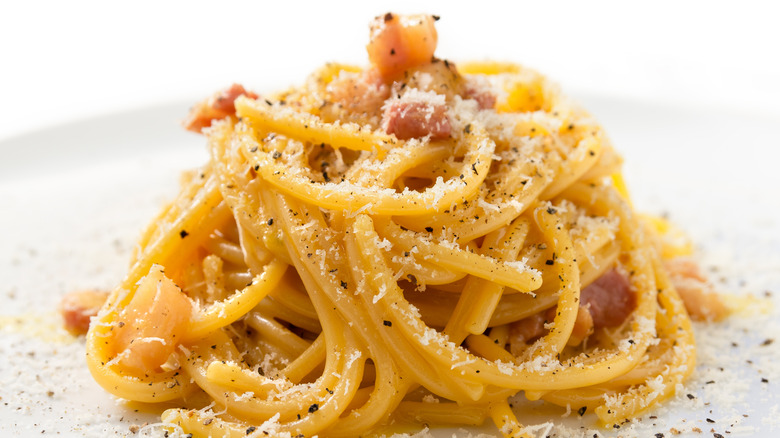 Alessio Orru/Shutterstock
While Andrew Zimmern's recent Twitter post showcased the most luscious, creamy pasta and had everyone drooling, the reality is that his recipe for rigatoni carbonara is quite easy. Whether or not it will have dining companions feeling that love is unclear, but the pasta dish's long legacy shows that it is tried and true. In the forward to the recipe via AndrewZimmern.com, the chef describes the dish as "one of the most soul-satisfying meals I can think of," and a few key ingredients make each bite even more memorable. 
Since there are only a handful of ingredients, it is important to choose the cheese, eggs, and cured meat carefully. While Zimmern recommends guanciale — which is made from pork cheek, per Due' Cucina — pancetta can be just as tasty. Also, a quality cheese can boost the flavor just like the golden egg yolk, which is the base of the luscious sauce. While the recipe recommends a Pecorino Romano cheese, a Grana Padano can elevate the flavor even more. Whether this recipe is a love letter to the person enjoying the meal or a satisfying bite on a chilly evening, mastering a carbonara recipe can make anyone feel like a celebrated chef.