Easy Pineapple Souffle Recipe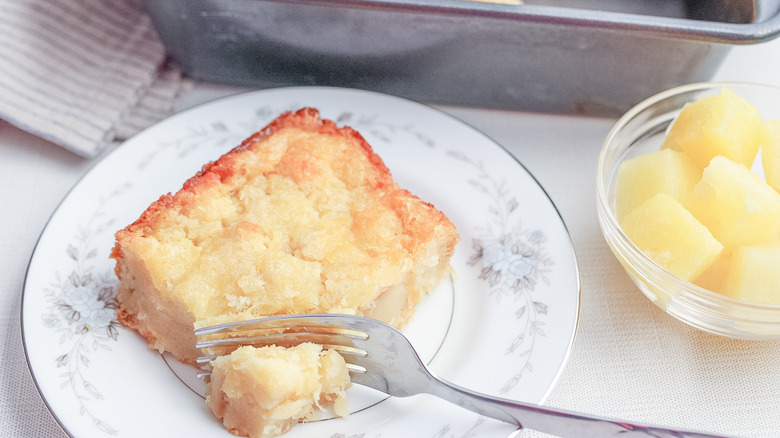 Jessica Morone/Mashed
If there's one word that strikes fear into the heart of the beginner or even intermediate-level cook, that word might be "soufflé." This is a notoriously difficult dish, primarily due to its propensity to collapse when you take it out of the oven. Well, such is the case with a classic soufflé, which, as Master Class reported, is based on beaten egg whites that grow in size while cooked, thus providing the soufflé with its distinctive puffy texture.
This pineapple soufflé, however, is made with whole eggs, so while it's not as light and airy as a traditional soufflé, it is also much, much simpler to make. Recipe developer Jessica Morone of Jess Loves Baking says, "This dish is so easy," adding, "You could easily serve this as an everyday thing if you really wanted to, but it would also work as a special occasion dish." As to what inspired this particular recipe, she notes, "I love pineapple, so I wanted to make an easy casserole-type dish with it." She describes the dish as being "kind of like a bread pudding, but with a pineapple flavor ... sweet, and savory, and delicious."
Gather the ingredients for easy pineapple soufflé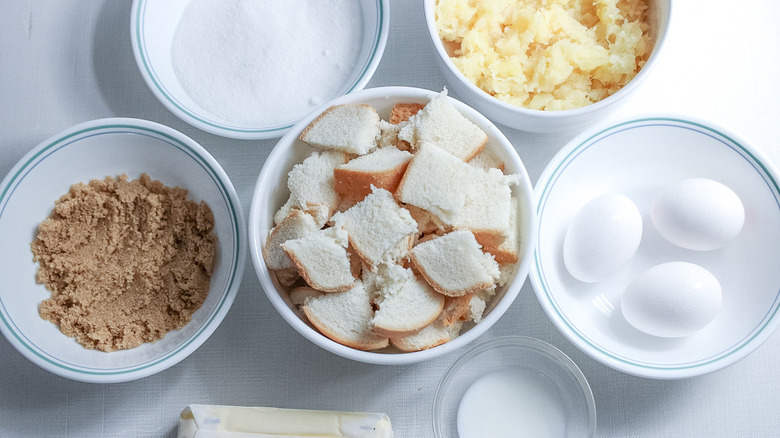 Jessica Morone/Mashed
This soufflé is made with canned, crushed pineapple, so it is something you can enjoy year-round. In addition to the pineapple, you will also need eggs, sugar (both the white an brown kinds), a tiny splash of milk, a stick of butter, and bread.
As regards this last-named ingredient, Morone says, " I just used plain sliced white bread," explaining, "White bread is great for this, because it doesn't really have its own flavor so it just sucks up the other flavors in the soufflé." She does mention, however, that "I imagine any kind of bread would work, but it will change the taste [and] texture depending on what kind of bread you use."
Prep your bread cubes, canned pineapple, eggs, and butter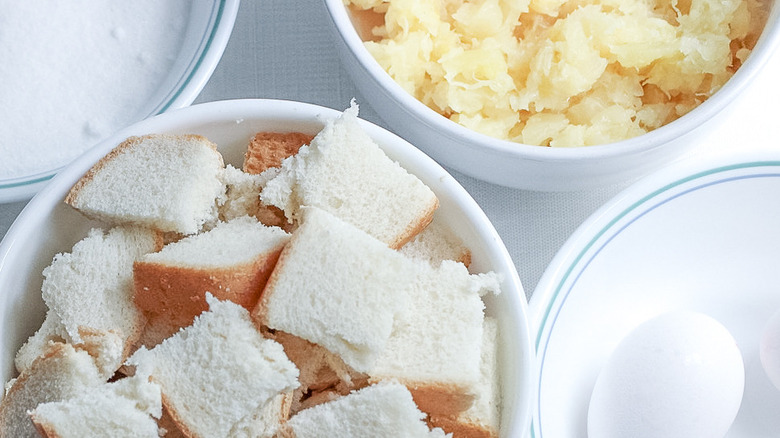 Jessica Morone/Mashed
Before you begin this recipe, take a second to preheat the oven to 350 F. That way, it should be hot enough by the time your soufflé is ready to bake. While you're at it, grease an 8x8-inch baking pan, too.
Probably the most time-consuming part of the prep work involves the bread, since each slice needs to be cut up into small cubes, perhaps about 1-inch square. No need to be concerned with precision here, though, since the bread will get squishy when it's mixed with the rest of the ingredients. Next, drain the canned pineapple, saving the juice for other purposes, and lightly beat the eggs. Finally, melt the butter, and your prep work is done.
Mix together the batter, and bake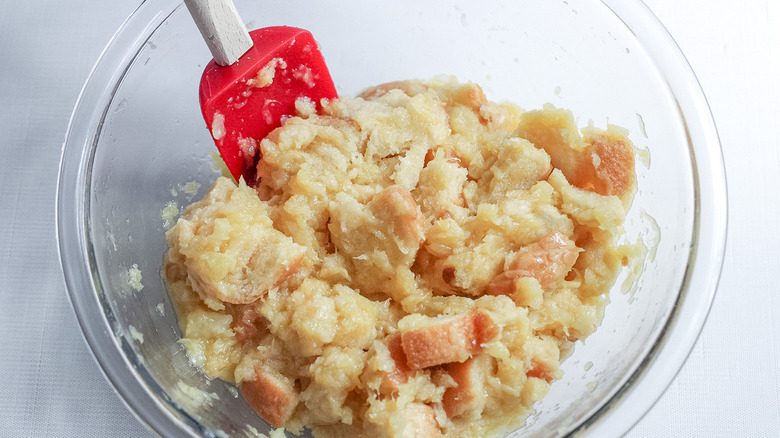 Jessica Morone/Mashed
Mix together the drained pineapple and the beaten eggs in a large bowl, then add in both kinds of sugar along with the milk. Now, stir the bread cubes into the pineapple mix, and stir until all of the cubes are coated. Pour this mixture into the prepared pan, and top the whole thing off with the melted butter. Bake the pineapple soufflé for 45 to 50 minutes until it is golden brown, then let it cool for 10 minutes before you slice into it. See how easy this dessert comes together?
This delicious dessert is so versatile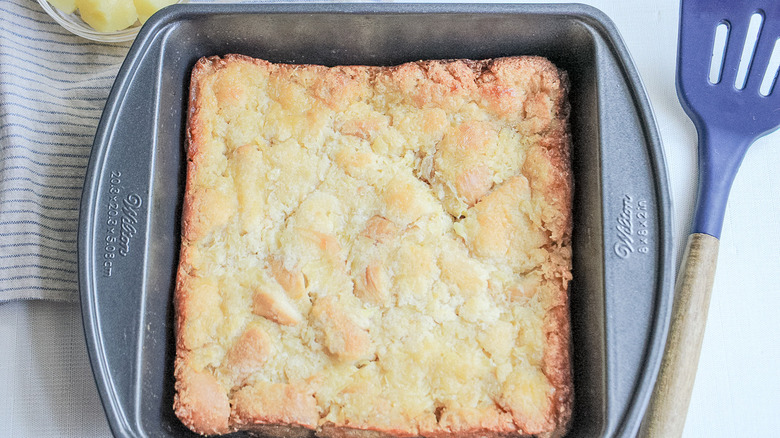 Jessica Morone/Mashed
The best part of this pineapple soufflé, besides how easy it is to cook and how yummy it tastes, is the fact that it's surprisingly versatile. As Morone puts it, "This could work for a variety of meals. It could definitely be a breakfast casserole, but it could also be a side dish to a dinner or even a dessert."
If you are serving this soufflé as a side dish, Morone suggests it would go well with pork or ham, and it might taste very nice with chicken as well. Basically, any type of food that plays nicely with pineapple will work with this dish. If you'd like to serve it as a dessert, Morone says, "I think powdered sugar on top would be great, or ice cream or whipped cream."
Easy Pineapple Souffle Recipe
This pineapple soufflé is beyond seamless to whip up for a special occasion or just because you're craving something sweet and delicious.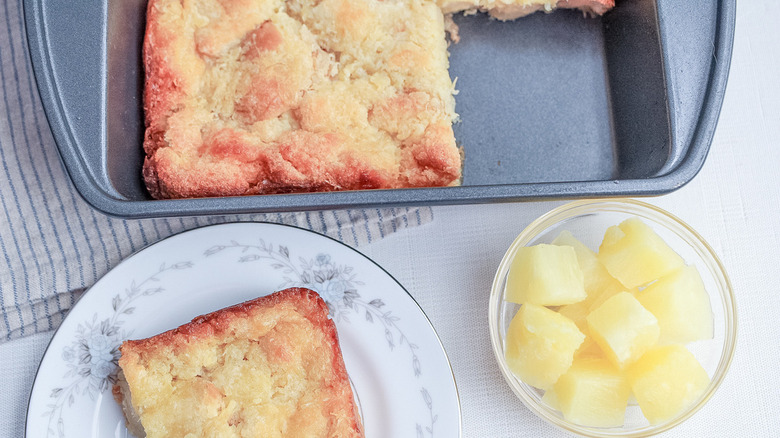 Ingredients
1 (20-ounce) can crushed pineapple, drained
3 large eggs, beaten
¾ cup granulated sugar
¼ cup brown sugar
1 tablespoon milk
6 slices white bread, cubed
½ cup unsalted butter, melted
Directions
Preheat the oven to 350 F.
Lightly grease an 8x8-inch pan.
Combine the crushed pineapple, eggs, granulated sugar, brown sugar, and milk in a large bowl.
Add the cubed bread to the bowl, and stir until just combined.
Pour the pineapple mixture into the prepared pan.
Pour the melted butter over the pineapple mixture.
Bake the soufflé for 45 to 50 minutes, until the top is golden brown.
Cool the soufflé for 10 minutes before serving.
Nutrition
| | |
| --- | --- |
| Calories per Serving | 333 |
| Total Fat | 14.1 g |
| Saturated Fat | 8.1 g |
| Trans Fat | 0.5 g |
| Cholesterol | 100.4 mg |
| | |
| --- | --- |
| Total Carbohydrates | 48.3 g |
| Dietary Fiber | 1.4 g |
| Total Sugars | 36.5 g |
| Sodium | 141.6 mg |
| Protein | 5.1 g |