Instagram Is Freaking Out As Rachael Ray Moves Show To Upstate NY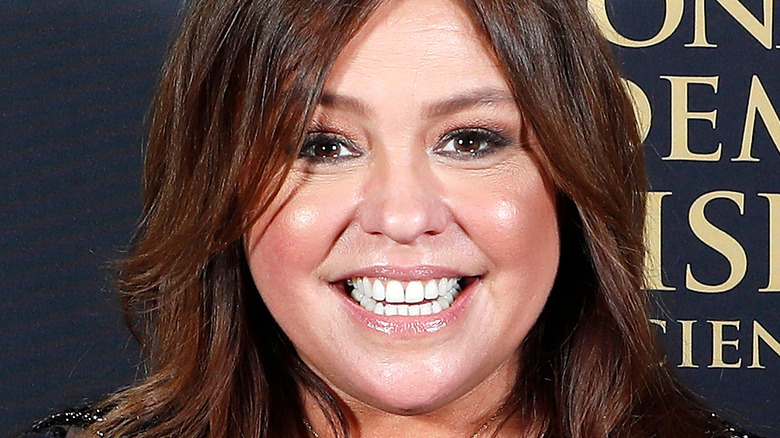 Joe Seer/Shutterstock
2020 was tough on Rachael Ray. Not only was she dealing with the pandemic like the rest of the world and figuring out how to film her hit television show, "The Rachael Ray Show," outside of a traditional studio, but her makeshift studio, her house in Lake Luzerne, New York burned down after a chimney fire in August (via ET). Ray moved the filming to her guesthouse while the main house was being rebuilt, but, as of Season 16, it's not only back to the studio for Ray, but she'll also be moving back into her main house. The show will be filming from a hybrid model with some episodes hosted from her new home and others hosted from her studio, which has been remodeled to resemble her upstate abode.
Ray told ET that the set remodel looks more like what her "real life is like," stating that things have slowed down since the start of the pandemic. "When we were in the old studio, I would wear high heels and fancy clothes. This feels much more relaxed. It's much more like my real life. I'm wearing sneakers and jeans now all the time, it's much more like my actual home," Ray said
Rachael Ray heads home
Rachael Ray is not only excited about her remodeled set; she's also excited about filming in her actual upstate New York home, posting on Instagram, "Back to the Adirondack Mountains we go!" The comments are as sweet as they are wholesome with fans weighing in on how much they adore the episodes Ray tapes from her home. "I absolutely love watching the shows filmed in your upstate home. They're so cozy!" wrote one user. "Upstate can't wait for John [Ray's husband] and your return!" commented another and a third user chimed in with, "I prefer your home shows soooooooo much better!"
Ray also shared an Instagram pic of her garage-turned-office, complete with wood paneling, vaulted ceilings, large windows, and a desk with tiny vases of flowers, where she wrote her new book "This Must Be The Place." Instagram users were equally enamored. One commented, "Your homes are so beautiful and magical" while another wrote "Such a comfy, cozy spot!" It seems as when it comes to Ray's home, and also her new New York City studio set, things are indeed beautiful, magical, comfy, and cozy. "We're trying to marry those two worlds," Ray told The Hollywood Reporter.