The Surprising Origin Story Of The Moscow Mule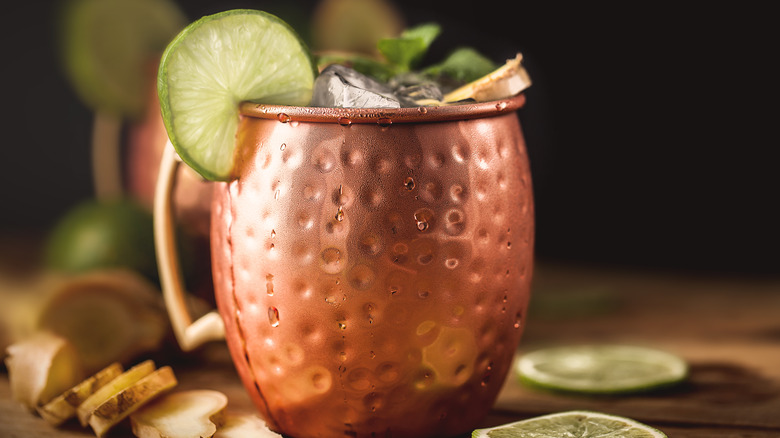 tmallucelli/Shutterstock
Bright, bubbly, and refreshing, nothing beats sipping on a Moscow Mule at the end of a long, hard day. A blend of three simple ingredients – ginger beer, vodka, and lime juice — this simple but delicious drink is fan-favorite of cocktail connoisseurs and first-time drinkers alike. From its refreshing ginger kick to its elegant copper cup, what's not to love? Moscow Mules have become so popular, that there are even well-known spinoffs of this classic cocktail, from the Kentucky Mule and the Mezcal Mule to the Watermelon Mule and the Irish Mule (via A Couple Cooks). 
One company that certainly owes this alcoholic beverage big time? Smirnoff. Before the Moscow Mule catapulted to cocktail stardom, Smirnoff was merely a small, unknown company originally owned by a broke Russian expat, according to Food & Wine. However, once the Moscow Mule became popular, so did the cocktail's main ingredient. Nowadays, Smirnoff is a household name.
Just like with every cocktail, the Moscow Mule has an origin story. But how did this cocktail staple come to be? One things for sure, the story behind this beloved beverage certainly didn't start in Moscow, or even Russia for that matter. According to The Daily Meal, the Moscow Mule was invented in Los Angeles, California back in 1941. The masterminds behind this genius cocktail were John Martin, the president of a liquor company called Heublein, and a bartender named Wes Price.
The inventors of the Moscow Mule took two unwanted ingredients and created a cocktail sensation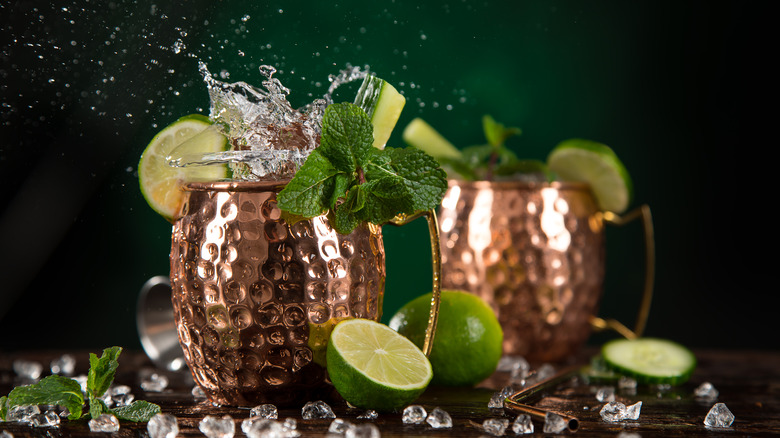 Lukas Gojda/Shutterstock
It all started when liquor head honcho John Martin strolled into a Hollywood bar called Cock 'n' Bull one night, only to find bartender Wes Price scheming for ways to get rid of a surplus of unwanted ginger beer. Coincidentally, Martin had just acquired the company Smirnoff, and was looking for innovative ways to use his new vodka stash (via The Daily Meal). The duo decided to blend their two unpopular beverages together, and voila! The famous Moscow Mule was born, and it immediately began selling like gangbusters.
You now may be wondering, how did the trademark copper cups come to be? The owner of Cock 'n' Bull, Jack Morgan, had a girlfriend named Osalene Schmitt who had recently inherited a copper goods business, marking a third person that benefitted from the invention of this delicious drink.
To help market its brand new cocktail, Cock 'n' Bull decided to carve the names of renowned Hollywood celebrities onto individual mugs, so that A-list clientele could drink out of a personal, customized copper cup upon entering the bar. People began to associate the signature mug with the elite, which helped it garner status and popularity (via Artisan Sanvil). An added benefit? Those copper mugs keep the Mules cool as ice, making the already revitalizing drink even more refreshing (via A Couple Cooks).