3-Ingredient Scotch Eggs Recipe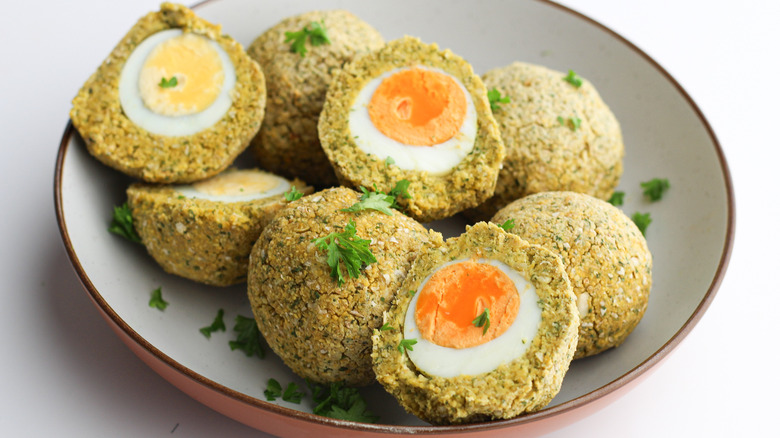 Susan Olayinka/Mashed
If you've ever had a Scotch egg, then you already know how utterly, compellingly crave-worthy this classic British pub food is (especially if you're enjoying one with a pint of ale or lager). The problem with the traditional version is not so much the egg itself, since eggs are generally regarded as being fairly heart-healthy as well as being a great source of protein. No, it's the fact that the eggs are typically coated in sausage, and processed meat is, well, not the healthiest thing you can put in your body. To make matters worse, the sausage is then traditionally coated in breadcrumbs and deep-fried. Sure, that's fine as an occasional treat, but isn't there a way to keep the delicious nature of the Scotch egg while scaling fat its status as a fat bomb?
Recipe developer Susan Olayinka may well hold the perfect solution. She tells us she created her version of falafel-coated, meat-free Scotch eggs "to give a healthier option!" She also explains that she wanted to find "a way to make the coating more flavorful without adding so many ingredients." The falafel not only adds bulk and texture, but it makes for a creative Middle Eastern spin on this snack. What's more, the innovative use of a mixture means that this Scotch egg recipe is delightfully simple and easy to prepare.
You only need 3 ingredients to make these Scotch eggs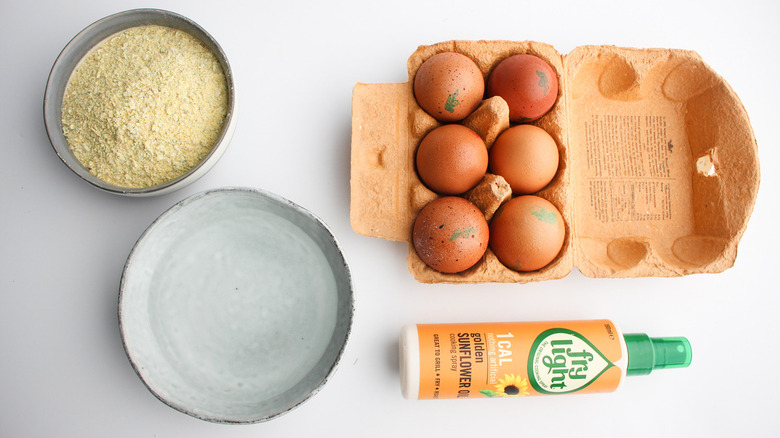 Susan Olayinka/Mashed
These Scotch eggs truly do require just a very few ingredients, unless you're counting the water that's used to boil the eggs (and, no, you really don't need to do that). First, you'll need half a dozen eggs and some prepared dry falafel mix. 
The third ingredient is something you'll need just a tiny amount of, as it's simply some cooking spray that you'll use to coat the eggs before they bake in the oven. The spray isn't even strictly necessary as the eggs can be cooked without it, but it could be a nice element that will enhance the final result. As Olayinka says, "It adds a touch of crispiness."
Begin by boiling the eggs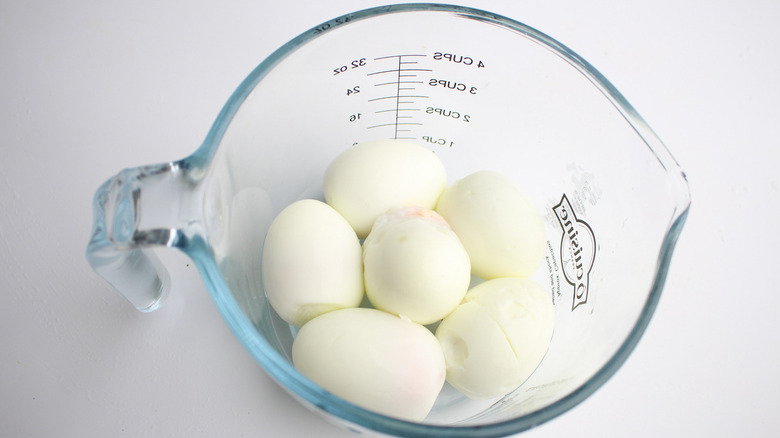 Susan Olayinka/Mashed
The first step towards making these Scotch eggs involves hard boiling the eggs. Start by arranging them in the bottom of a 2-quart saucepan. Then, fill the pan with cold water until the eggs are covered by about an inch of water. Heat the water until it boils, then turn the heat off and cover the pan. Let the pan sit for 15 minutes while the eggs cook gently in the residual heat. Once the 15 minutes is up, plunge the eggs into a bowl of cold water. Add a few ice cubes to the bowl so the water is good and chilled, which will help cool down the eggs quickly and also helps to avoid that funky green circle you can get around the yolks of overcooked eggs.
Once the eggs have cooled off, tap them gently against the countertop until the shell cracks. Then, roll them between your hands and peel the shells off. Consider keeping those shells, too, as they have a few useful purposes around the home and garden.
Coat the boiled eggs with falafel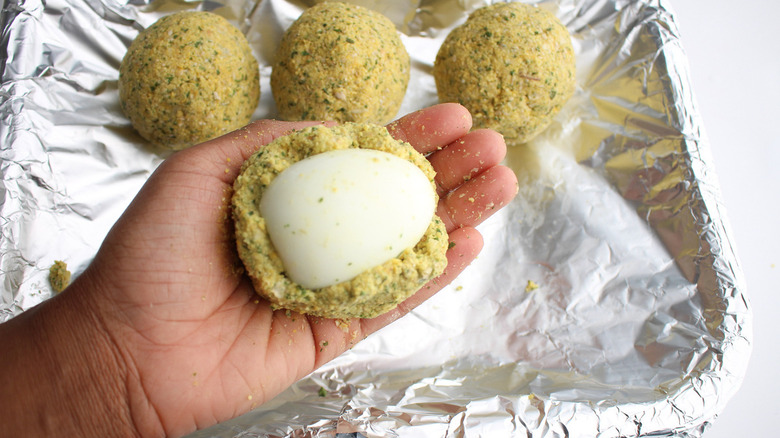 Susan Olayinka/Mashed
At this point, you can set the oven to 365 F to preheat. Then, cover a baking sheet with a layer of foil.
Next, combine the falafel mix with 1 ½ cups of boiling water, giving things a good (but careful, of course) stir to make sure that the water is evenly distributed. When the mix is cool enough to handle, scoop up a handful and mold it around the outside of each boiled egg to form a ball. 
Repeat this process until all of the eggs are coated in the falafel mixture, setting the coated eggs on the baking sheet as you finish them up.
Bake the Scotch eggs until the coating's nice and crunchy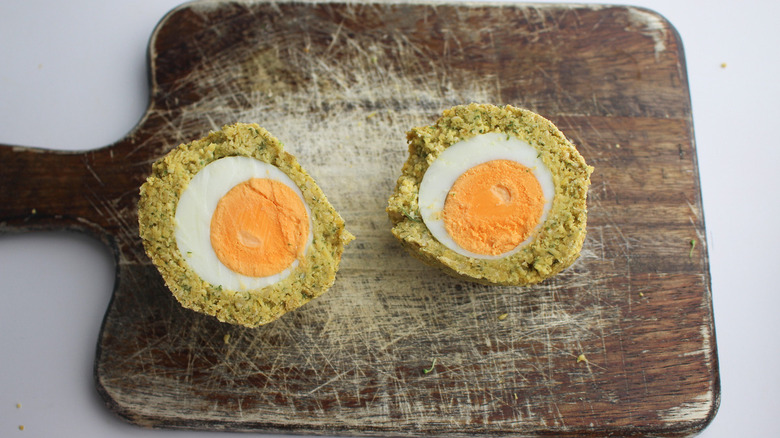 Susan Olayinka/Mashed
If you're using it, now is the time to lightly spray each egg with cooking spray before you put them in the oven. If you don't want to use a commercial cooking spray, you can put some oil into a spray bottle (olive oil would be a good choice here for flavor and health purposes). You could also use a pastry brush to brush the oil onto the eggs. 
Then, it's on to the exceedingly simple step of cooking. Bake the Scotch eggs for 20 minutes, then let them cool before serving. 
As for what to serve them with, Olayinka suggests that these Scotch eggs go especially well with a hummus or tahini dip due to their falafel coating. You could also go the more traditional Scotch egg route and serve them with mustard, ketchup, or mayonnaise. And if you want a bit more, she suggests serving these falafel Scotch eggs with "other healthier pub snacks [like] olives, mixed nuts, house-made pickles, [or] roasted chickpeas."
3-Ingredient Scotch Eggs Recipe
The innovative use of a pre-made falafel mixture in this meal means that this Scotch egg recipe is delightfully delicious and wonderfully easy to prepare.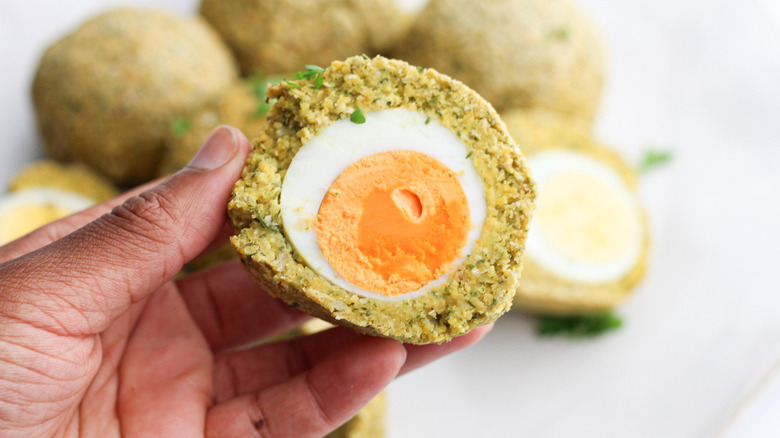 Ingredients
6 eggs
2 cups falafel mix
1 ½ cups boiling water
Optional Ingredients
Directions
Hard boil the eggs, then cool them in an ice bath before peeling.
Preheat the oven to 365 F.
Mix the falafel mix with 1 ½ cups boiling water.
Coat the eggs with the falafel mix, forming it into a ball around each egg.
Spray the eggs with a light coating of oil.
Bake the Scotch eggs for 20 minutes.
Nutrition
| | |
| --- | --- |
| Calories per Serving | 80 |
| Total Fat | 5.1 g |
| Saturated Fat | 1.5 g |
| Trans Fat | 0.0 g |
| Cholesterol | 160.0 mg |
| | |
| --- | --- |
| Total Carbohydrates | 2.1 g |
| Dietary Fiber | 0.0 g |
| Total Sugars | 0.2 g |
| Sodium | 80.1 mg |
| Protein | 6.2 g |