The Disturbing Reason The Entire Staff Of One Rally's Location Quit In Protest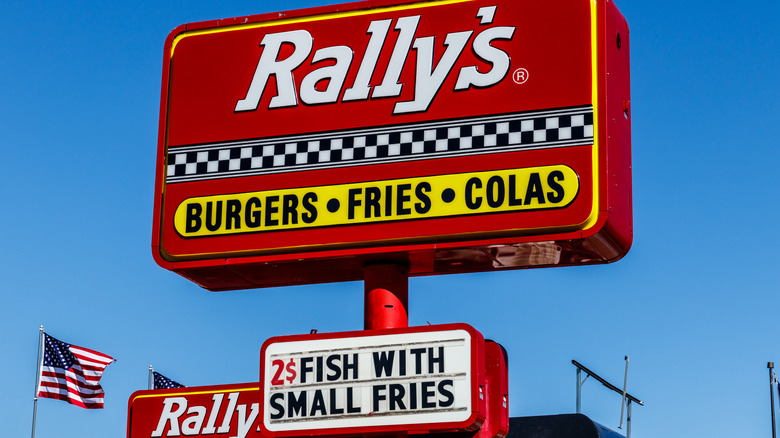 Jonathan Weiss/Shutterstock
A new kind of virus is spreading among fast food workers across America. Not a literal virus, as in a germ, but a contagious idea. As Vice reported in July, employees in low-wage jobs across the U.S. have started to believe they don't have to put up any longer with physically demanding, stressful working conditions. During the COVID-19 pandemic, everyone told fast-food employees they were essential workers. Emboldened by this and by the stronger social safety net the government put in place during the pandemic, workers have gained "a sense of empowerment," Patricia Campos Medina, executive director of the Worker's Institute at Cornell University, told Vice. Now, they believe they "don't have to tolerate that kind of abuse," she said.
Consider the big readerboard message outside a Burger King in Nebraska that went viral a few months ago (via BuzzFeed): "We all quit. Sorry for the inconvenience." Rather than endure unbearable temperatures in the kitchen during a heatwave, and managers who didn't care about their plight, most of the staff had walked off the job.
It just happened again, this time at a Rally's in Jeffersonville, Indiana, according to WHAS11. When customers pulled up to the drive-thru speaker to place their orders Saturday night, they were met with a handwritten sign from the manager that said, "Due to the constant roach and rat infestation, and low staff and health code violations, I and the entire night crew quit. This place doesn't pay and do not care about us employees and managers. I would NOT eat here!"
A health inspection at the Rally's location found no rats
WHAS11 News in Louisville, Kentucky followed up with information from the Clark County Health Department, which visited the Jeffersonville, Indiana Rally's two days after the entire staff walked off the job. The manager's claim that the restaurant was infested with rats may have been overstated. The health inspector found no evidence of pest infestation and no major violations of any kind — only some dirt and debris in a shed outside the restaurant.
The disgruntled manager wasn't simply fabricating the Rally's rodent problem, however. During a previous inspection, on September 1, health officials found evidence that mice were active in the building, in addition to a single live cockroach. Pest control treatments between September 1 and the most recent inspection appear to have cleared up those problems. A video report from WHAS11 posted on YouTube said the Rally's was back in business on Sunday, the day after the staff walkout.
To be accurate, that disturbing sign taped to the drive-thru speaker was alluding to a mouse problem, not a rat problem — and that issue had already been resolved. So this story isn't really about rodents and roaches. They're just the tip of an iceberg of employee discontent that's happening not just at an Indiana Rally's but all over the U.S.