Giada De Laurentiis' Garden Update Has Fans Applauding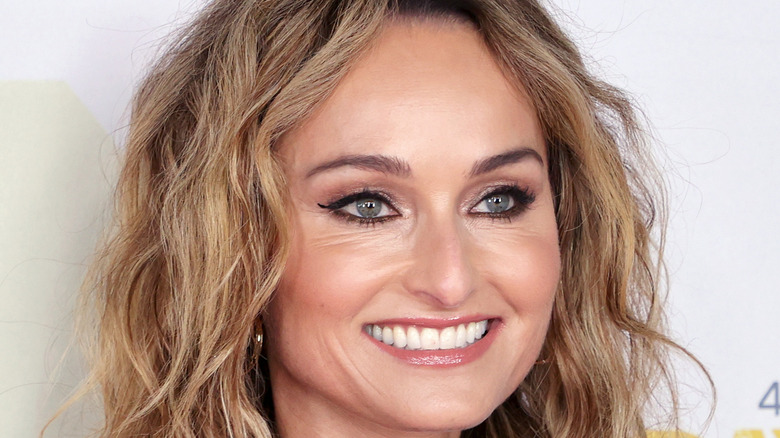 Kevin Winter/Getty Images
Having starred in no fewer than 10 Food Network shows and written a whopping nine New York Times bestselling cookbooks, Giada De Laurentiis is best known as a glamorous, super-successful food media celebrity (via Food Network). Turns out, though, she's also an expert gardener! As revealed in a recent Instagram post, the famous chef/author/restaurateur has some serious gardening chops.
In a video posted yesterday, De Laurentiis gave her nearly two million followers a quick tour of her backyard vegetable garden. "I wanna show you guys how lush my vegetable garden has gotten," she says. "This makes me so happy." Circling around a series of raised beds, De Laurentiis shows off a variety of herbs and vegetables, including tomatoes, fennel, basil, kale, peas, arugula, swiss chard, and squash blossom. She even let fans in on her dinner plans, deciding, mid-garden-tour, to use the squash blossom that evening in a risotto. De Laurentiis' followers have been loving the "garden update" — showering the post with more than 8,000 likes and flooding the comments section with emojis and heartfelt compliments.
Fans are wondering about De Laurentiis' squash blossom risotto recipe
Fans were genuinely impressed by the celebrity chef's gardening skills, and didn't hold back with their praise: the whole middle third of the post's comments section is blocked out with hearts, "applause" emojis, and jazz hands. Some of De Laurentiis' followers asked for gardening tips and a few had fun speculating about what dishes she might prepare with her vegetables and herbs. "The size of that basil [!]" read one comment. "I can almost taste it on a pizza." 
"There's just nothing as awesome as walking out to your garden and shop[ping] for dinner," remarked another. More than one fan put in a request for De Laurentiis' squash blossom risotto recipe, and another asked (politely) to be invited for dinner.
With winter right around the corner, the "garden update" may be De Laurentiis' last for a little while. In the meantime, however, De Laurentiis fans can get cooking tips over on Giadzy.com, the celebrity chef's lifestyle and e-commerce site. No promises, but there might even be a squash blossom risotto recipe somewhere on there.