Burger King's Franken Whopper Combines 3 Menu Items To Make 1 Monstrous Burger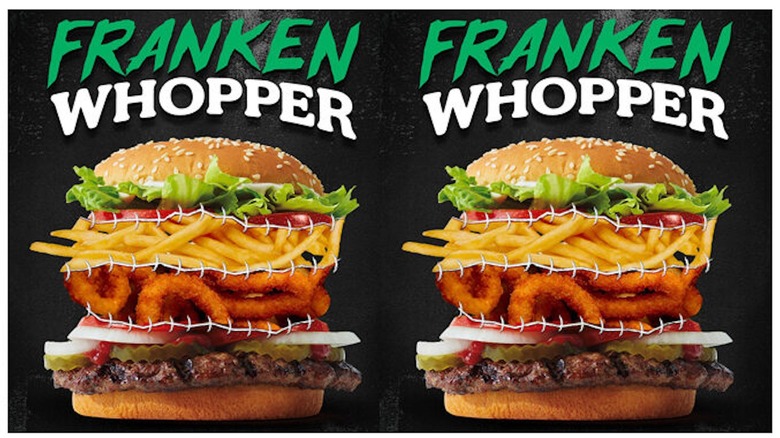 Burger King
If there's one thing Burger King loves to do during Halloween, it's make a statement. Back in 2018, the chain had scientists talking after its forest green Nightmare King burger allegedly haunted people's dreams, and in 2015, its infamous ghost burger's black bun had some people frantically calling their doctors to make sure they weren't dying. Who needs a haunted house when your dinner can give you the creeps?
Just in time for the spooktacular weekend ahead, Chew Boom reports that Burger King Canada has debuted the Franken Whopper, a sandwich that seems made for anyone who wants to feel like an actual monster when they eat. Drawing inspiration from Frankenstein's monster, who was made up of random human parts, the chain's latest offering consists of their signature burger, fully loaded and stuffed with onion rings and french fries. The brand describes it as a "delicious abomination" that came about after responding to increased demand for an "inconceivable" menu item (via YouTube). Because of course, no one of sane mind would even think of putting french fries and onion rings together. Especially not on a burger.
Currently, the Franken Whopper is available at participating Burger King locations in Canada, so sorry US folks, you'll have to enjoy this beastly burger through Instagram only. But if you're in The North and feeling you're brave enough to take on this terrifying tower of fried food and meat, it may be worth visiting your local BK this week. 
What makes the Franken Whopper scary?
If you were too spooked or grossed out to try BK's previous Halloween offerings, the Franken Whopper might be the burger for you. Unlike the chain's previous festive burgers, there's no unusual sauces, unfamiliar ingredients, or oddly-colored dyes to be found. In fact, it doesn't look that different from the regular gargantuan burgers BK sells all year.
The scariest part about it is likely the calorie content. According to an ad for the burger on YouTube, the Franken Whopper recipe consists of exactly 6 onion rings and 10 french fries, in addition to all of the other standard whopper fixings: a quarter-pound savory flame-grilled beef patty, onions, sliced tomatoes, ketchup, lettuce, mayo on a toasted sesame seed bun. On its own without any additional sides, it's 990 calories, so it's clearly not for the faint at heart (via Burger King). But since it's Halloween, why not treat yourself — or yourself and a friend — to some festive fun?
The Franken Whopper is currently available for purchase through the Burger King App only through October 31 at participating Burger King locations in Canada. Prices vary by location, but la carte burgers start at around $6.79 and can be ordered as a medium combo for about $10.19 CAD and a large combo for $11.09 CAD.