Jamie Oliver's Son Has Instagram Raving About His 'Fangtastic' Halloween Treats Video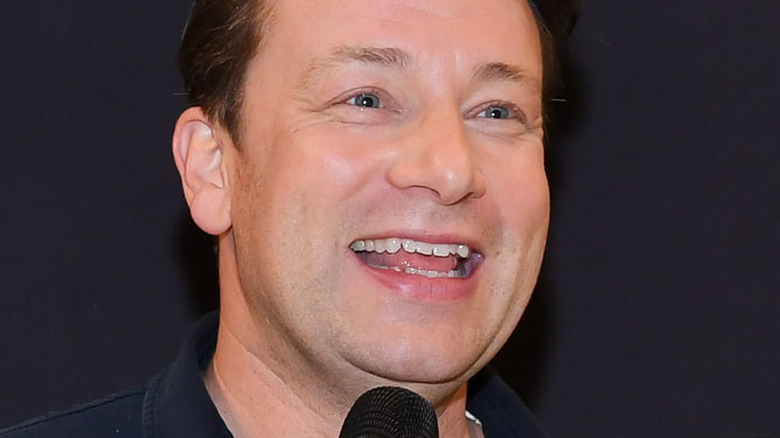 George Pimentel/Getty Images
Step aside, Jamie Oliver. A new generation of celebrity chef is ready to take over. Oliver's 11-year-old son Buddy proved he's inherited a particular talent from his dad that's harder than it looks: being charming while talking to a camera and preparing food at the same time. Wearing a fancy vampire vest and cape, young Buddy even affected a passable Transylvanian accent (probably better to call it Dracula-ese) at the opening of his very own two-minute Halloween-themed food show on Instagram. Since the video was posted to dad's Instagram account, with its 8.7 million followers, Buddy instantly had a huge audience. Eleven hours after it was posted, the video had been viewed about 280,000 times — not that far off from Food Network's viewership numbers (via Los Angeles Times).
"Buddy you're a star already!!" Instagrammer @elizabeth.york.73 commented. "You inspire kids to cook, have fun, and eat well." Young Buddy is a regular on Jamie Oliver's Instagram feed. In an August post, Buddy ran a test to see which fruits were good for barbecuing. In a post from early October, he shared his own recipe for nachos.
Buddy Oliver's Halloween treats were scary-healthy
For his Halloween Instagram video, posted October 30, Buddy Oliver had a big holiday spread on display: green goo popcorn, boo-nanas, bat crackers, mini pizzas topped with black olives arranged to look like spiders, and tangerine pumpkins. The main attraction was Buddy's apple monsters. He took his audience through all the steps required to make these little creatures, which were more cute than scary. After getting a certain adult chef to cut mouth-shaped wedges into the outside of apple quarters, Buddy filled the mouths with peanut butter, stuck in strawberry-slice tongues, and added some sunflower seed teeth and icing eyeballs for a sweet but healthy snack.
"Loving your apple monsters!" @rainbowhopescarf commented. "Hope they scared everyone with their good health." @clarabellinoz said, "Chip off the old block or what!"
Other commenters were sure Buddy will follow dad Jamie Oliver's footsteps. "Awww, he is so cute and already a natural in front of the camera," @annkielief said. "In the future, I'm sure he's going to be on TV with his own cooking shows."