Instagram Is Swooning Over Trisha Yearwood's Celebration With Garth Brooks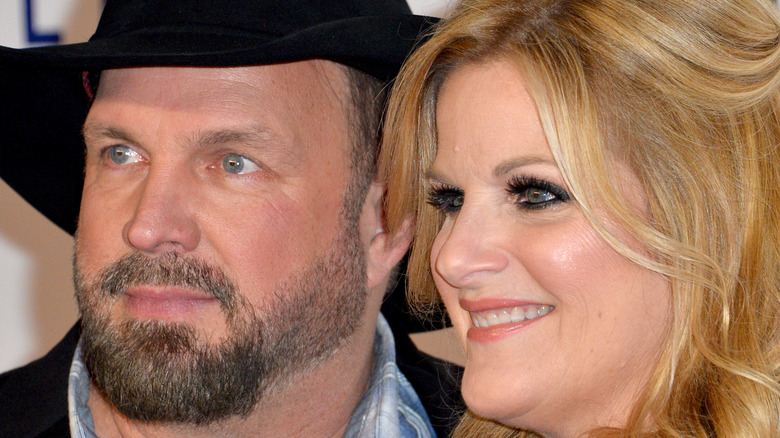 Featureflash Photo Agency/Shutterstock
Recently, Trisha Yearwood shared a picture of herself standing with her husband Garth Brooks on Instagram. Now, as they're married, pictures of the two country singers together isn't exactly rare. However, the occasion for this picture was that the Grand Ole Opry was celebrating its 5,000th broadcast, and as the Milwaukee Journal Sentinel reported, both Yearwood and Brooks performed. The show was streamed by fellow country singer Chris Janson to YouTube. You can watch Garth Brooks and Trisha Yearwood accompany each other at around the one-hour, 40-minute mark.
Instagram's swooning, however, was especially whetted by the caption Yearwood wrote for the post: "Happy to celebrate #opry5000 with the love of my life. xo." As of writing, the post has received 27,895 likes and near endless compliments for their performance. "Beautiful end to a fantastic show," one wrote. "Your duet made it perfect." Another agreed by writing, "​​Y'all are absolutely amazingly awesome." Between such sentiments, heart emojis proliferated.
What is the Grand Ole Opry?
Most readers of Mashed probably know Trisha Yearwood more for her cookbooks and Trisha's Southern Kitchen than her country music career. So the importance of the Grand Ole Opry may be lost on some.
Rolling Stone explained that the Grand Ole Opry is the longest-running live radio show. It first aired in 1925, surviving disasters from the Great Depression to the coronavirus pandemic. That said, in the latter case, the show went on without a live audience present. The focus of the program is country music and its Southern relatives like bluegrass and gospel, making it one of the biggest country music venues in the world.
"All of that history is rolling through your head," Yearwood said in an interview with Today about her first-ever performance in 1999. A bit later, she elaborated on the importance venue had for her. "For me, it was a legacy of my entire family," she added. Her mother traveled to the Opry in her teens to report back to her parents what various radio country stars looked like. All those stories instilled in a young Yearwood the determination to one day sing on that stage. Not only has she done that, she now stars in special celebrations of the institution.