Why McDonald's Spanish Omelet Bagel Was A Failure
The Arch Deluxe. The Hula Burger. McPizza. These are just some of the skeletons in the closet of the otherwise happy and profitable world of Ronald McDonald. Being one of the biggest fast-food chains in the world, McDonald's has had both wildly successful ventures and products that should have never left the idea stage. One of the more successful ventures was the introduction of breakfast items in the 1970s. The introduction of breakfast inspired a franchisee named Herb Peterson to invent what would be one of the flagship sandwiches of McDonald's early morning menu: the Egg McMuffin (via CNN).
With a perfectly round sunny-side up egg, a slice of golden American cheese, and either Canadian bacon or sausage, all sandwiched between a toasty English muffin, it's not a surprise the Egg McMuffin, and by extent the breakfast menu, took off so successfully. But even in this successful venture, there were still plenty of items that have been left behind alongside the rest. The Cinnamon Melts and Candied Walnuts and Apple Salad are just two examples of items that faded off the breakfast menu. Another great example of this was the Spanish Omelet Bagel, a short-lived foray into the world of breakfast bagels.  
The Spanish Omelet Bagel just never took off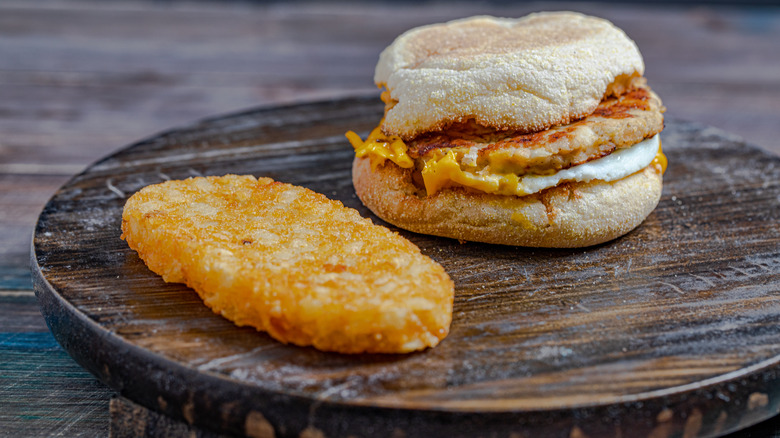 khaled82/Shutterstock
In 1999, McDonald's expanded the breakfast menu with another classic item: the bagel (via Supermarket News). The menu at the time already had English muffins and biscuits, so a bagel wouldn't be too out of place, right? The new bagels could be purchased plain or with cream cheese, but they also came in three flavors. There was a steak, egg, and cheese bagel and a ham, egg, and cheese bagel sandwich. The most exotic one, however, was the Spanish Omelet Bagel, which included sausage, pepper jack and American cheese, and an egg stuffed with peppers and onions between two toasted bagels. "Breakfast sandwiches, like the Egg McMuffin, have been long-time favorites," stated a McDonald's spokesperson at the time. "We are confident our customers will enjoy our bagel sandwiches just as much."
These bold words would fall flat however, especially in the case of the Spanish omelet. According to Eat This, Not That, the Spanish omelet wasn't a case of poor marketing or disgusting ingredients; it just never took off. People would seem to gravitate toward more McDonald's-styled food, such as McMuffins, and not toward diner-style breakfasts like stuffed omelets. In the end, the Spanish Omelet Bagels and its counterparts faded from the menu, leaving only the tried-and-true McMuffins, biscuits, hotcakes, and hash browns to satisfy that early morning Golden Arch craving.