The Truth About Jody O'Sullivan From Holiday Baking Championship Season 8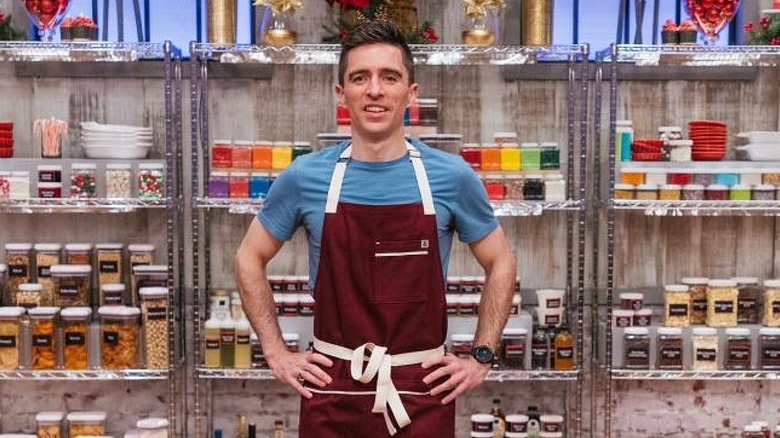 Food Network
Deck the halls! It's that time of year again, so bake those cookies, sprinkle some sugar on top, and tune in to Season 8 of Food Network's "Holiday Baking Championship." Forget 12 drummers drumming; this season of the show will feature 12 bakers baking, all in competition for the winning title and some serious prize dough: $25,000 (via Food Network).
According to The Cinemaholic, the bakers' creations will be critiqued by returning judges Duff Goldman, Nancy Fuller, and Carla Hall, and the show will be hosted by Jesse Palmer. The first episode will feature the holiday bakers in two challenges: a "fall to winter" doughnut-making event and an apple-and-cheese dessert extravaganza inspired by a cheese board.
So, who will defeat the competition and win the title of Holiday Baking Champion? One possibility is contestant Jody O'Sullivan, originally from Limerick, Ireland, who now hails from Quincy, Massachusetts, where he lives with his wife and daughter after moving to the States to be closer to his wife's family (via The Patriot Ledger).
Jody O'Sullivan bakes to teach ... and to win
Jody O'Sullivan has quite the baking résumé. He was educated at France's Ecole Nationale Superieure de la Patisserie, worked with Michelin-star chefs in London, at a five-star hotel in Ireland, and is the former owner of his own bakery. O'Sullivan also worked in Mexico and prepared pastries as a part of the Mexico Culinary Team for the 2018 Culinary World Cup. Today, he teaches at the Cambridge School of Culinary Arts and Bunker Hill Community College.
Baking and teaching seem to go hand-in-hand for O'Sullivan, who speaks of his love for both disciplines. "It is a constantly evolving profession which I absolutely love to be a part of! Seeing this curiosity and openness to both classical and new ideas and techniques in our students inspires me in the classroom every day. There is nothing better than seeing your passion being transmitted and replicated by someone else," he said (via CSCA). According to Food Network, O'Sullivan hopes to use the prize money to continue to foster education, both his own and that of his students. In an Instagram post in late August, featuring his new student ID from Johnson & Wales University, the chef revealed he is pursuing a Masters in Education program.
As for the "Holiday Baking Championship"? Jody O'Sullivan seems to have a "bring it on" attitude. "Make sure to tune-in to watch me being judged more harshly than I judge my students!" he wrote on Instagram.