Andrew Zimmern Shared The Sad Story Behind His Worst Date Ever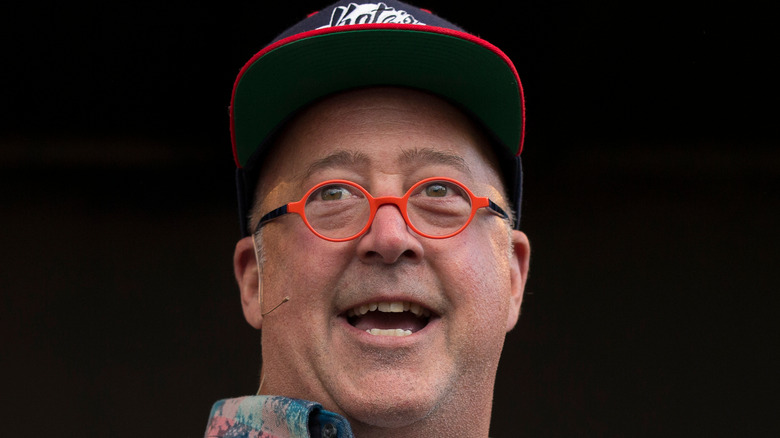 Sterling Munksgard/Shutterstock
Unfortunately, Andrew Zimmern is no stranger to addiction. During the early years of his restaurant career, the chef suffered from drug addiction and alcoholism and depression, and he was even homeless for a time (via Zimmern's website). When asked about his worst date ever on a Hot Sauce Q&A (via Zimmern's YouTube channel), the chef recounted a sad story about a date he once had with a restaurant coworker whom he had been pursuing for some time. 
When the woman finally agreed to go out with Zimmern, he planned what seemed like an incredible date (on paper, at least): drinks at The Plaza Hotel and tickets to a Bruce Springsteen concert. Regrettably, however, when the pair met at The Plaza, Zimmern had already had a few drinks. "Things really started to go downhill," he said. Zimmern recalls his belligerent behavior at the concert and that his date was eager to leave. "I am in the awful blackout drunk piece of blackout drunk. You just can't be with that person," he remembered.
The horrible date that helps keep Andrew Zimmern sober today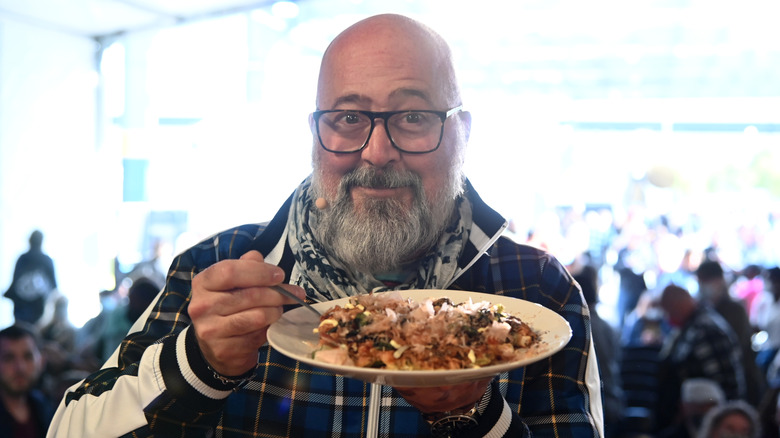 Dave Kotinsky/Getty Images
The outing didn't get any better. In a desperate act to prove his love for his date and show her the lengths to which he'd be willing to go for her, Zimmern removed his father's Rolex from his wrist and threw it into the crowd. In the following moments, Zimmern had some clarity, plainly remembering his date's disgusted reaction and repulsed facial expression. She then left the concert.
While this may be a horrible date and certainly a sad story, it doesn't have a sad ending. Zimmern said when he got sober and his TV career was taking off, the woman reached out to him with her congratulations, and Zimmern goes on to say that in retrospect, the memory of the experience helps him stay sober, which, according to Today, he has now been for almost 30 years. 
He says on the Hot Sauce Q&A (via YouTube), "Every step along the way there, my selfishness and self-centeredness, my disregard for other people, was just front and center. So it's a story that I always hold on to. That's who I could be if I ever choose to pick up [a drink]."
If you or anyone you know is struggling with addiction issues, help is available. Visit the Substance Abuse and Mental Health Services Administration website or contact SAMHSA's National Helpline at 1-800-662-HELP (4357).