Chipotle Is Testing Pollo Asado At Some Locations. Here's How To Try It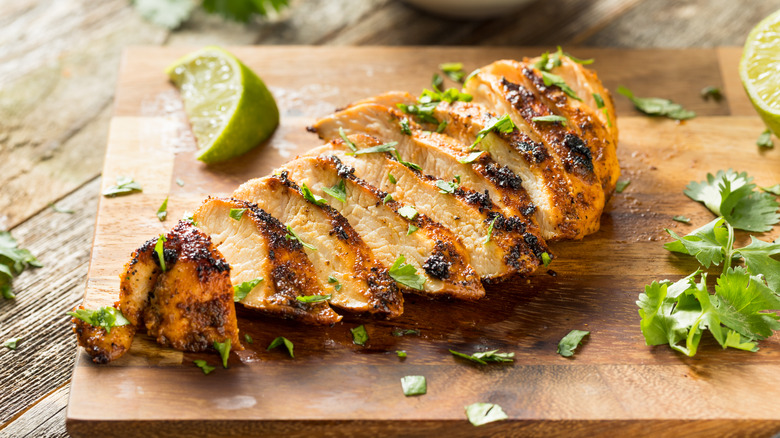 Brent Hofacker/Shutterstock
Chipotle has great news for chicken fans. For the first time ever, the brand will be introducing a brand new chicken option to its menu in the form of pollo asado, which is flavored with garlic, fresh-squeezed lime, spicy chili peppers, and hand-chopped cilantro, per CNBC. The new pollo asado will feature Chipotle's signature Responsibly Raised chicken, which will be hand-cut, seasoned with guajillo peppers, coriander, and a dry rub of cumin, and freshly seared on the grill with the rest of the flavorful ingredients.
This new release will be joining some of the company's other exciting new menu items, including its limited-edition cauliflower rice and brisket option, and its newest quesadillas, which are only available for order online or through the Chipotle mobile app. As of now, the pollo asado will currently only be available in two test markets in the United States: Cincinnati, Ohio and Sacramento, California. According to The Takeout, the new protein offering will be on the menu at 95 participating restaurants throughout the Cincinnati and Sacramento areas.
Chipotle is offering a $0 delivery fee on digital pollo asado orders for a limited time
Although the pollo asado might not be available in other parts of the country yet, Chipotle fans in Cincinnati and Sacramento will not only have the chance to try out the new product – for a limited time – but they can even have the new item delivered to their door absolutely free. The company has announced that between November 8 and November 14, it will be charging $0 dollar delivery fees on all orders from participating locations that include the new pollo asado, according to PR Newswire. This applies to purchases made online at Chipotle.com or through the Chipotle mobile app, so chicken fans won't want to wait too long to sample the tasty new product. 
"Chicken has long been the top protein choice among Chipotle guests. With the celebrated Adobo chicken recipe already on our menu, we decided it was time to add another option and our new flavorful Pollo Asado chicken is another perfect complement to our real ingredients," Chris Brandt, Chief Marketing Officer at Chipotle, said of the newest release.