Reese's Fans Need To Know About Its Massive Super King Size Package
Halloween may be over, but that doesn't mean we have to stash all our favorite candies away in a cupboard until next October. It simply means that now that the kids have received their treats, it's time to stop buying candy in miniature portions and start treating ourselves to some adult-sized versions of our favorite snacks. One chocolate giant is rolling out just the item to help usher in some grown-up fun, and Reese's fans definitely won't want to miss it.
The Hershey Company will be launching its largest Reese's package yet in the form of the new Super King treat, the brand announced in a press release. These king-sized packages of Reese's cups contain a full foot (actually, 13 inches, as Thrillist reports) of sweet peanut butter and chocolate perfection. Plus, they double as a ruler. You'll find six classic cups in each sleeve of Super Kings, which will be available in select retail stores nationwide beginning in November 2021.
Reese's Super King package is perfect for sharing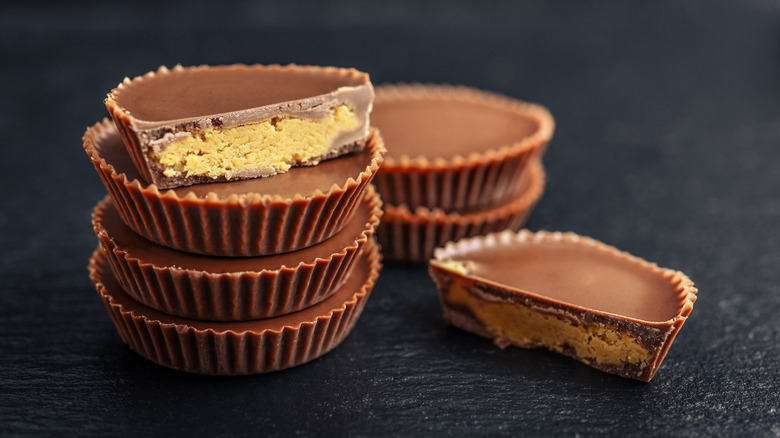 mama_mia/Shutterstock
These massive new Super King Reese's packages are the ideal item to bring to gatherings and share with fellow peanut butter-loving friends, according to marketing materials about the new product (via The Hershey Company). After all, with over one foot of salty-sweet goodness, there is more than enough to go around. "We're always looking for ways to give our fans more of what they love — which happens to be more Reese's," Allen Dark, senior manager of the Reese's brand, said of the supersized new package in a press release. "Now you don't need to worry about sneaking your Reese's cups when your friends are around."
And if one sleeve of Super Kings won't cut it, you'll be delighted to know about the 24-count box of Reese's Super Kings shown on the Hershey's website. While the brand hasn't specified when in November the new product will be available, keep an eye on candy aisles this month.