League Of Legends Fans Won't Want To Miss This Fancy New Chocolate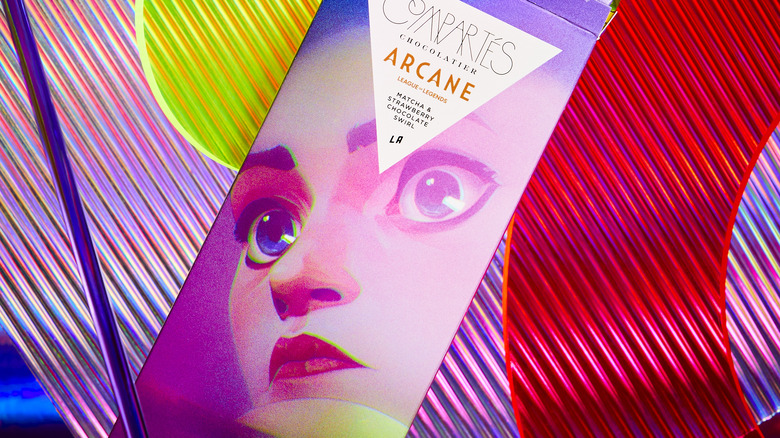 Compartés
Just in time for the premiere of "Arcane," a forthcoming Netflix show based on the "League of Legends" video game, luxury chocolate brand Compartés has teamed up with Riot Games for a set of limited-edition "League of Legends"-themed chocolate bars, according to an announcement sent to Mashed. Video game fan service just hit a sugar high.
The Compartés and Riot Games collaboration will include chocolate bars inspired by two principal characters from "League of Legends:" Jinx and Vi. The Compartés Jinx bar (officially known as "Flame Chompers") pairs matcha green tea flavors with a strawberry chocolate swirl, making for a unique and colorful dessert experience. The Vi-themed "Vault Breaker" bar, meanwhile, offers a luxurious mixture of dark chocolate, sea salt, and actual gold in the form of 24-karat flecks. Retailing for $9.95 apiece, the "Arcane"-themed confections are now available for purchase on the Compartés website — just in time for fans to stock up before the show's early November debut.
Compartés is no stranger to brand collaborations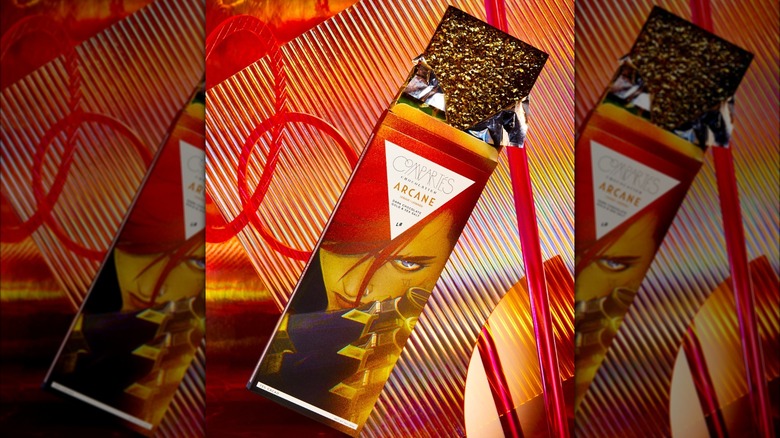 Compartés
"Arcane," which was first teased all the way back in 2019 (via YouTube), tells the current stories and backstories of multiple characters from the "League of Legends" universe. It will be released on Netflix on November 6 in three "acts," according to Venture Beat, with each act comprising three episodes. The first set is due out on November 6 premiere date, and the second and third on November 13 and 20, respectively. Act One will focus on the sister-pair Jinx and Vi and explore the theme of family. Co-produced with Fortiche, a Paris-based animation studio, the "Arcane" series promises "a rich glimpse into the world of 'League of Legends.'"
Compartés is a Los Angeles-based chocolate company known for its premium chocolate creations inspired by the worlds of art, design, style, and fashion, the brand shared with Mashed. Other notable Compartés projects include custom products for brands like Louis Vuitton, Gucci, Tiffany & Co., Instagram, and Netflix (via Compartés). With a record like that, "League of Legends'" fans can rest assured that the "Arcane" promotional merchandise is in experienced hands.