The Special Sauce Pepper And Chrissy Teigen Always Have In Their Fridge - Exclusive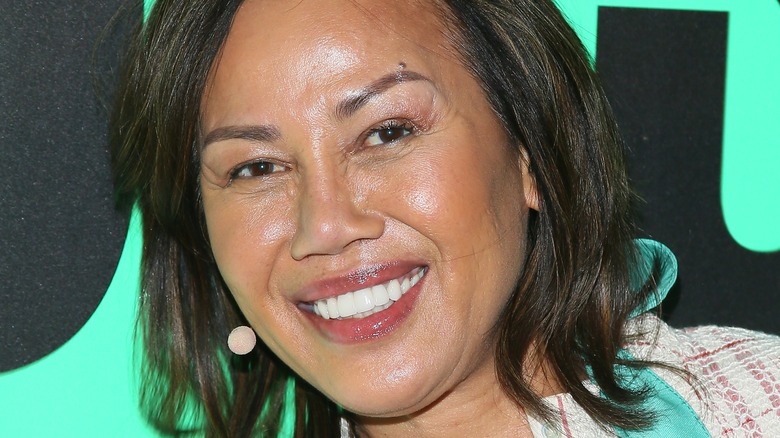 Jean Baptiste Lacroix/Getty Images
Chrissy Teigen and her mama have a Hulk-level tolerance for spice. You can count on Chrissy having a bottle of hot sauce (specifically Cholula, says Popsugar) on call for any hot sauce-related emergency. Actually, Chrissy once copped to Food & Wine that she's prone to smothering her husband John Legend's famous fried chicken with Cholula honey butter. "I'm a total hot sauce freak," she admitted to the magazine.
The supermodel and "Cravings" empire queen can no doubt thank her mother for this hot sauce fanaticism. As Wall Street Journal once revealed, Chrissy's mom was born with the name Vilailuck, but her passion for all things hot earned her the moniker Pepper. For the Teigen family, spice isn't just a sidekick in the meal-planning process, either; it regularly earns a starring role. Pretty much every single one of Pepper Teigen's recipes in her New York Times best-seller "The Pepper Thai Cookbook," can be made as spicy as your heart desires — from her spicy basil melon salad to her Thai-glazed ribs.
Pepper's scalloped potatoes — which Chrissy wrote for her Cravings blog is one of her all-time favorite comfort foods — are the one exception to this rule. But when and if spice isn't automatically built into a recipe, Chrissy and Pepper have a hack for that, too. As Pepper let slip to Mashed in an exclusive interview, mother and daughter always keep a custom-made hot sauce in their fridge. Here's what's in it.
Pepper and Chrissy eat this hot sauce 'with everything'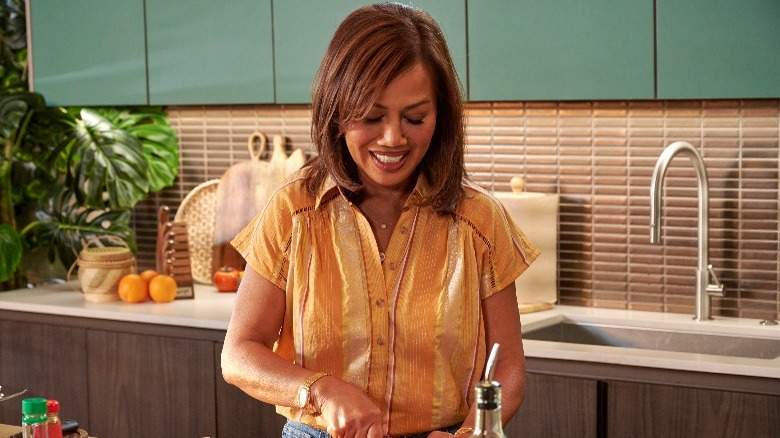 Food Network
Pepper Teigen isn't a fan of what is, arguably, the most American hot sauce that exists. Tabasco, she once told Cosmopolitan, has too much vinegar. When she uses store-bought hot sauce, however, the Teigen family matriarch let on to Delish that she's a fan of Only Crack Sauce. According to Only Crack Sauce's website, it's developed by celebrity photographer Yu Tsai, who you might recognize as a judge on "America's Next Top Model." 
Of course, Pepper is very capable of making her own hot sauce, too. "I always have chili powder in a jar ... for both of us, me and Chrissy," she told Mashed exclusively. Pepper's special sauce uses "a cup of fish sauce, cut-up chili — [both] red [and] green — [and] a big slice of garlic." Fish sauce, BTW, is another Teigen family staple. As Chrissy once dished on Cravings, Pepper is known to travel with her favorite brand of it. And Pepper Teigen's homemade hot sauce that incorporates a fish sauce base is nothing short of an everyday necessity for the mom-and-daughter duo. "We put [it] in a jar, keep [it] in the fridge, and we use it with everything!" Pepper told Mashed. "And I mean, [all] meals. ... We [even] eat [it] with sushi!" 
For more recipe inspiration from Pepper Teigen, tune into "Getting Spicy with Pepper Teigen," which premieres on Saturday, November 6 at 12pm ET/PT on Food Network and will be available to stream on Discovery+ the same day.