Aldi's Returning Sweet Potato Casserole Is Turning Heads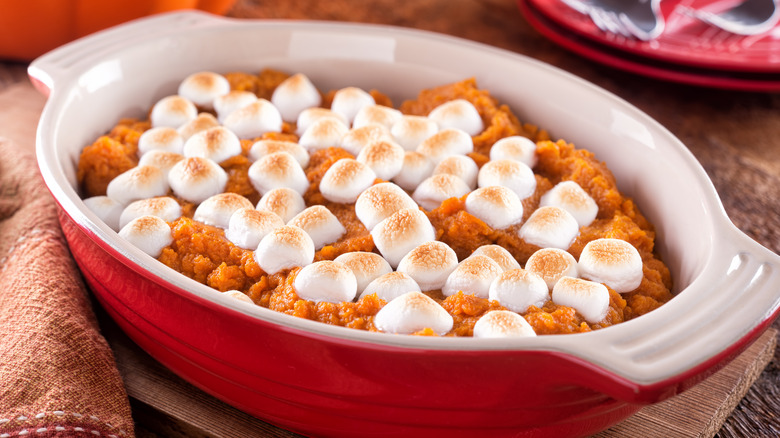 Foodio/Shutterstock
With the holiday season in full swing, we're starting to turn our attention to the dishes that will grace our holiday tables this year. From a classic roasted turkey to a tender baked ham to creamy mashed potatoes to green bean casserole, there are so many classics to choose from — and that's not even touching upon less traditional options such as wild rice with fruit, cheesy grits, and pumpkin souffle.
Once you've figured out your holiday menu — or menus, depending on how many meals you'll host this season — the question of homemade versus store bought comes into play. While we of course love from-scratch cooking, sometimes a good strategy involves purchasing some of the more labor-intensive holiday dishes. In previous years, Aldi shoppers have loved one particular heat-and-eat side dish available in the store's freezer section: A sweet potato casserole topped with crunchy, candied nuts. According to Instagram accounts that track Aldi finds, this perennial favorite is back in stores, and shoppers couldn't be more excited.
Aldi shoppers can't wait to dig in to this casserole
Aldi is beloved by many shoppers for some of its delicious prepared foods, such as pumpkin and sage ravioli and beef and bean burritos. In past holiday seasons, another frozen option customers have flipped over the Sweet Potato Casserole and now that it's back in stores, they are sharing their excitement on Instagram.
Yesterday, the account @aldiallthetime posted a photo of the dish with the caption, "I've heard rave reviews on this sweet potato casserole." Commenters were quick to agree: User @thedealstalker wrote, "I'm buying 10 of those sweet potato casseroles. They are soooo good," while @simplyjassy added, "That sweet potato casserole is my fav." Meanwhile over at @theamazingaldi, a post about the dish kicked off an equal amount of excitement. "I bought two!" @feedthelovellc wrote.
After reading through those rave reviews, we're about ready to pick up a box or two ourselves. But the question remains: Will we be able to hold out until Thanksgiving Day to heat one up and dive in?