The Problem Starbucks Customers Have With Its New Sugar Cookie Latte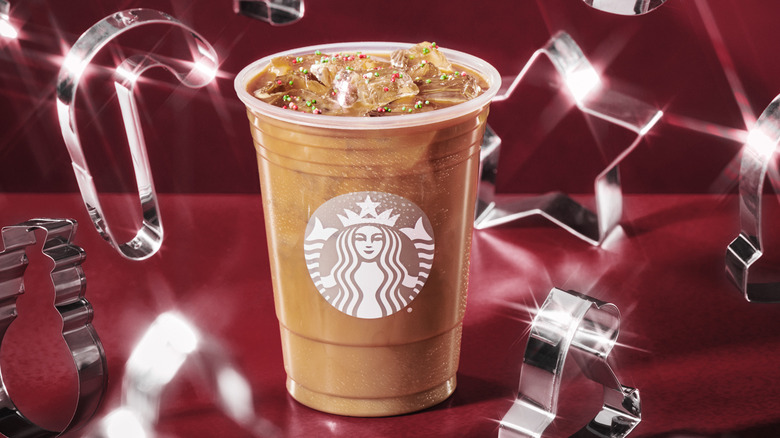 Starbucks
As pumpkin spice season comes to a close, coffee fans are looking for their next caffeine fix, and Starbucks answered the call with a brand-new drink on their seasonal holiday menu. This year they introduced their first dairy-free holiday beverage, the Iced Sugar Cookie Almondmilk Latte, which became available on November 4. The drink is an iced latte made with blonde espresso, sugar cookie-flavored syrup, almond milk, and sprinkles, and though it sounds like a dream come true, some Starbucks customers are already saying the drink could use a little help.
Among the complaints? One commenter on a TikTok review of the new drink said, "I'll save you all the money, it tastes nothing like a sugar cookie." Another said, simply, "I don't like almond milk."
But there's still hope. Others have started making suggestions for how to improve the iced sugar cookie latte so it tastes like the milk-and-cookies treat that was promised by its name. Here's how to order it.
How to customize Starbucks' new sugar cookie latte
The nice thing about the Starbucks menu is that you can customize pretty much any drink however you want. It's even easier when you use the mobile app to order ahead of time, so you don't have to try to remember your order in your head.
So far, there seem to be two main ways that Starbucks fans are modifying the sugar cookie latte. The first is to swap the almond milk for the chain's oat milk, which some say is creamier than other non-dairy milks (via TikTok). The second is to add vanilla sweet cream cold foam to the drink, which amps up both the sweetness and the creaminess of the beverage.
If you really want your drink to reach Santa-levels of sweetness, some recommend adding caramel drizzle to the top. However, if you're the type to prefer less-sweet drinks, skip the caramel drizzle, and ask for fewer pumps of the sugar cookie syrup, which will reduce the sugar content.
Thanks to these tips for customization, you're on your way to enjoying the iced sugar cookie latte of your dreams.