Instagram Is Seriously Impressed By Cat Cora's Yoga Skills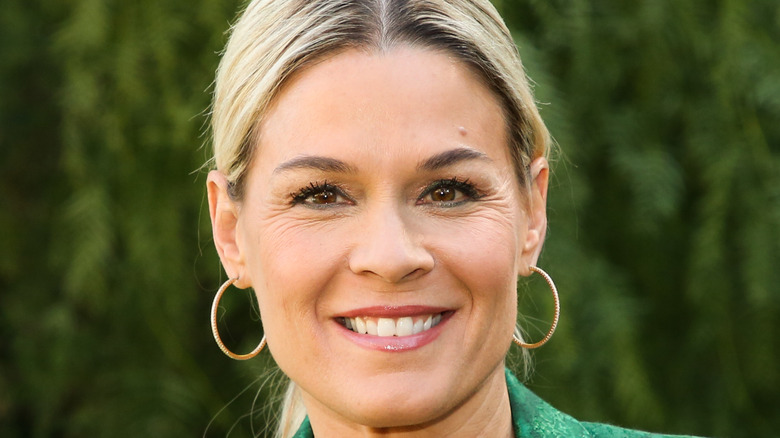 Paul Archuleta/Getty Images
If there's one thing everyone across America associates with Cat Cora, it's "Iron Chef." Not only was Cora on Food Network's hit show in 2005, but she made history by being the first-ever female participant to take home the title that year after enduring many challenges in the seriously competitive series (via Food Network). Since then, Cora's hosted and made an appearance on tons of other programs like "Around the World in 80 Plates," has run 18-plus restaurants, and has penned three cookbooks (via Cat Cora's website).
So, it's safe to say that Cora's lifestyle involves a lot of food. While the rest of the world watches with envy as she enjoys delicious meals, another important part of Cora's life is fitting her daily workout into her schedule. In a blog post on her website, Cora admitted her love of working out, adding that she even went to college to get a degree in Exercise Physiology and Nutrition.
Considering that exercising isn't a chore for Cora, which is more than many people can say, she often shares snippets of her workouts on Instagram, successfully leaving her fans in awe of just how much the entrepreneur, chef, restaurateur, author, Iron Chef and mom of six can do in a day!
Cat Cora works out seven days a week
In an interview with Shape, Cora revealed that she likes to work out every day of the week and tries to get in at least a 45-minute cardio workout every day. She particularly likes to run, stretch, use light weights, and attempt restorative yoga. Yoga, in particular, Cora said on Instagram, is a regular part of her wellness routine that effectively centers her mind and body. And the picture Cora shared with her followers whilst doing a yoga pose has left people seriously impressed.
"I know the answer but, have you always been bada**?" asked one awestruck follower, and we couldn't agree more. Other comments admiring Cora's strength, beauty, and her flexibility to do yoga came pouring in after she posted the image.
While yoga may be something Cora is excellent at, it's not the only form of exercise she likes to do. She told Shape that she often plays "soccer, basketball, softball, and [goes] boogie boarding at the beach" with her four sons. In a picture shared in September, Cora can be seen hitting the gym with three of her boys, all working out while bonding together. As she wrote, "Cardio time with my wolfpack."
Fans also couldn't stop admiring Cora's mommy skills when she shared pictures of her nature hike with her kids, which, she recommended, everyone should do at least once a week. If you ever need workout inspiration, a scroll through Cora's Instagram page is all you need!