Aldi Shoppers Are Buying This Specialty Stuffing In Bulk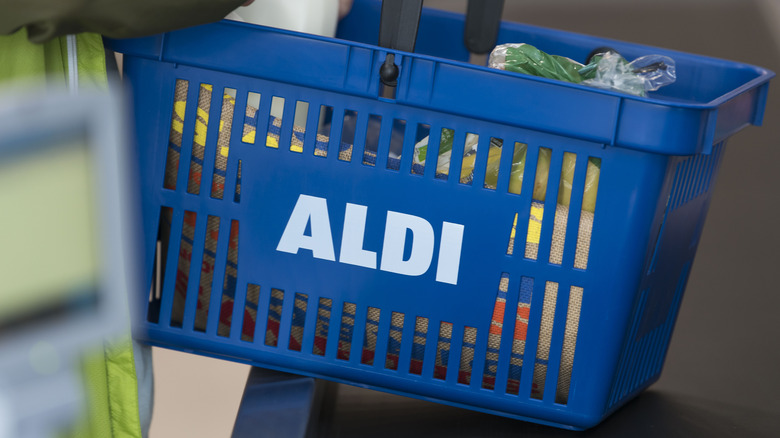 Matthew Horwood/Getty Images
Thanksgiving is only a few short weeks away in the United States, and if you are anything like us, you are probably getting excited about all the delicious foods you will be indulging in on the big day. Turkey, of course, will likely be the star of your massive meal — though we have to admit that sides like mashed potatoes, green beans, and stuffing are what keep us coming back for more.
Speaking of stuffing (or dressing, if you dwell in any of the Southern states), have you noticed that Turkey Day seems to be the only time of the year that the seasoned bread dish is put out on the table? We're not really sure why, as the starchy treat is generally well-liked, and is even the most popular of all the Thanksgiving side dishes in Maine, Pennsylvania, New Hampshire, and Louisiana (via Thrillist).
Yes, for whatever reason, stuffing seems to be forgotten the second dessert hits the table on Thanksgiving, although it appears that one specialty version of the dish sold at fan-favorite grocery store Aldi may be changing the narrative around the delectable side. The chain's Chef's Cupboard Hawaiian Stuffing Mix, which Aisle of Shame reports is made with Hawaiian bread rather than the more traditional sourdough or cornbread, has become a favorite for Aldi shoppers, many of whom are purchasing it in bulk this year so they can serve the dish on Thanksgiving and beyond.
Aldi's Hawaiian Stuffing Mix has returned in time for Thanksgiving
If Aldi's Hawaiian Stuffing has been on your mind since last Thanksgiving, we have great news, as it appears that the product has finally returned for the holidays. Taking to Instagram on Friday, November 5, Aldi fan Instagram account @adventuresinaldi revealed that they recently spotted both the Classic Herb and Sage & Onion flavors of the stuffing mixture at their local Aldi, delighting many of the grocery store's fans. "I know lots of people have been on the hunt for the Hawaiian stuffing, but look no longer! My store was LOADED with them this week!!!" the user captioned the above photo of a full shelf of the mixes that run for a mere 99 cents each. The Instagrammer prompted followers to pick up a box or two the next time they visit their local Aldi, though many shoppers appear to be purchasing it in much larger quantities.
"They are amazing!!! I only bought one last year, bought way more now!" user @jillsincebaugh commented on the post, which is a strategy that user @smerrifield7278 seemed to support, as well. "I bought 3 boxes but going back for more," the Instagrammer commented. "It's our favorite and I need to get enough to last us the next 6 months."
According to Aldi Reviewer, Aldi's Hawaiian Stuffing mixtures are seasonal finds that are only in stock for a few weeks each year. Be sure to grab several boxes on your next Aldi trip so you can enjoy this unique stuffing dish year-round.