Aldi UK's Kevin The Carrot Might Have Been Replaced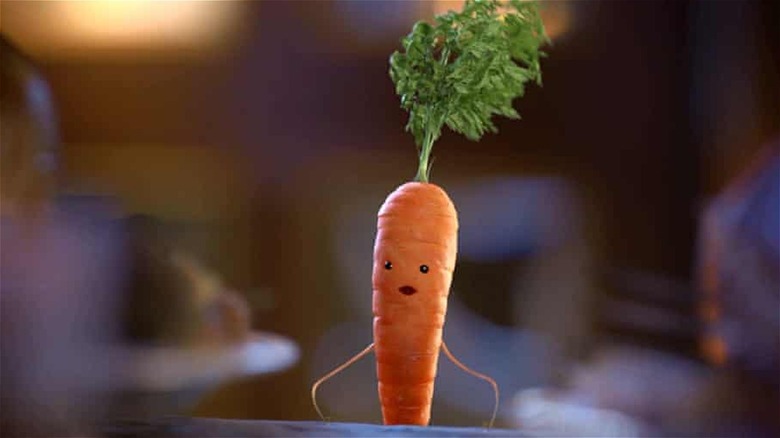 Aldi UK
Christmas in the U.K. is like nowhere else. The holiday is a whole two-month affair in the country, with the period right after Halloween used as preparation for this all-day event on December 25. But this year, some might be disappointed at the potential absence of a popular holiday icon. Don't worry, we're not referring to Santa. However, Aldi U.K.'s beloved Kevin the Carrot might not be making an appearance this snowy season. 
The supermarket's animated character was first brought about in its 2016 holiday ads, according to GoodtoKnow. Ever since, he's been a holiday favorite, appearing in all commercials in subsequent years. The supermarket chain even released plush versions of Kevin and his family, which were a wild hit last year. This went as far as the stuffed animals going for four times their original worth on resale websites. But this year, it looks like another character has taken Kevin's place in the Aldi Christmas advertisements.
Kevin the Carrot's replacement
Kevin's replacement is a banana by the name of Ebanana Scrooge (via The Daily Mail). In the 2021 advertisment, they're cuddled up next to a mince pie on Christmas Eve. However, to their dismay, Santa reaches to take the mince pie instead of them, prompting Scrooge to cry out, "Why didn't he take me?" We guess Santa isn't really the biggest banana fan?
Many were not only surprised with Aldi's choice to replace such an adored character, but also with the supermarket's decision to replace him with one who is a Christmas hater. And we know that Kevin has quite the passion for Christmas, with previous ads depicting him racing to get home to his family and dancing on a Christmas dinner table. The hashtag #justiceforkevin is being bombarded with fans asking for their precious carrot to return. But will Aldi U.K. deliver? It looks like only time will tell.