The Hilarious Way Rachael Ray's Husband Is Promoting Her New Book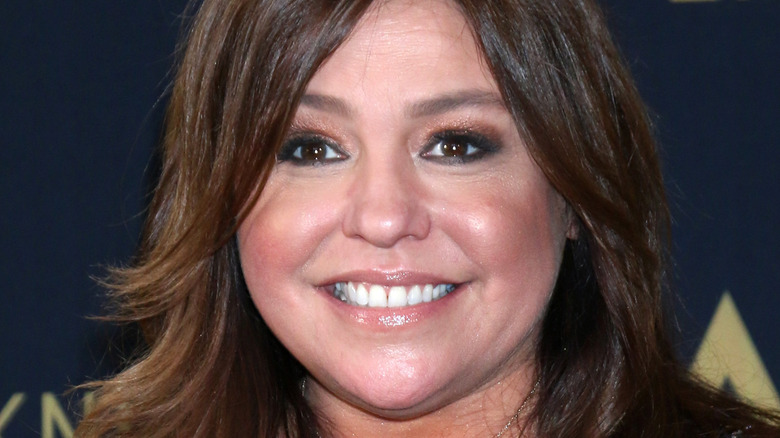 Kathy Hutchins/Shutterstock
Fans of celebrity chef, cookbook author, and television personality Rachael Ray have probably picked up some of her signature 30-minute meals cookbooks over the years. (As her website notes, the Food Network host boasts over 20 cookbooks, in which she's shared everything from her quick recipes to books focused on kid-friendly dishes to some embracing her Italian heritage.)
The latest addition to her cookbook lineup is actually part cookbook, part biography/memoir, according to publisher Penguin Random House. It contains over 125 recipes, meaning that fans of her food will have plenty of new dishes to try out, but it also shares images, essays, and more, offering fans a bit of a glimpse into her world.
Another thing that differentiates her latest book from all her previous releases is the cover — rather than just displaying a peppy Ray, ready to guide her readers through a variety of recipes, it features Ray and husband John Cusimano cuddled up outdoors in cozy cool-weather attire. It only makes sense that Cusimano would want to help promote his wife's latest project, given his prominent placement on the title's cover, and he recently took to Instagram with a hilarious promotion strategy that had many fans utterly tickled. And no, he wasn't starting a book club or cook-a-long project — his promotion tactic was a bit more thorough.
John Cusimano's strategy was fire (literally), and the audience responded
In his brief Instagram clip to promote wife Rachael Ray's latest book, John Cusimano was perched at a wooden table in front of a crackling fire, with a mug nearby and the book in hand. He greeted the audience, and revealed that he would be reading the book along with them "in its entirety." After a humorous pause to allow fans to obtain their own copy of the book, he began reading. Soon after, a slide was inserted with the phrase "9 hours later," and Cusimano declared "and they lived happily ever after." Fans were delighted by Cusimano's promotion tactic of pretending he did indeed take the audience along on the journey as he read through the book, page by page, and many left their thoughts in the comments section of the post.
"Oh my goodness, this was the BEST!! Gotta love John!" one fan wrote. Another couldn't get enough of how heartily Cusimano was hyping up his wife's latest project, and commented "so supportive. You two are a blessing to one another." A third was hoping for another Cusimano reading, requesting "can John read part of that book with a cocktail in one hand in front of the fire? Hahaha. He looks like he's ready to read a story to us." Many other fans confirmed in the comments section that they had already ordered their copy or had even received it already — perhaps they'll have to stay tuned to see what other promotional tactics Cusimano has up his sleeve.