Heinz New Children's Book Is All About The Iconic Thanksgiving Gravy Boat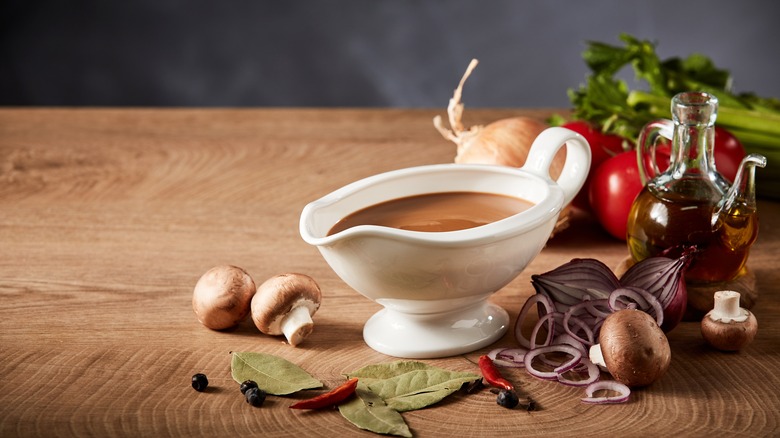 stockcreations/Shutterstock
We may receive a commission on purchases made from links.
Forget pigs with accents and thankful turkeys this Thanksgiving, and pass the gravy, please. Heinz is proudly seated at the kid's table this year and promises to pour on the adventure with its new children's book, "Grace and the Gravy Pirates."
Any kid will tell you that Thanksgiving has become nothing more than the meal you have to finish to get to the good holidays. It's a day for children where adults run around the kitchen for hours on end, scarf down some dry bird while cringing at whatever grandpa just said, and promptly pass out in front of a football game. Heinz has been rescuing our tastebuds from flavor-free potatoes and parched turkey with a hefty dousing of their savory gravy for decades, and for most kids, nothing saves a meal like the sauce.
Marketing lead for Heinz gravy, Kaitlyn Kicia, said in a press release sent to Mashed, "We all love Thanksgiving but know it can be dry at times for kids. We believe a good story always makes things more interesting, so we're on a mission to fight dryness by releasing an original children's book inspired by our favorite Thanksgiving sauce and bring some much-needed entertainment to young readers." The book is available to download in free eBook format on Amazon.
"Grace and the Gravy Pirates" set sail for Thanksgiving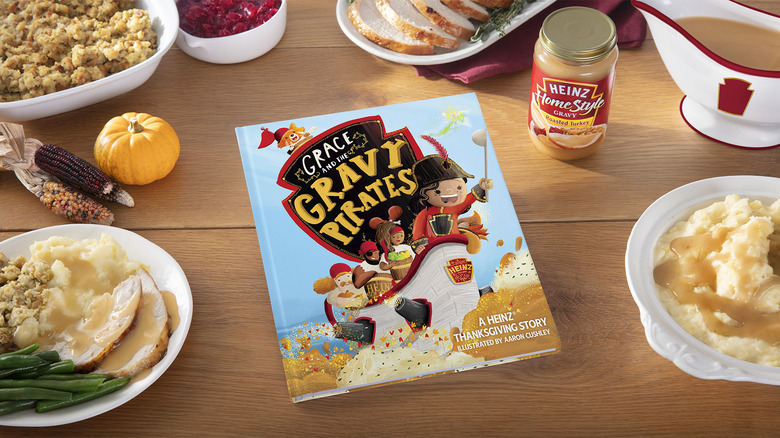 Heinz
"Grace and the Gravy Pirates" tells the whimsical tale of a young girl accompanied by her pirate pals who set sail in their gravy boat on a mission to rid Thanksgiving of all things boring and dry, from snooze-worthy adult conversation to overcooked turkey. Eye-catching illustrations chronicle their adventures as they aim to restore flavor and fun to turkey day. While the grown-ups are over-baking the apple pie, kids can watch Grace and her gravy boat crew navigate the streets of Manhattan during the upcoming 95th Macy's Thanksgiving Day Parade.
The Kraft Heinz Company states that it is driven by its purpose, "Let's Make Life Delicious." They are as committed to their consumers as they are to making a sustainable and ethical impact as global food producers. So, pour on the extra gravy this year because Heinz, Grace, and the gravy pirates are serving up adventure and flavor at your Thanksgiving feast.