TikTok Is Shocked By This Violent Karen Soup Moment Caught On Tape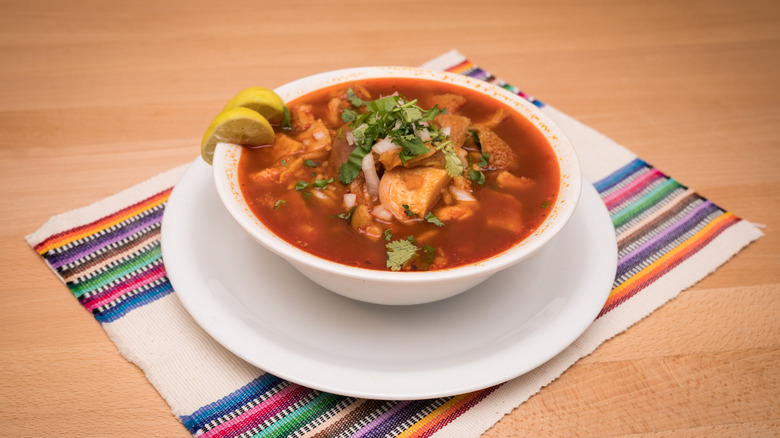 Alejandro A. Martinez/Shutterstock
It used to be that if you wanted to be shocked, all you had to do was scroll through social media. Now, apps like TikTok and Instagram are full of so many jaw-dropping videos — such as clips of rude customers and bewildered employees — that many of us have probably become desensitized to the drama. It takes a lot to shock us at this point. However, a recent social media video makes the cut.
A TikTok user, who posts under the handle @section_8_, recently posted a video showing surveillance clip footage of an interaction that took place at the Sol De Jalisco restaurant in Temple, Texas, per KCEN-TV. What should have been an ordinary moment during a typical day in the service industry for one of the restaurant's employees, Jannelle Broland, quickly turned physical and disrespectful, thanks to an out-of-line customer against whom police charges are pending. Here's what social media has to say about the altercation.
A customer threw soup in a restaurant worker's face
It's hard to believe it, but when you watch surveillance footage of the incident on TikTok, you'll see a customer throw soup in the face of Sol De Jalisco restaurant employee Jannelle Broland. The violent moment came at the end of an in-person rant by the Karen-esque customer, who had initially called the restaurant to complain about her too-hot takeout order of soup, Broland explained in her own follow-up video.
Over the phone, the customer complained and cursed to Broland about a cup of menudo that she claimed was so scalding, it melted the plastic lid on the takeout cup. Broland recalled apologizing to the customer and offering a refund or a replacement, only to have the customer continue to yell, at which point Broland hung up. "She did not care [about getting a refund]," Broland described. "She just wanted to complain." The customer called back and eventually arrived at the store, marched to the front of the line, and confronted Broland in person to "scream" at her and then hurl the soup in her face. Broland said that while the soup was no longer hot, its spices hurt her face. "It really felt like I had just been pepper-sprayed. My eyes were burning. My nose was bleeding," she said.
What happened to the "soup Karen"?
Many social media users have been expressing their shock and outrage at the "soup Karen," commenting on Broland's second TikTok about how people in the restaurant helped her after the incident. The owners of the Sol de Jalisco restaurant also shared via Facebook how shocked they were to learn of what happened. "The Marquez family does not tolerate such behavior," they wrote. "Mi casa es tu casa, but let us all adhere to the ideals of respect." 
However, this matter has now escalated well beyond social media. The woman has been permanently banned from the restaurant, according to KCEN-TV, and criminal charges for the assault are pending. "We do not condone this type of behavior and hold our citizens to the highest standard," Temple Police Deputy Chief Allen Teston said. "If a citizen believes they have received poor service we advise them to remain civil until the problem is resolved."