The Surprising Way Nick Riewoldt Elevates Dippy Eggs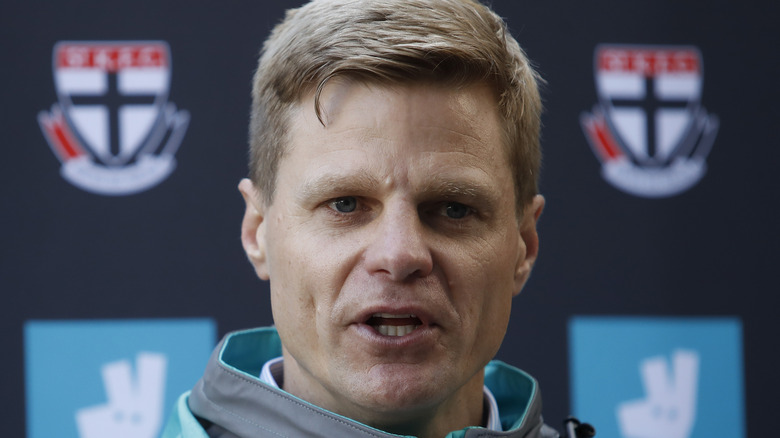 Dylan Burns/afl Photos/Getty Images
You may know Nick Riewoldt as the former captain of the St Kilda Football Club, a team in the Australian Football League, but lately he has been making headlines for how he is scoring with his cooking skills. Riewoldt is part of the cast of "Celebrity MasterChef," a cooking show competition that pits celebrities against each other in the kitchen, per IMDb. What motivated the successful athlete to try his hand at cooking? Riewoldt told the Sydney Morning Herald, "Since retiring from footy, I'd been living a life where I hadn't been challenged. It was really a desire to put myself back in a situation of feeling uncomfortable, then trying to be comfortable with that feeling again. That was the motivation."
Participating in the contest also brought out Riewoldt's competitive nature, despite his attempts to avoid coming across as though he was in it to win it. He conceded, "I didn't want to be the one who, when you walk through the door, is: 'I'm here to win! Win at all costs! Take no prisoners!' I wanted to avoid that narrative ... but under pressure, your true colours come out, and for sure that happened with me." We are so glad it did because that winning instinct also demonstrated his creativity in the kitchen, giving viewers a surprising way to elevate their dippy eggs.
Riewoldt turns dippy eggs into a sweet and savory dish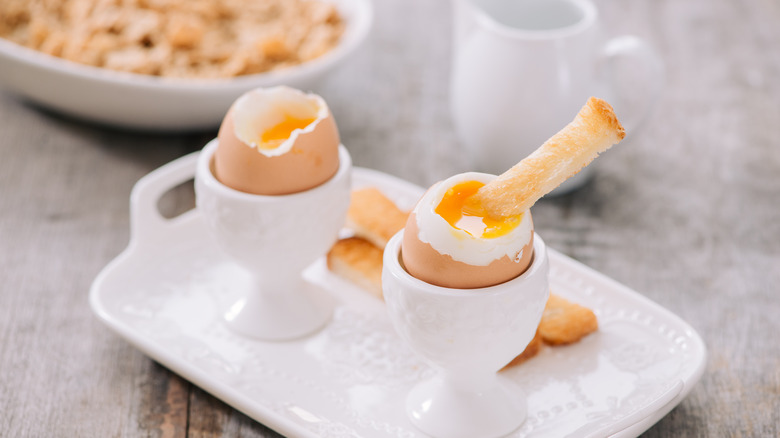 Makistock/Shutterstock
What are dippy eggs? This is an iconic English breakfast dish where, per Taste of Home, the eggs are soft-cooked so the yolk is runny. They are served in little egg cups along with "soldiers," or cut-up toast, that you can dunk into the yolk. What made Riewoldt's preparation so special? Per Lifehacker, the footballer has created a "sweet and sour" version of this dish that can be served for breakfast or even dessert. According to Australian station 10Play, Riewoldt's recipe calls for the use of lemon curd and Italian meringue, along with homemade soldiers that are more like biscuits.
Lifehacker shares the direction for this attractive-looking dish that calls for filling the empty and sterilized egg shell with the lemon curd until it's four-fifths full, then piping Italian meringue on top of this citrusy concoction. Italian meringue, per Great Italian Chefs, isn't going to fall apart once whipped up because it has more sugar than egg white, which makes it perfect for this recipe. This is the type of meringue you will find topping baked Alaska. Once you've piped the meringue in, break out the blow torch and give it a good "scorch." Serve alongside your homemade biscuit soldier and you have quite the treat, courtesy of Riewoldt. Sounds like the perfect dippy egg!