Copycat Squid Game Dalgona Candy Recipe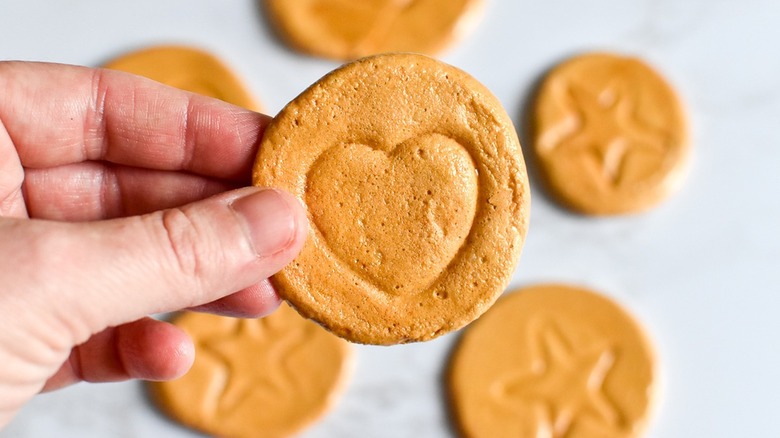 Stephanie Rapone/Mashed
Whether you followed the first season of the Netflix drama series "Squid Game" or not, you might be familiar with another internet trend from the past year. Dalgona coffee, also known as whipped coffee, was huge across social media thanks to its aesthetic and pleasantly sweet flavor. In fact, Dalgona refers to a Korean honeycomb sponge candy decorated with cookie cutter shapes, The Soul of Seoul explains. "Squid Game" brought back the popular candy by using it as an important element in one of the show's challenges, in which contestants had to carefully cut out shapes from the candy. Easy enough, right?
Recipe developer Stephanie Rapone created a copycat recipe of the trendy Dalgona candy, so you too can pretend like you're competing in "Squid Game." A word to the wise, some caution is required when making Dalgona candies to prevent injury since you are effectively boiling sugar. Rapone points out that traditional recipes are made using a metal ladle which can be risky. "This method using the sauce pan is definitely [safer]," she says but nonetheless she adds that it "is probably best handled by an adult." If you are like Rapone who identifies as "a junky for all things toffee and caramel," then you can celebrate the fact that she says "this totally itches that craving in a small bite."
Gather up the ingredients for this copycat Squid Game Dalgona candy recipe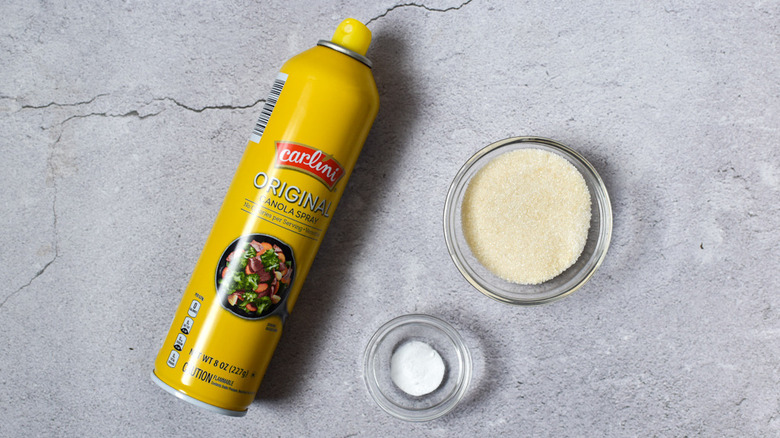 Stephanie Rapone/Mashed
The ingredient list is short and —you guessed it — sweet! Granulated sugar makes up the bulk of these tasty Dalgona candies. Stick to using fine sugar, which will dissolve with greater ease. Next, you'll need a pinch of baking soda to help the melted sugar foam up, aerating it in the process. Finally, Rapone uses nonstick oil spray to coat a measuring cup in order to create the round candy shapes.
Start by melting the sugar over the stovetop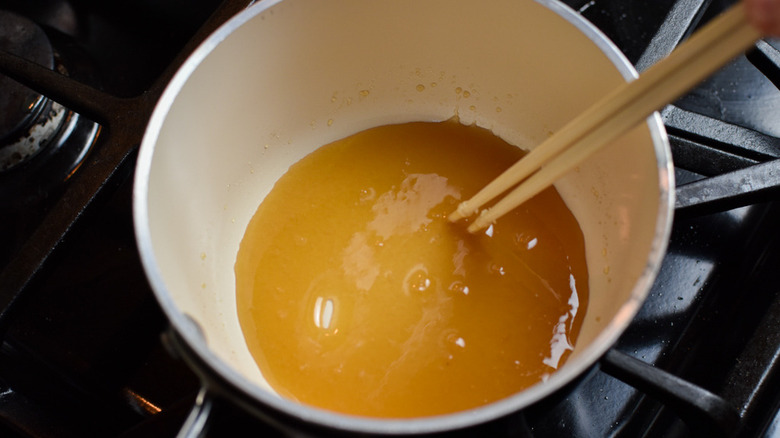 Stephanie Rapone/Mashed
Rapone starts off by sharing wisdom from her experience: "My advice is to have everything ready to go before you start, work [quickly], and don't be discouraged." Even though the ingredient list is very short, Dalgona candies require just the right conditions for success. Rapone adds, "I had a couple batches that simply didn't work for some reason." In any case, she points out that since you aren't using tons of sugar or laboring for hours, "it's easy just to rinse everything off and try again." 
Start off by lining a baking sheet with a silicone baking mat or parchment paper. Then, using the nonstick spray, coat the bottom of a measuring cup and set it aside until needed. Place a small saucepan or skillet with the sugar on medium heat and immediately begin stirring it with a chopstick. It should start to melt and turn amber in color after two minutes. At this point, promptly remove it from the heat. Rapone warns that overheating the sugar is an issue, noting that "if you do, the mixture will crystallize."
Mix the baking soda into the melted sugar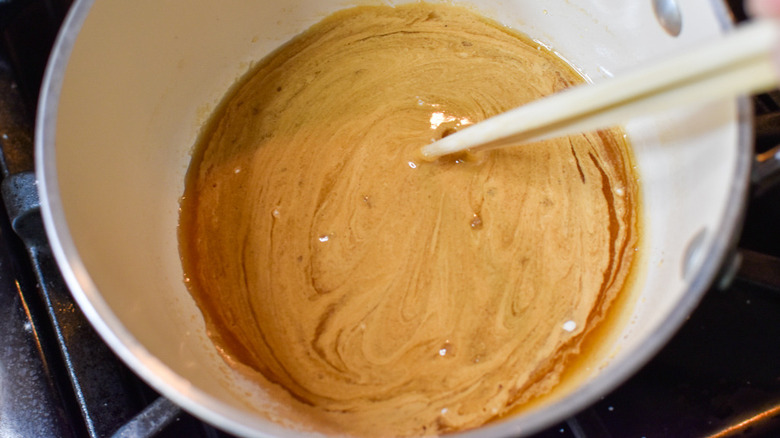 Stephanie Rapone/Mashed
Next, sprinkle ⅛ teaspoon of baking soda into the sugar, though Rapone cautions not to add the baking soda if the sugar is clumpy. Whisk the baking soda with a chopstick, aerating the sugar in the process. It should begin to foam up and become a light brown color. You'll be glad that your baking sheet is already ready because you will need to act quickly to prevent the sugar from hardening before your candy is ready. Also, resist the urge to add a huge spoonful of baking soda — just an ⅛ teaspoon goes a long way!
Transfer the sugar mixture to a baking sheet and add a decorative finish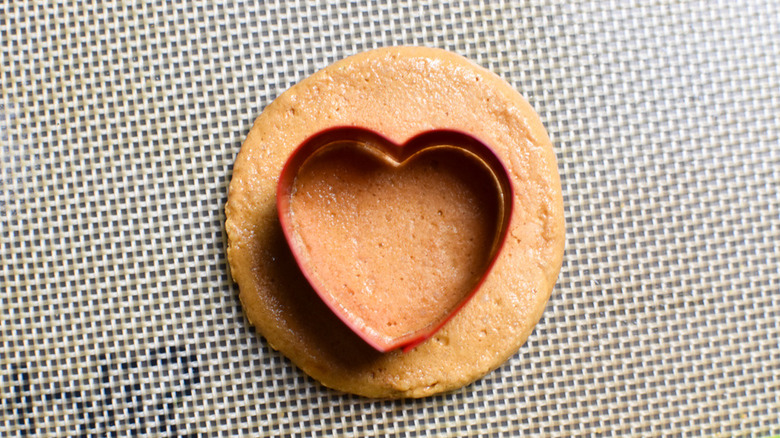 Stephanie Rapone/Mashed
Pour three to four portions of melted sugar onto your lined baking sheet. Then, take the measuring cup coated in nonstick spray and press it into each mound of sugar, flattening them to ¼-inch thickness. Next, pick your favorite cookie cutter shapes and press them into the center of the circle, but avoid going through completely. Again, this isn't the time to pause, or else the sugar will harden before you manage to add the shape. Working quickly is key throughout this entire recipe!
Let the candies cool down then serve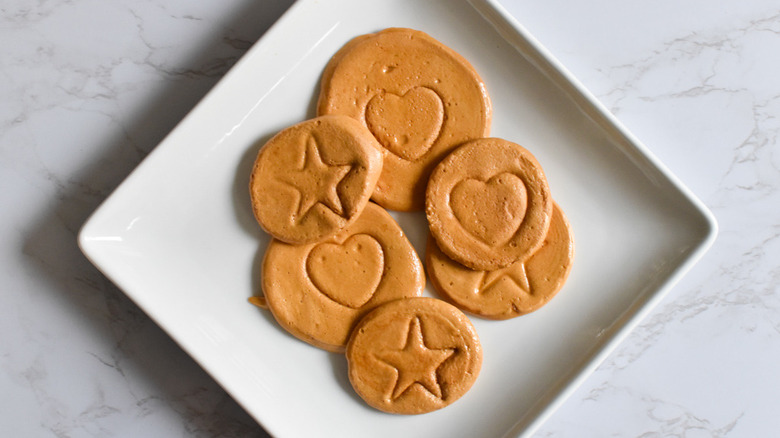 Stephanie Rapone/Mashed
Give the candies about five minutes to cool down and finish hardening before you serve them. "I'll make these to keep on hand to curb my sweet tooth with just a little taste instead of indulging in a whole candy bar," Rapone says of these sweet little treats. If you want to take it up a notch, she recommends breaking up the candy and tossing the pieces with cashews. She describes it as having "almost a praline-like flavor to it," which she says "would be delicious broken up over ice cream." Of course, you could also try to cut out the shapes from the candies with a needle like they do in "Squid Game," but keep in mind that it is quite a challenge! 
If you have any candies left after feasting, Rapone suggests wrapping them in parchment paper or plastic wrap in an airtight container. They'll keep in the fridge for five to seven days or in the freezer for up to a month. If you're already multiplying the ingredient measurements in order to make a big batch, then you're on the right track!
Copycat Squid Game Dalgona Candy Recipe
If you've been wanting to make your very own Dalgona-style candies like the ones in "Squid Game," this easy copycat recipe has you covered.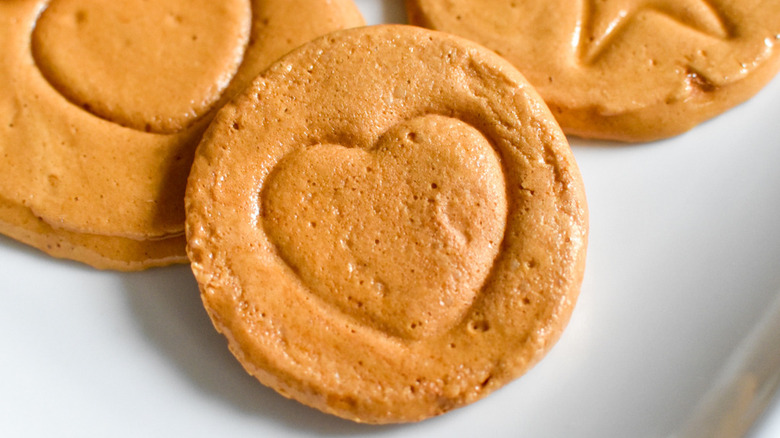 Ingredients
¼ cup granulated sugar
⅛ teaspoon baking soda
nonstick cooking spray
Directions
Line a baking sheet with a silicone baking mat or parchment paper.
Spray the exterior bottom of a measuring cup with nonstick spray and set it aside.
Add the granulated sugar to a very small saucepan or skillet over medium heat.
Stir the sugar with a chopstick until it begins to melt, about 2 minutes. Once the sugar melts and turns to an amber color, immediately remove it from the heat.
Add the baking soda and stir it in with the chopstick until the mixture is aerated and becomes light brown.
Pour the sugar mixture on the baking sheet into 4 equal portions.
Use the sprayed measuring cup to press the mixture into circles, each about ¼-inch thick.
Before the candies harden, add your desired shape by pressing a cookie cutter into the center without going all the way through.
Let the candies cool down for 5 minutes before serving them.
Wrap each candy in parchment or plastic wrap and store them in an airtight container in the fridge for 5 to 7 days, or in the freezer for up to a month.
Nutrition
| | |
| --- | --- |
| Calories per Serving | 50 |
| Total Fat | 0.1 g |
| Saturated Fat | 0.0 g |
| Trans Fat | 0.0 g |
| Cholesterol | 0.0 mg |
| | |
| --- | --- |
| Total Carbohydrates | 12.5 g |
| Dietary Fiber | 0.0 g |
| Total Sugars | 12.5 g |
| Sodium | 39.6 mg |
| Protein | 0.0 g |