The Vegas Pizza Joint You Probably Didn't Know Buddy Valastro Opened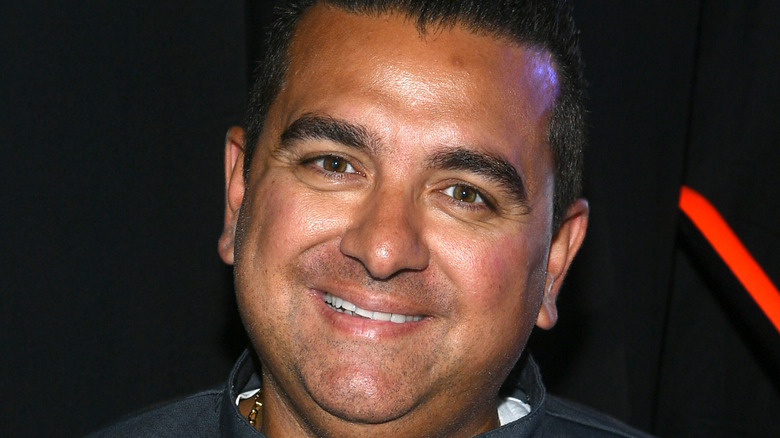 Dave Kotinsky/Getty Images
Buddy Valastro has built his reputation as the Cake Boss. The baked goods genius has created some incredible masterpieces at his New Jersey-based Carlo's Bakery, with his impressive tribute to Sesame Street being among his best cakes. But the sweet dessert is not this Hoboken baker's only love. Valastro is also a fan of pizza. How can anyone from the New York and New Jersey areas not love a good slice of 'za, right? 
Valastro is more than a mere fan of this dish on which Americans spend billions of dollars each year — $38 billion to be precise, according to Slice. Who wouldn't want a slice of that action? Well, Valastro is such a huge lover of a good pie that he found a way to channel that love into a Vegas joint called PizzaCake. In 2019, he took to Instagram to share the news, saying, "I know you've all seen me consume and create LOTS and LOTS of pizza this past year and I'll have you know, this was all for a reason! I'm excited to announce I'll be introducing an old-school pizza joint this winter: PizzaCake! The first ever @eatpizzacake will hit the Las Vegas Strip at @HarrahsVegas."
Pizza layered like a lasagna
Valastro compared his pizzas to another Italian classic. "We actually wanted to come up with something that was like a layer cake. So we made these really thin pieces and then we kind of layered them like lasagna," he explained to Eater Vegas. The crusts come in New York and Sicilian variations, and you can buy your pizza by the slice or the pie. But don't fill up on too much of these cheesy crunchy creations, because naturally, there's dessert to be had at a pizza shop created by the Cake Boss. It is called PizzaCake, after all. Per the PizzaCake website, the eatery boasts a cake ATM, where slices of Valastro's famous desserts are served. And if you aren't feeling like cake, there's always slices of S'mores or Peanut Butter cookie pie cake to indulge in.
Why Vegas? Valastro told Eater Vegas, "Just the thought of walking down the Strip and grabbing a slice of pizza, like I'm in New York City." New York always has room for another pizza shop, but so does Las Vegas.