Aldi Shoppers Are Freaking Out Over These Festive Cookie Kits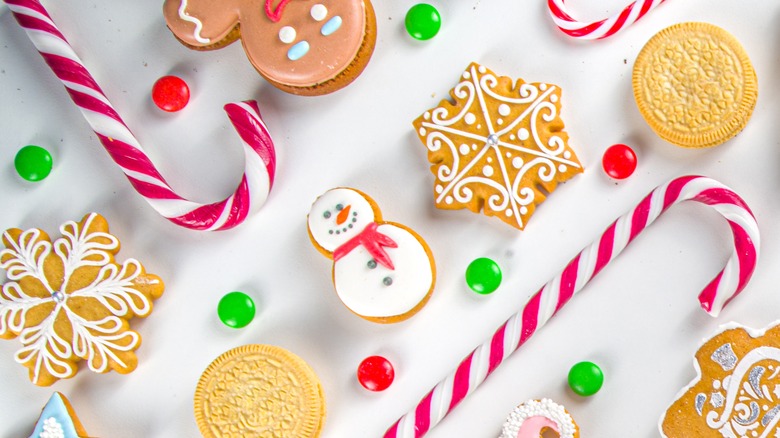 Rimma Bondarenko/Shutterstock
Apparently, it is never too early to excite oneself over Christmas, even though Thanksgiving isn't until November 25. In Aldi baking aisles across the country, Betty Crocker holiday baking kits are appearing.
"Are you ready for holiday baking or is it too soon?" Aldi for President, an Aldi fan account, asked yesterday in a post featuring a Giant Christmas Tree cookie, a Cookies for Santa box, and assorted Christmas cookies. The first two are sold for $4.99 while the latter category goes for $1.69. Aldi Made Me Do It, another unaffiliated Aldi account, seems utterly ready. Their highlight is the Christmas Tree cookie, raving, "All these cookie decorating kits and cookie decorating supplies is just making me so excited for Christmas baking!"
As of this writing, a few hundred followers have engaged with the content posted by both fan accounts. And it turns out, people are of two minds when it comes to Aldi's latest holiday offering.
Are Aldi's Betty Crocker cookie kits too expensive?
It's safe to say that many are enthused over the looming holiday behemoth that is Christmas — and they are looking forward to celebrating with Aldi's Betty Crocker cookie kits. Each post received a few hundred likes and excited comments along the lines of, "That did it! I'm going to Aldi tonight," as well as "These baking kits are so cute!"
Still, the inevitable question when a baking box crops up is whether the price for the bake mix is worth it — or if it makes more sense to bake the treat from scratch. In fact, one person replied, "Man you really pay up for Betty's signature don't you?" And, in fairness, the $4.99 only nets you a sugar cookie mix for one big cookie, icing, candy decorations, and a stencil sheet to trace out the Christmas tree. You could, theoretically, stock up on inexpensive, basic ingredients at Aldi (many of which you most likely have in your cupboard already) and use those to make a Christmas cookie yourself.
In fact, Betty Crocker's website offers two sugar cookie recipes: If you want to go the traditional route, you just need powdered sugar, butter, vanilla, almond extract, an egg, flour, baking soda, and cream of tartar; their vegan recipe swaps the butter and egg for margarine, vanilla soy milk, and cornstarch. For the non-vegan frosting, mix together powdered sugar, milk, and vanilla, while the vegan one maintains the need for vanilla soy milk.
Whether you choose to go the pre-made Aldi route or the DIY option, you'll have delicious holiday cookies either way!