Bagel Bites Hot And Spicy Giveaway Lets You To Create The Perfect Pairing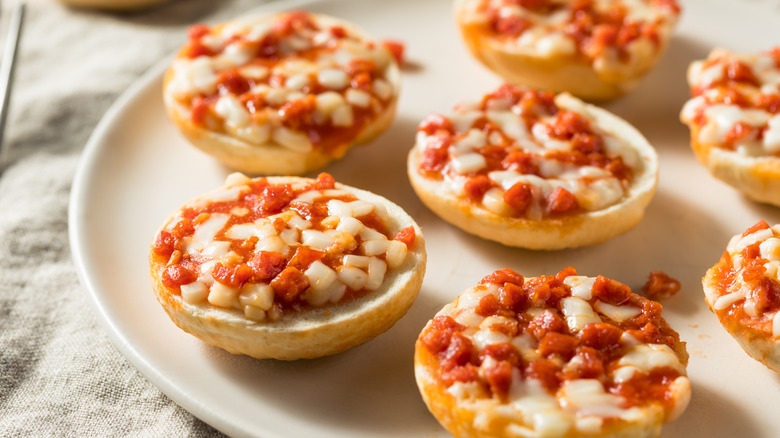 Brent Hofacker/Shutterstock
Bagel Bites, the frozen pizza bagel company, has decided to focus test a new product by conducting a sweepstakes. Until the end of November 12, you can enter the Bagel Bites Flame Flight Focus Group to win a box of nine full-sized Tabasco bottles and a coupon for nine Bagel Bites. To enter, head over to BagelBitesFlameFlights.com. According to the rules of the sweepstakes, the names will be drawn on November 15 and 1000 winners of limited-edition Flame Flight kits will be decided.
In a press release shared with Mashed, Bagel Bites explained that they hoped people would try each different Tabasco sauce on a bagel to see which ones they liked best. Then, by using #FlameFlight, testers would indicate to Bagel Bites and Tabasco which hot sauce complimented the bagel best. Who knows, Bagel Bites teases, maybe one pairing will turn into a new product. In short, it's a fun way to both hype up a new product and discern which will receive the best reception.
Which Tabasco sauces are in the running?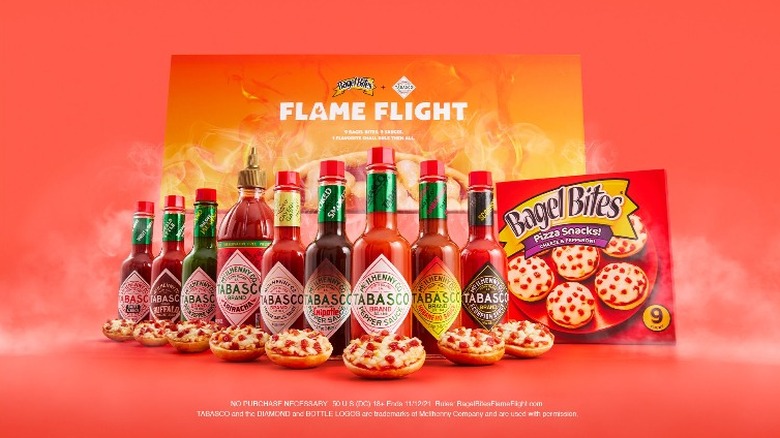 Bagel Bites
Since the gimmick of the new product will be slathering a pizza bagel with Tabasco and not a new sauce itself, the new product will feature a hot sauce many know and love. In promotional material shared by Bagel Bites and pictured above, we see that the nine Tabasco sauces in contention are Sweet & Spicy, Buffalo, Green Pepper Sauce, Sriracha, Cayenne Garlic, Chipotle, Habanero, Scorpion, and, of course, the OG Tabasco Pepper sauce.
In 2017, Food & Wine decided to rank their preferred Tabasco sauces themselves. The best in the Flame Flight by their reckoning is Chipotle as it manages to have a full smokey and sweet body. On the same list, the original sauce came in fourth place with a description that read, "It's old faithful and should be in everyone's kitchen." At the bottom of the Flame Flight bunch, they placed the exciting-sounding Scorpion Sauce because it pushed past the point of being pleasurably spicy to being hot, hot, and more hot. Perhaps Bagel Bites should send a flight to them to see if they change their appreciation once a pizza bagel is involved.