Duff Goldman's Favorite Pizza Style Is Bound To Be Controversial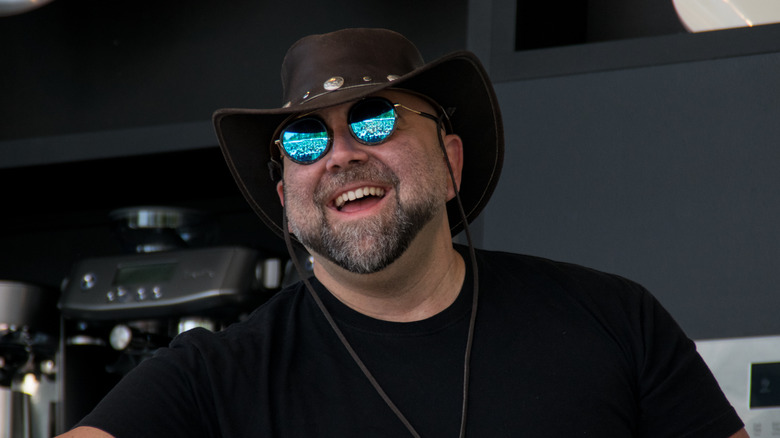 agwilson/Shutterstock
Celebrity chef, baker, and TV icon Duff Goldman feels rather strongly about food for obvious reasons. He told Parade that he loves sushi in particular. "It's always good," he said. "You never really feel bad after eating your weight in sushi." Goldman is also a big fan of digging into a juicy burger, and doesn't say no to simple pleasures such as some classic French fries from McDonald's. He's self-aware about his tastes, adding that he has "the palate of a 5-year-old."
Though he may have a youthful taste in food, Goldman is a highly experienced baker, and is always willing to offer up tips on how to make their culinary creations taste the best they can. He once advised his fans on Twitter, "for the BEST pizza dough, mix the dough, then 24 hours later shape it, then 24 hours later make pizza." Well, Goldman has come up with another take on pizzas. This time around, his views are rather interesting and motivated many fans to come up with colorful responses. 
It's a fascinating opinion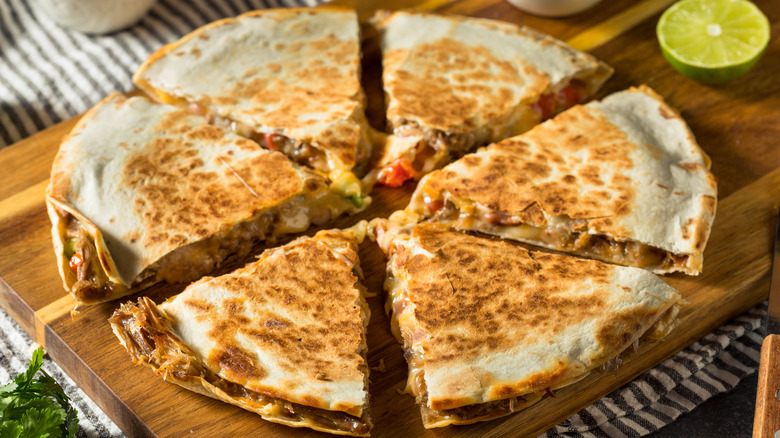 Brent Hofacker/Shutterstock
Duff Goldman recently took to Twitter to talk about his preferred style of pizza, and it's one unconventional pick. The original tweet, posted by chef Spike Mendelsohn, asked others to pick an option. It read, "what's your favorite style of pizza? #metaverse included."
Duff Goldman had his answer ready. He wrote, "quesadillas are pizza." Well, some folks were on board with this idea. One Twitter user said, "sometimes, we make pizza for the kids on burrito shells...which does make quesadillas basically thin crust pizza sandwiches." Another person wrote that they thought quesadillas would be classified as grilled cheese. Mendelsohn, who posed the original question, replied with another head-scratcher, asking "Or are quesadillas calzones and tostadas pizza?"
Just to be clear, Goldman does enjoy feasting on a good old deep dish pizza. He especially likes the options at Gino's East restaurant in Chicago, as per the Food Network. His favorite pick is the Sausage Patty-Style Pizza, a meaty pie with sausage in every bite.