What Makes 7-Eleven's New Thanksgiving Sandwich So Unique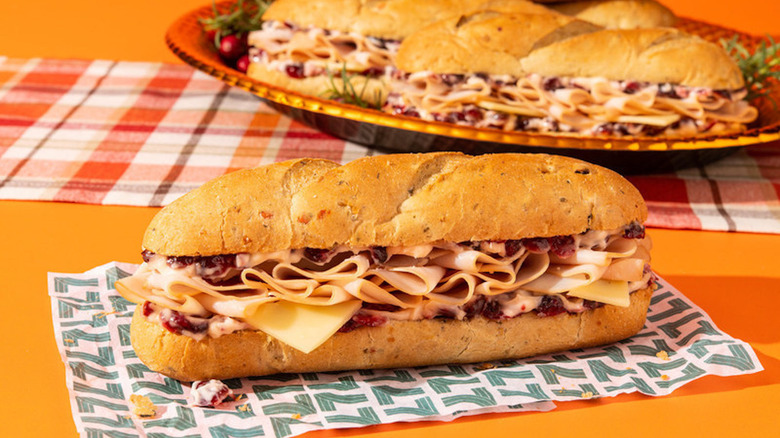 7-Eleven
When you think of convenience stores, 7-Eleven may be the first place that pops into your head. Per Delish, the brand was responsible for making the concept of convenience stores popular in the first place. Today, the brand is still going strong, with its thousands of outlets around the world selling food and beverage options with enough variety to please everyone. From chicken wings to pizza, coffee, sandwiches, fruits, and more, there's a lot on offer.
The chain is gearing up for the Thanksgiving season in a big way this year. According to a press release, 7-Eleven has launched a new turkey sandwich just in time for the festivities. Vareesha Shariff, director of fresh food product at 7-Eleven, said in a statement, "We know how much our customers look forward to our seasonal offerings, and we're delighted to contribute to the fun and spirit of Thanksgiving with satisfying food that reminds our customers of those comforting holiday moments." She added that at $4.99, the sandwich is a reasonably priced treat for those who are looking for something delicious and satiating, especially considering that this Thanksgiving may be more expensive than ever.
The roll is stuffing-flavored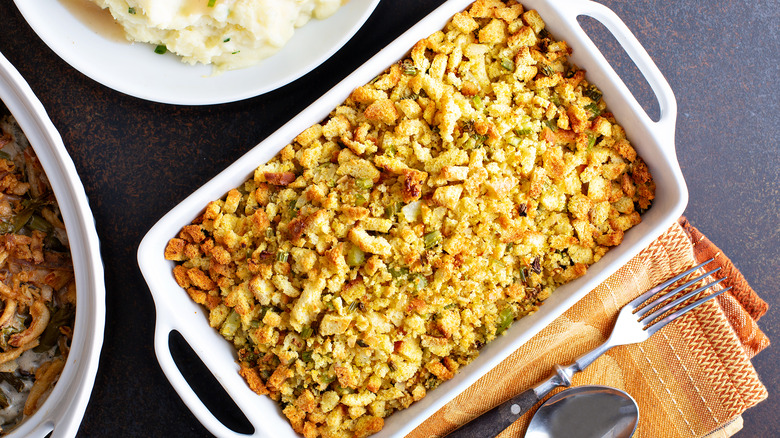 Elena Veselova/Shutterstock
Per 7-Eleven's press release, the Thanksgiving turkey sub is packed with cranberry mayo, sharp white cheddar cheese, and thinly sliced Butterball turkey. The best part may be that the roll isn't plain: It's stuffing-flavored, meaning it incorporates some of the vegetables and ingredients used in the classing Thanksgiving side dish. It's a unique twist on the leftovers sandwich idea and incorporates the flavors of a multi-course meal into one big sub.
Want to make the meal extra yummy? 7-Eleven suggests getting yourself a packet of the chain's house-brand kettle chips to make your feast complete. Flavors include salt and pepper, jalapeño, and original, and they make a tasty accompaniment whether eaten on the side or tucked into the sandwich for extra crunch. Whether you're celebrating Friendsgiving, taking a lunch break, or simply craving the taste of Thanksgiving a little earlier this year, grab the Thanksgiving turkey sub, which is available now for a limited period at participating 7-Eleven stores.