How To Replicate The Meal From A Charlie Brown Thanksgiving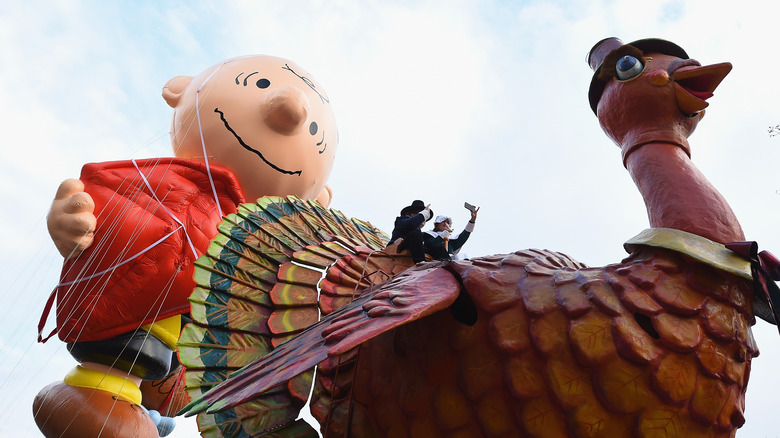 Michael Loccisano/Getty Images
Is your idea of Thanksgiving dinner eating at a Ping-Pong table set in a leaf-strewn field with mismatched chairs under a gloomy late-autumn sky? then you're probably a Charlie Brown fan. If that Thanksgiving dinner consists of buttered toast, popcorn, jelly beans, and pretzels, then you are no doubt a diehard fan of the Peanuts gang and their 1973 holiday special, "A Charlie Brown Thanksgiving."
Like every other holiday, Thanksgiving goes sideways for Charlie Brown in the special (via Screen Rant). Peppermint Patty invites herself over to Charlie Brown's for Thanksgiving dinner, even though he isn't having a Thanksgiving dinner — he's going to his grandmother's. Good ol' Chuck, ever wishy-washy, doesn't know how to say no to Peppermint Patty.
So it's chef Snoopy to the rescue, complete with toque blanche, and his sous chef Woodstock. While Charlie Brown and Linus mostly stand around and watch in the kitchen, Snoopy and Woodstock do what any good chefs would do: They improvise with whatever ingredients they have on hand (via YouTube). Instead of turkey with all the trimmings, Charlie Brown's Thanksgiving dinner offers buttered toast as the main course, with a side of popcorn substituting for mashed potatoes. Snoopy rounds out each guest's plate with some jelly beans and pretzels.
Making an authentic Charlie Brown Thanksgiving dinner is harder than you think
For the sake of nostalgia or irony, if not flavor, you might want to recreate the toast, popcorn, jelly beans, and pretzel dinner from "A Charlie Brown Christmas."
The pretzels are a slam dunk. Just pick some up wherever bagged snacks are sold. But if you want to do a Charlie Brown Thanksgiving right, you'll need to mind the details with the other ingredients. When you're making the popcorn, technique is everything. Forget microwave popcorn and hot air poppers — this is 1973, people. Snoopy makes good, old-fashioned stovetop popcorn (via YouTube). Just remember to keep the lid on your pot. Otherwise, as Snoopy found out, a chef can become buried in popping popcorn.
A quick note on jelly beans: the Jelly Belly version is popular today, but they weren't introduced until 1976. An authentic Charlie Brown Thanksgiving will have an older brand such as Brach's (via Candy Favorites). Finally, don't assume buttered toast the Charlie Brown way doesn't need directions. Apparently, the Brown household had at least 18 toasters sitting around, and all of them would be vintage these days. A silver-toned pop-up toaster from the Charlie Brown era on Etsy will run you $49 without the cord. On another Etsy page, you can find a cool 1940s side-loading toaster from "A Charlie Brown Thanksgiving" for $34. If you can find 16 more toasters (that work), you'll be all set.
Maybe it would be easier to cook a turkey after all.