We Tried DJ Khaled's New Wings. Here's Everything You Need To Know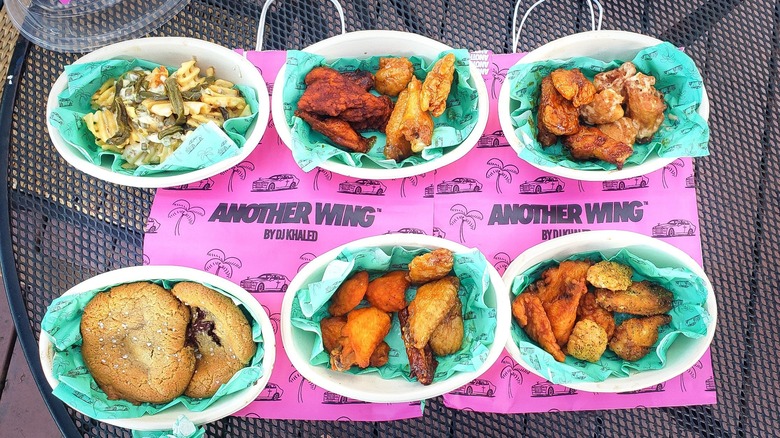 Matt Meltzer/Mashed
After taking over the worlds of music, travel, and Snapchat aquatic navigation, DJ Khaled is setting his sights on the world of food. More specifically, the world of ghost kitchen, delivery-only chicken wings with the introduction of Another Wing. The wings-and-tenders virtual eatery launched in 150 locations across five countries and three continents in November 2021, where it's already making a stir in the saturated world of fried chicken.
But are these wings any good? Or is this just another celebrity-driven food concept where the end product is an afterthought to the big-name hype? We got a few big, colorful bags of Another Wing's offerings to find out if this stuff is legit. 
With flavors ranging from traditional Buffalo to Nashville Hot, Teriyaki, and even Truffalo, there was a lot to consider. But after a wing-tastic afternoon, we're happy to report that, unlike a DJ Khaled concert, Another Wing is more than just a bunch of yelling and screaming. Here's what you need to know about DJ Khaled's new wings.
DJ Khaled's Another Wing had a huge launch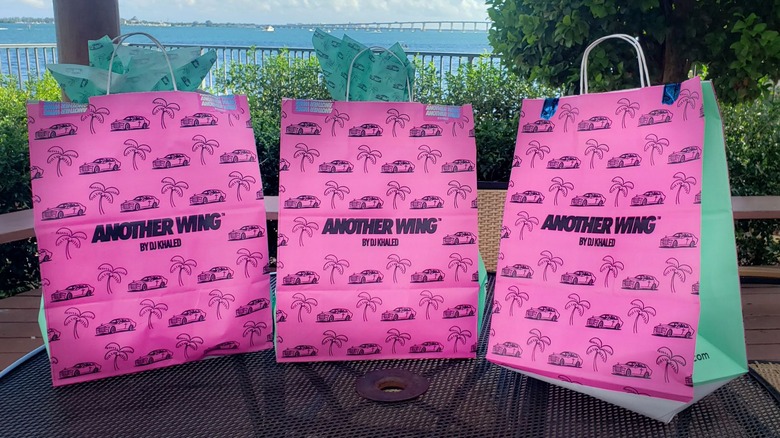 Matt Meltzer/Mashed
Doing anything in 150 locations in five countries at once is a feat of pure logistics. But launching a restaurant? That's downright unheard of. And even though Another Wing is a ghost kitchen concept that doesn't require the permitting, build-out, and staff of a traditional restaurant, the sheer coordination involved is impressive.
"It's the first restaurant concept to ever launch on three continents at the same time, with over 150 locations and growing," Khaled told Bloomberg. He called it "making history in the world of food."
Of those 150 locations, most will be in North America and cities like Miami, Philadelphia, Atlanta, and Houston. Overseas, expect to see Another Wing in Canada, France, the United Arab Emirates, and the U.K. Another Wing will also offer something heretofore unseen in the restaurant work: jet ski delivery. In Miami, wings will be delivered to boats via jet ski, according to Bloomberg, though we're not sure if they'll be directed by GPS or Snapchat users.
DJ Khaled's chef worked with a developer to create flavors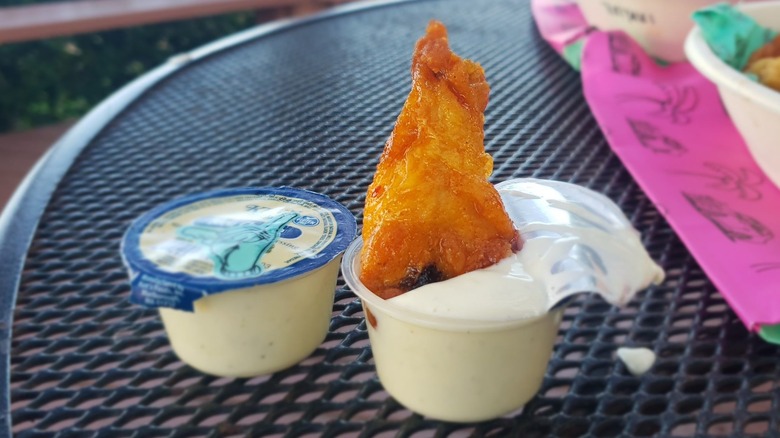 Matt Meltzer/Mashed
While DJ Khaled is most certainly the face of Another Wing, and the flavors were inspired by his tastes, he wasn't exactly toiling away in the kitchen to develop them. According to Bloomberg, ghost kitchen developer Reef Technology Inc. reviewed the artist's favorite foods and decided on wings as the way to go. From there, Reef's Head of Culinary Concept and Development Nicole Votano was tasked with creating a line of wing flavors that would please both the superstar and the masses. Her partner in this mad science experiment was Khaled's personal chef, Melissa Zuniga.
"We knew [Khaled] likes to do big things or go home," Votano told Mashed. "So we knew we wanted the flavors to be big."
Votano and Zuniga went through over a dozen different variations of different flavors, sampling many with DJ Khaled to make sure they got the taste just right. While he wasn't necessarily in the kitchen with them, he definitely had some say in the flavors, especially, Votano says, the Lemon Pepper. But more on that later.
How much are DJ Khaled's Another Wings?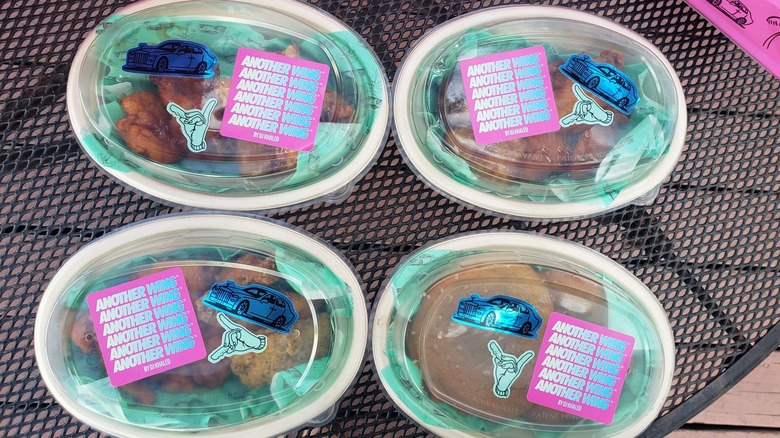 Matt Meltzer/Mashed
"Another Wings," though a clever allusion to one of DJ Khaled's trademark exclamations, is a bit of a misnomer. That's because the wings are far from just another deep-fried poultry appendage. The offerings come in the traditional bone-in flats, as well as boneless wings and strips. They arrive with a generous coating of breading too, far more than one finds in wings at many traditional restaurants.
The wings are cooked sous vide before they're fried, giving them a soft fall-off-the-bone texture. Though one might be tempted to write them off as yet another celebrity gimmick, Another Wings bring a texture and heft not commonly found in the delivery space. 
The wings are served in Miami Vice-inspired pink pastel bags with teal trim. The bags and to-go containers are also dotted with Khaled-centric stickers like classic cars and a big thumbs up. The entire experience is fun, if nothing else; even non-wing lovers can appreciate the creativity. Wing orders start at $6.95 on GrubHub and other delivery platforms, though that varies by location.
Another Wing offers eights flavors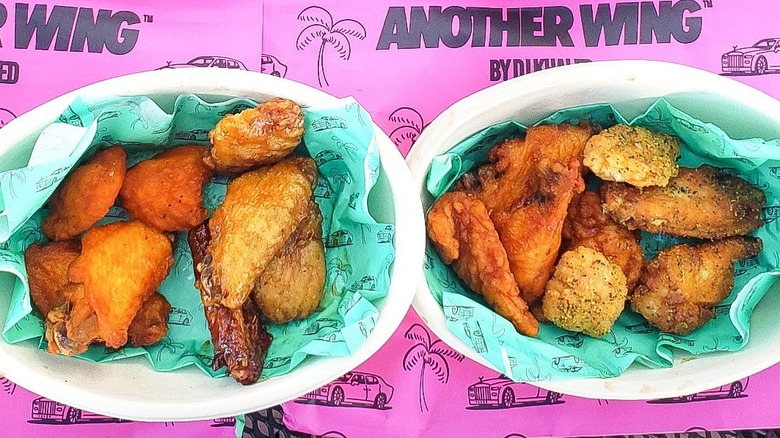 Matt Meltzer/Mashed
The puns run deep on Another Wings' menu, as it seems the folks who developed the wing names put as much work into the verbiage as the chefs did into the food. The 6-piece combo is called "Never Stop Winging," served with fries and a drink. The 10-wing combo? "All I Do is Wing." The chicken strip portion of the menu is called "Tender Talk." And the 15-30 piece combinations all fall under a section titled "Mogul Meals." Those are broken down into the Lion Order (15), Major Key (24), and Major Bag Alert (30).
But the real comic highlight comes when perusing Another Wing's flavor names. Not content to simply call them "Lemon Pepper" or "Teriyaki," Reef kitchens got clever. Sauce names include Honey! Honey! Hot Honey; They Don't Want You to Win Truffalo; Suffering from Success Sweet Sesame Teriyaki; Korean Fried Chicken Glaze ALERT; Un Un Unbelievable Buffalo; You Loyal! Lemon Pepper; Mogul Bourbon BBQ; and Don't Quit Nashville Hot. After trying them all, here's how they stack up.
Korean Fried Chicken Glaze ALERT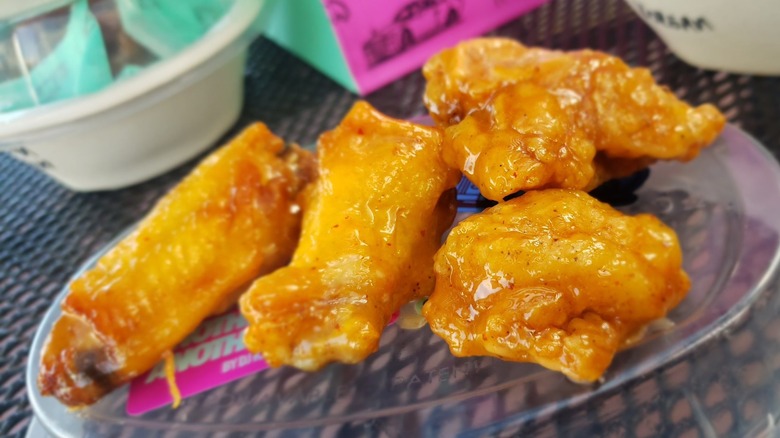 Matt Meltzer/Mashed
The Korean Fried Chicken Glaze ALERT is an odd mishmash of words, not to mention an odd mishmash of flavors. It sports a sweet, sticky sauce that at first hits like teriyaki, but finishes with a citrusy tang and a little bit of creaminess. Between the syrupy, crispy texture and the mild citrus tinge, the Korean wings taste more akin to lemon chicken — a dish more commonly associated with China. Then again, maybe a guy who gets lost on a jet ski in his own city shouldn't be expected to know all about Asian geography.
Our own thoughts aside, Votano explained to Mashed what she was going for in developing this flavor. "The Korean fried chicken came from an idea I got from another chef, where you can take that kimchi base and highlight it with Kewpie mayo," she said, "I added a little bit of honey, and it's not a flavor you'd find on a lot of menus."
Mogul Bourbon BBQ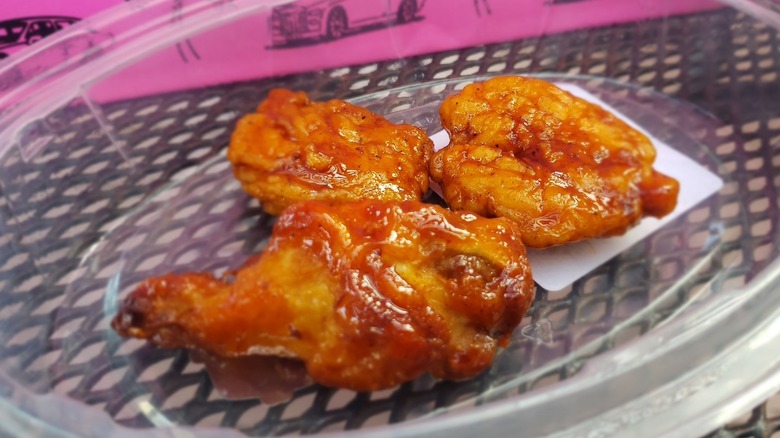 Matt Meltzer/Mashed
We're not sure what kind of mogul, exactly, this bourbon barbecue sauce was named after. Music industry mogul or a bourbon mogul, perhaps. But a more appropriate name would probably be "Sugar Baron BBQ," because this stuff tastes like Reef struck a backroom deal with Big Sugar to use as much of the stuff as legally possible. It doesn't really taste like any barbecue sauce we've ever tried. No, not even notoriously sweet sauces like Sweet Baby Ray's and other Kansas City varieties.
After the wave of sugar hits your mouth, the sauce comes in with a little bit of country. It seems more like a wing that would come from the mind of Lil Nas X than DJ Khaled. There's not much funk to it, nor much spice. If you're a lover of spicier barbecue sauces, you'll probably be disappointed. But if you like sugary stuff on your fried chicken, this might be the one for you.
Honey! Honey! Hot Honey!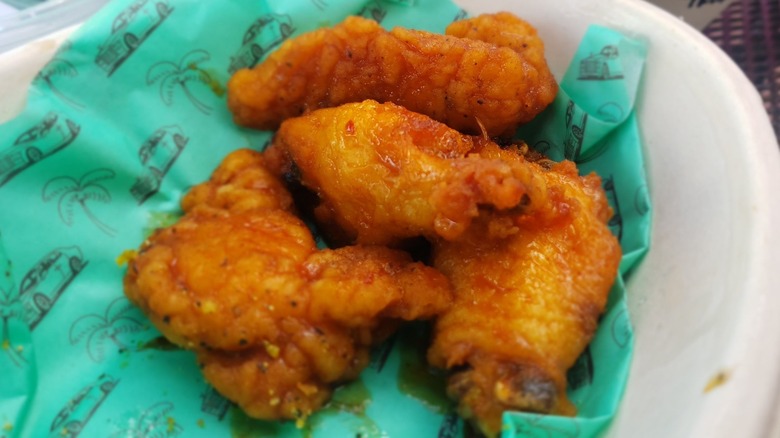 Matt Meltzer/Mashed
There's not a whole lot we can tell you about this wing flavor that the name doesn't already cover. Immediately after biting into the Honey! Honey! Hot Honey! wing, your tastebuds will agree. Winnie the Pooh would be delighted upon first bite, as a Mariah Carey-worthy hit of honey makes itself known. Once the honey wave subsides, notes of sweet tea start to take over, giving the wings a mellow, Southern mouth feel.
If you take a look at the Honey! Honey! Hot Honey! wings, you'll notice chili flecks drowned in the sticky sauce. But the chilis are barely noticeable. After scarfing down a few wings, the heat starts to creep in ever-so-subtly, but if you're trying these with other, more overtly spicy varieties like Buffalo or Nashville, they'll seem painfully mild. What we're saying is that there's truth in advertising with these wings. So if hot is what you're looking for, understand it's here, kind of, but smothered beneath a large dose of honey.
Suffering from Success Sweet Sesame Teriyaki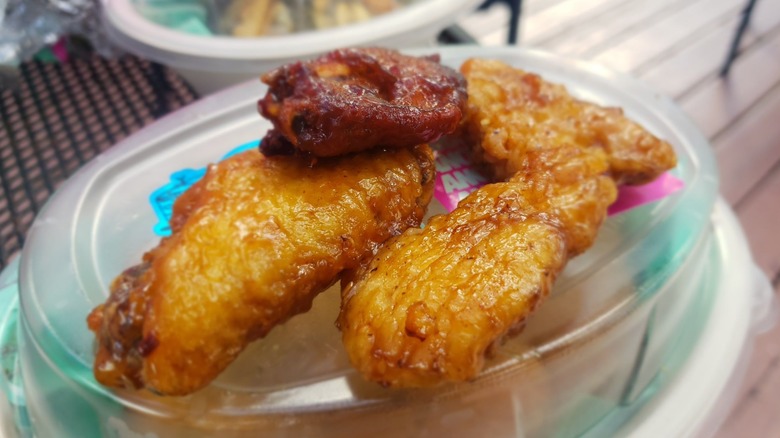 Matt Meltzer/Mashed
The sweet sesame teriyaki wings don't seem to be suffering so much from success as they are from an identity crisis. Yes, they're poultry. But bite into one of these — especially the boneless variety — and you might think for a minute these wings were masquerading as donuts. Of all the sweet flavors, the teriyaki is by far the sweetest of the bunch. That's unsurprising, given how sweet teriyaki sauce is in the first place.
But it gets amplified here. When the sauce is liberally applied to the sweet, thick breading of the boneless wings, we were strangely reminded of a glazed donut. It's not quite as obvious with the bone-in wings, however, which reminded us of the teriyaki shops that used to drown their chicken in sauce. Either way, your dentist won't be pleased, though anyone with a sweet tooth will be. If you're expecting anything resembling a distinctly Asian flavor, it's not all that present. But as chicken-for-dessert, it's a winner.
They Don't Want You to Win Truffalo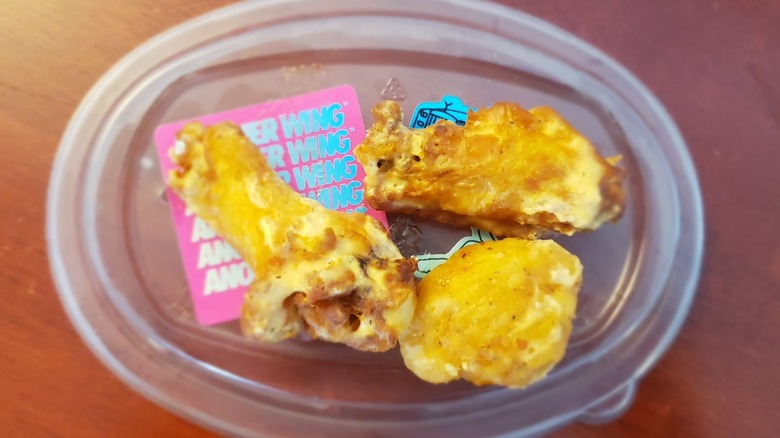 Matt Meltzer/Mashed
Truffalo — a portmanteau of a wing flavor combining truffle and Buffalo sauce — might be the only wing flavor from Another Wing we could describe as "trendy." The problem is that putting truffle in any sauce is kind of like putting a mezzo-soprano in a jazz choir — try as you might to blend it in, it's always going to overpower everything else. Reef, however, believed it could calm the truffle down by making this a creamy sauce rather than an oily one.
"Ours is different than a lot of the truffalo sauces because it has a creamy vibe, it has parmesan, Buffalo sauce, and black truffle oil," Votano told Mashed. "A lot of times when you put truffle and Buffalo together they argue, [but] we balanced it out by making it creamier."
To an extent, she's right. This isn't a truffle wing where the Buffalo sauce tries to raise its hand and immediately gets smacked down. It's well balanced, though it's also creamier than what a wing purist might prefer. If you like French food and other cream-heavy cuisines, this might be your top choice. 
Un Un Unbelievable Buffalo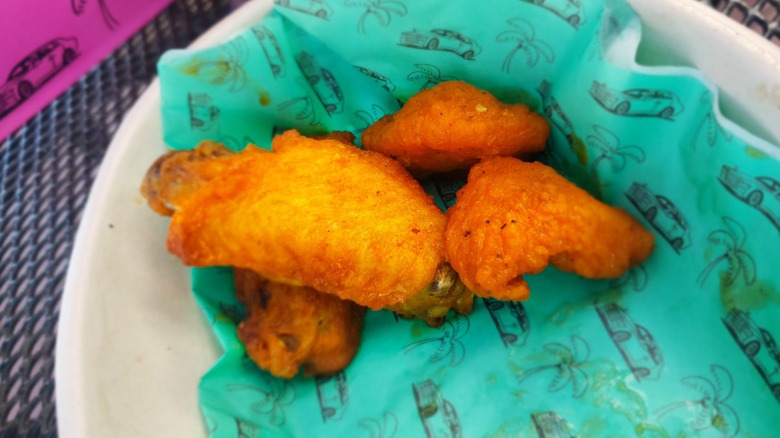 Matt Meltzer/Mashed
Just like fans know Buffalo football tastes like defeat (sorry, Buffalo Bills), they know Buffalo wings taste like pepper sauce, salt, and a little bit of butter. And this wing is exactly as expected. No big surprises here, as this is a classic Buffalo wing that doesn't try to reinvent the concept, bringing wing purists precisely what they came for.
This may be the most perfectly blended of all Another Wing's flavors, where neither the pepper nor the butter overpowers the experience. You won't find much heat here, though, so hot-heads might be well advised to look elsewhere on the menu for serious spice. Ultimately, nothing in the Buffalo wings smacks you in the face, nothing stands out, and nothing overwhelms you. You could eat an entire order of these and never feel overburdened. And while it's not the strongest or most outstanding flavor in the lineup, the Buffalo does its job in a workmanlike tribute to the city it's named after.
Don't Quit Nashville Hot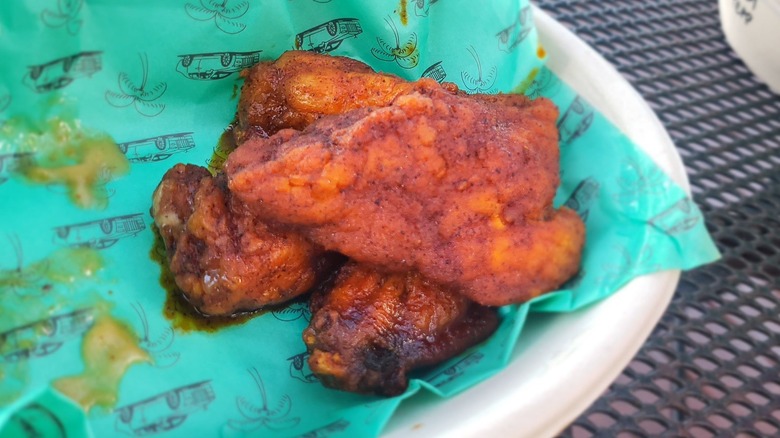 Matt Meltzer/Mashed
These wings are about as Nashville as a mid-level Silicon Valley executive who decided to "go country" and bought a 6-bedroom house in Franklin. But unlike the transplants, these wings are a welcome change. While traditional Nashville chicken is dripping in grease and spice, Another Wing's take on it is decidedly milder, with a smoky barbecue flavor that allows you to eat more than one or two.
"I love the Nashville hot boneless, because it soaks in, the outside gets really spicy, and the inside is like a big piece of chicken that balances it out," Votano says. "The Nashville hot you don't find on wings, I think it's cool to have it in a bite size version and not in a sandwich."
This is probably Another Wing's spiciest flavor, but it's not so aggressive that you'll think about quitting halfway through. Even if you're not big on hot stuff you can sample one wing, enjoy the campfire essence, and get out before your tongue catches fire.
You Loyal! Lemon Pepper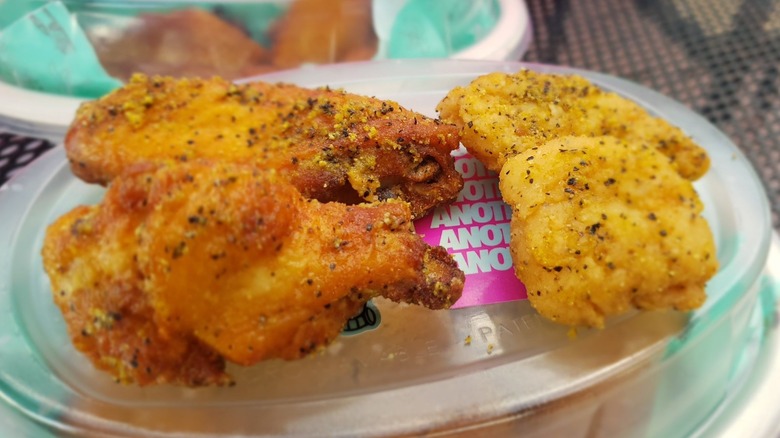 Matt Meltzer/Mashed
"Lemon pepper is DJ Khaled's favorite flavor," Votano told Mashed. "So we wanted to make sure this flavor was well represented, and do something different than what other people do with lemon pepper."
That they did. The lemon pepper wings are not tossed in sauce like the others, but rather a wet lemon-pepper rub and garlic butter. The result is a wing that'll make Khaled's hip-hop friends forget about anything they ever had at Magic City. Or, at least, any wings they had there. The lemon slaps harder than a DJ Khaled hook, hitting your mouth with garlic and citrus the minute it hits your tongue. The lemon lingers as the herbs start to creep in, creating a complex experience that lasts the entire length of each bite.
Votano suggests getting these ones bone-in. We agree, as the intensity of the flavor hides in the folds of the wing and brings unexpected bursts. These wings are accurately named. They're so good and so different that they'll make you loyal to Another Wing any time you're craving lemon pepper.
What comes with your wings order?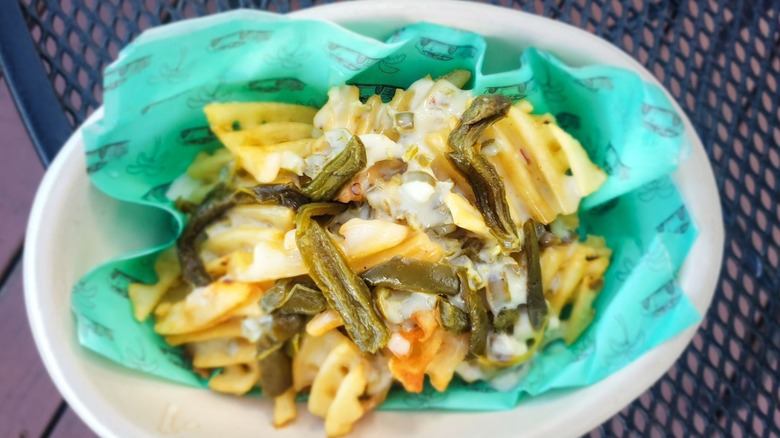 Matt Meltzer/Mashed
Oh, you thought the fun names stopped with the wing sauces? Then you don't know DJ Khaled. Each order of wings comes with one dip, and though, yes, technically they're more or less your standard wing dips, the names are equally as entertaining.
Blue Cheese is "Baby You Smart Bleu Cheese." Not into that? Go for the Holla at Me Honey Dijon. Meanwhile, the jalapeno cheese adds a nice kick to some of the sweeter wings. And though Another Wing insists their last sauce Ain't Regular Ranch, anyone from Buffalo would still bristle at ordering it. 
You'll also get a nicely-wrapped order of celery alongside the wings, perhaps helping you feel a little bit healthy while inhaling fried chicken. You can also order extra sides of any and all of the cleverly-named wing sauces, too, if you happen to be keen on making a Nashville Mogul Sauce, or Korean Fried Suffering.
Another Wing has even more sides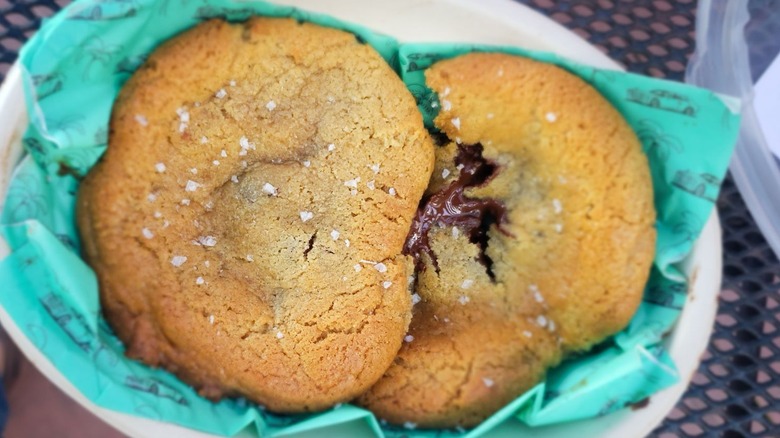 Matt Meltzer/Mashed
Because downing an entire order of Un Un Unbelievable Buffalo wings just isn't quite gut-busting enough, Another Wing also offers a full line of tempting sides and too-good-for-delivery cookies. Votano recommends the jalapeno cheese fries, as they're sort of her baby on the menu. Those come topped with a special blend of cheese that includes American, parmesan, and cheddar.
"Khaled loves waffle fries, so that was a not-negotiable," Votano told Mashed. "which is cool because it absorbs the cheese. There's this whole goopy experience where it sticks together."
You can also get your waffle fries with no toppings, or with truffle and parmesan. Non-potato fans can also opt for the onion rings. These are substantial and made out of actual rings, not onion puree. Yet they're sweet and greasy, and not nearly as intriguing as some of the other sides.
The cookies are as big as DJ Khaled's head and filled with ooey, gooey chocolate and topped with a sprinkling of sea salt. They could be a meal by themselves. Honestly, by the time you've crushed this whole menu, you'll probably want to save them for breakfast.