McDonald's Korea's New Burger Contains This Cheesy Comfort Food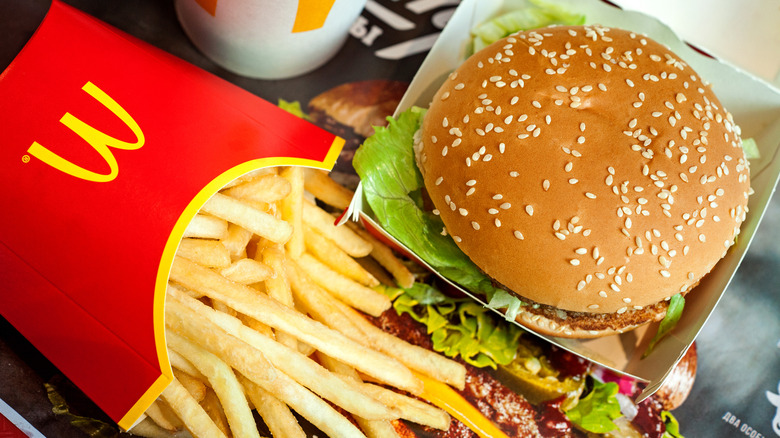 8th.creator/Shutterstock
There's nothing quite like hitting up a good ol' Mickey D's while you're traveling abroad to get a little taste of home — or a sampling of something totally new. Interestingly, while perusing the fast food chain's menus in other countries, you may find some choices you've never seen before. Take for instance the McDonald's menu in India, where you won't find any beef but will find the Big Spicy Paneer Wrap and a variety of rice bowls (via McDonald's India).
South Korea is another country where you can find some exciting McDonald's dining options. One of the items that might have Americans buying a plane ticket is the bulgogi burger, made of a beef patty marinated in sweet and savory bulgogi sauce, per McDonald's Korea. According to Easy Korean Food, bulgogi is traditionally made with garlic, sugar, sesame oil, and soy sauce. Now, there's another item on the Korean McDonald's menu that you won't find in the U.S., and it's giving us serious foodie FOMO since it contains one of our favorite homey treats.
McDonald's Korea's new burger has mac and cheese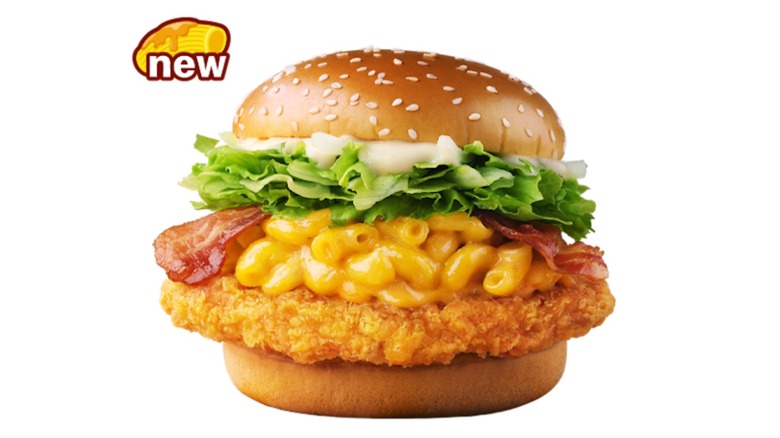 McDonald's
McDonald's has debuted its Spicy Mac and Cheese Burger in South Korea, according to Chew Boom, and it looks delicious. The extra-stuffed, photogenic sandwich gives customers a lot to look forward to, from a spicy chicken breast patty to mac and cheese made with cayenne pepper, cheddar cheese, and Grana Padano cheese. Are you googling the flight time to Seoul, yet?
As if the temptingly cheesy pasta and spicy chicken weren't enough, the Spicy Mac and Cheese Burger also contains crispy bacon, lettuce, and mayonnaise, all piled onto a sesame seed bun. The sandwich costs 6,200 Korean won, which we all know from watching "Squid Games" is not as expensive as it sounds at about $5.25. Customers who are lucky enough to make it to McDonald's Korea should be able to find the item at participating locations through November 24, 2021. The rest of us might have to get a little creative — maybe by trying out a mac and cheese recipe and serving the finished product inside our favorite McDonald's sandwich. If you try this method out, feel free to think of it as research, because we certainly do.