Aldi's Peppermint Bark Creamer Is Back In Time For The Holidays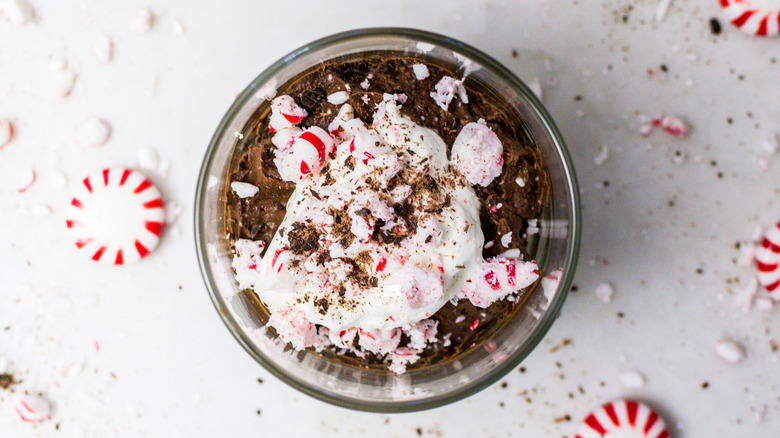 Alvarez Photography/Shutterstock
Candy canes and Christmas go together like peanut butter and jelly. While candy canes' eponymous shape, which Epicurious reports was created to resemble a shepherd's staff, is eye-catching, their sweet and refreshing flavor is the main draw. The reason the candy is so synonymous with Christmas today? A man named Bob McCormack founded Bobs Candies in 1919 to sell his striped candy, according to GPB. Decades later, his brother-in-law bent them into the cane shape and "created a new industry — the commercial manufacture of candy canes."
Many a mint product now flood the scene around the holidays as an homage to the traditional treat, from candy cane cookies at Trader Joe's to chocolate and peppermint ice cream at all of your favorite ice cream shops. Aldi, too, joins in the festive fun with its own buzzworthy play on peppermint treats. Last year, it was all about its peppermint pretzel stars. This year, of course, the grocery chain is outdoing itself by bringing back an old fan favorite.
Shoppers are super excited about Aldi's peppermint coffee creamer
Instagram account @theamazingaldi often highlights fun Aldi products that are new or returning offerings. Recently, the experienced shopper shouted out some minty fan favorites that have made their triumphant resurgence: the white chocolate peppermint bark coffee creamer and the non-dairy peppermint mocha almond milk creamer. Both are on shelves now, and according to Hip2Save, they cost $1.79 each last year, which means shoppers may be able to expect a similar price point for 2021.
Social media users are excited about these seasonal selections, which have arrived just in time to ring in the cold weather season with a warm, tingly beverage. One follower noted, "Already got my almond milk one! Tastes amazing!" and another commented, "Peppermint is awesome!!" If you're a fan of celebrating the holidays and all its traditional flavors, you can take these shoppers' feedback as an indication that these creamers will get you into the spirit.