Aldi Shoppers Can't Get Enough Of These Peppermint Pretzel Stars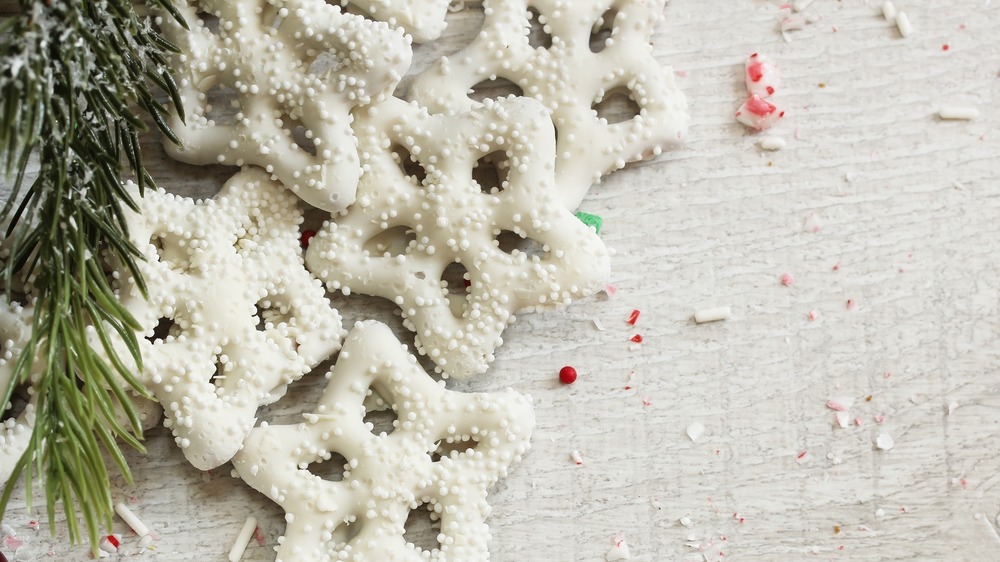 Shutterstock
If you're on the hunt for a festive snack with all the flavors of Christmas, look no further than Aldi. There, you can score a bag of Clancy's Dipped Peppermint Pretzel Stars, and yes, they are white chocolate-flavored and covered with bits of candy canes. Is there anything better than the combo of peppermint, white chocolate, and pretzels? Instagram user @theamazingaldi posted a picture of these treats, along with a collection of other Christmas-y goodies from Aldi, and followers were quick to confirm our suspicions – the pretzels are delicious. User @orlandoodle noted, "Peppermint pretzels are our annual fave," and @mamakuz72 exclaimed, "The peppermint pretzels are wonderful!"
These fans have good taste. Last year, Clancy's peppermint pretzel stars made Chowhound's list of "Aldi Finds That Will Get You in the Holiday Spirit" and in 2017, The Kitchn featured them on their list of "The 12 Best Stocking Stuffers to Pick Up at Aldi." Honestly, our Christmas would be complete if all we got was a stocking stuffed with white chocolate peppermint pretzels stars. Let's take a look at more details about these tasty treats.
Aldi's peppermint pretzel stars are inexpensive and easy to devour
Because Clancy's Dipped Peppermint Pretzel Stars come from Aldi, you already know they'll be reasonably priced. Instagram user @aldifavoritefinds' post about this holiday find reveals that a 7-ounce bag costs just $1.99. As far as we know, the pretzels don't come with a disclaimer, but Sarah Braden was kind enough to post one on Facebook. She warned, "Unless you want to eat this entire bag in a day, do not buy this. They are soooo good!" But, calories don't actually count around Christmas, right? So, we're good, and so is the commenter who added, "My husband just ate an entire bag last night!"
As long as you're heading to Aldi for your pretzel stars, be sure to grab an advent calendar, your holiday cookie kit, and, of course, a Winking Owl ornament. While you're at it, maybe pick up an actual bottle of Winking Owl – according to Candy Club a Moscato or Zinfandel might just be a perfect pairing for those white chocolate peppermint pretzel stars!