Reese's Massive New Pie Is Perfect For Thanksgiving Dessert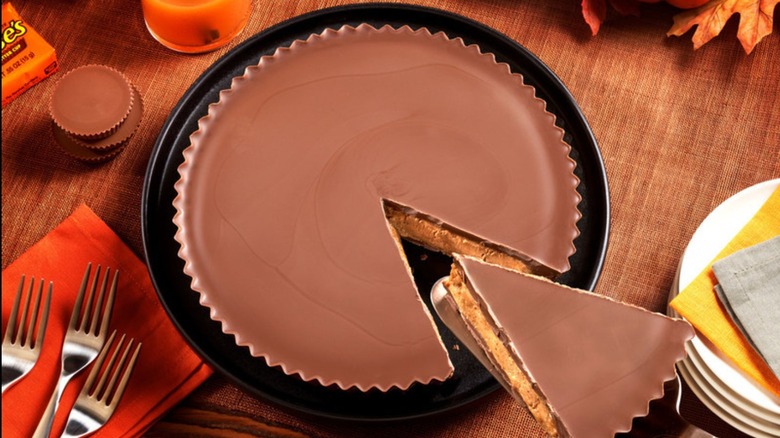 Reese's
With Thanksgiving Day just around the corner, those of us hosting the big event or attending a potluck have likely been bookmarking recipes for some time. Whether you're in charge of an appetizer, a side dish, or a dessert, we're willing to bet you've been scouring your cookbooks — or the web — for the best dips, stuffings, and pies. But if you haven't landed on what to make, or if you won't actually have time to whip something up from scratch, some anxiety might be setting in right about now.
Besides the turkey, what's the second food you think of when you think about Thanksgiving? Most of us go straight to desserts, which make their way to the holiday table in a number of forms, from apple, pecan, and pumpkin pies to cheesecake. And if you're bound and determined to serve a dessert this year, the level of work that goes into a homemade one might be a bit intimidating. So if you decide to go the store-bought route — and hey, no shame there — Reese's has your back. Read on to learn about the "pie" the candy company is offering for Thanksgiving this year.
It's a massive peanut butter cup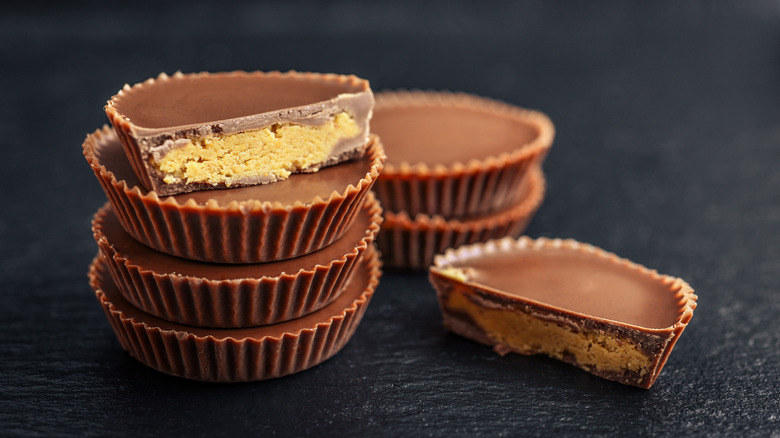 mama_mia/Shutterstock
If you love chocolate and you love peanut butter, you've likely enjoyed a Reese's Peanut Butter Cup — or several — in your day. This classic candy can be found in a variety of sizes that vary across the year, from the foil-wrapped Miniatures handed out to trick-or-treaters to a massive half-pound holiday version that's perfect for sharing at gatherings. And this year, Reese's is releasing its largest Peanut Butter Cup yet: a pie-sized version containing 48 servings (via Adweek). With a whopping 9-inch diameter and a hefty 3.25 pounds of chocolate and peanut butter (via The Hershey Company), this is one rich "pie" that any sweet tooth at the Thanksgiving table is bound to enjoy.
"When you bring together friends and family for Thanksgiving dinner, no table spread is complete without dessert. At Reese's, we wanted to create a dessert that everyone wants a piece of," Bo Jones, senior associate brand manager at Reese's, said in a press release.
Just a heads up: This sweet treat carries a hefty price tag of $44.99 and is already sold out. Although Hershey's said only 3,000 would be sold, hopefully, more are on the way through the company's online shop.