Why A Massachusetts Senator Tried To Ban Marshmallow Fluff From Schools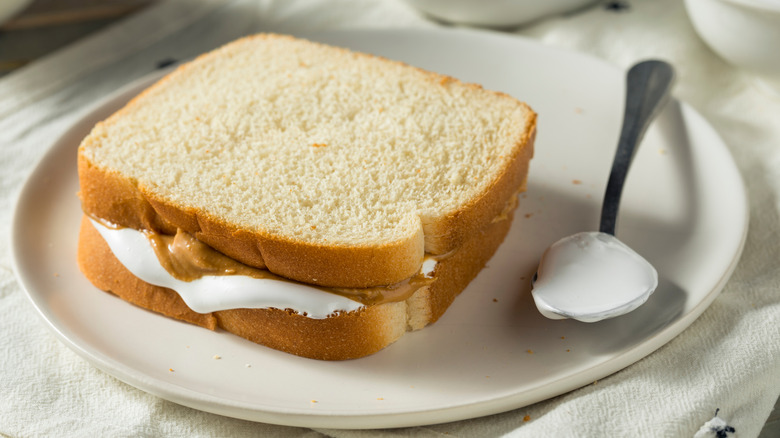 Brent Hofacker/Shutterstock
What the fluff? Apparently Michelle Obama was not the first person who attempted to regulate what kids could/should eat at school during lunch (AP News). In 2006, according to the LA Times, Massachusetts state Senator Jarret T. Barrios, incensed that his son had asked him to make a Fluffernutter, a marshmallow and peanut butter-based sandwich, to take for lunch, filed a measure that would limit the use of the oh-so gooey staple in schools.
This attempt at policing the product of his home state did not go unnoticed, or unchallenged. In fact, State Rep. Kathi-Anne Reinstein fought back against the idea with a bill that would make the Fluffernutter the official sandwich of their state. Although that legislature was stalled as of 2016, as reported by the Smithsonian, the sandwich does have its own day, October 8, which is known as National Fluffernutter Day (National Today).
The sandwich has become such an American staple that you can now find "Fluffernutter" in the official Merriam-Webster dictionary (via Boston Globe). And the city of Somerville, where it was incepted, boasts an annual "What the Fluff" festival that celebrates all things Fluff.
So what exactly is Marshmallow Fluff, and why the uproar? It is a simple sweet concoction made from corn syrup, powdered egg whites, sugar, and vanillin, a cost-effective substitute for vanilla. There's also some air included in the product but the precise amount has been kept under wraps.
The history of Marshmallow Fluff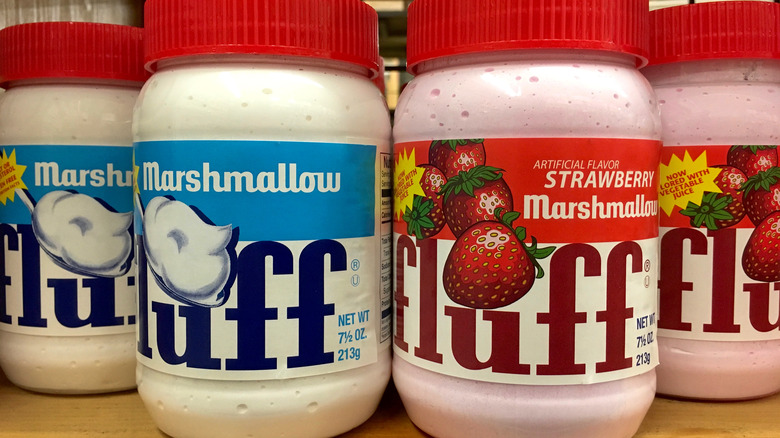 Sheila Fitzgerald/Shutterstock
Marshmallow Fluff is the indulgence, and late night binge, enjoyed by the likes of Barbara Bush (via Boston.com) and likely countless moms (and dads) looking for a spoonful of sweetness to assuage the day's stresses. This sweet treat in a jar dates back to 1917, when it was produced by Archibald Query, a Somerville resident, who sold the recipe to H. Allen Durkee and Fred L. Mower in 1920 (via Marshmallow Fluff). Over three decades later, the men teamed up with Nestle to create a recipe for fudge, and in 1966, they partnered with Kellogg's on a marshmallow rice cereal treat.
The sticky sweet substance lends itself easily to many confections from fudge to cheesecake, and pairs perfectly with peanut butter. In fact, peanut butter is a key part of the Fluffernutter sandwich, which was originally called the Liberty sandwich because during WWI, Americans were being asked to forego meat once a week (via Mentalfloss).
Senator Barrios' objections to the sandwich were based on his assertion that school nutrition was serious stuff (NBC News). He did not advocate for the removal of the sandwich completely from schools; He sought to limit it to a once-a-week treat. His objections, and attempted legislation, were apparently for naught, much to the relief, and delight, of Fluffernator fans and aficionados throughout this Fluffernutter-loving nation.