Instagram Is Loving Alex Guarnaschelli's Adorable Mom Brag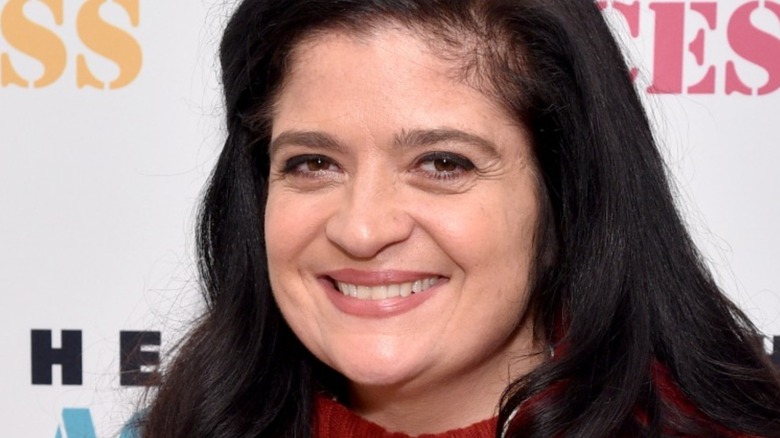 Bryan Bedder/Getty Images
Instagram loves authenticity — a highly variable concept depending on who is posting. A supermodel eating a slice of pizza might fit the mark, or perhaps a celebrity letting their followers in on some of the more intimate and mundane facets of their lives. Although Alex Guarnaschelli is most known for being a chef, restaurateur, and TV personality from shows like "Iron Chef," "Chopped," and "The Kitchen," her website biography starts with a job closer to her heart: mother.
In a recent Instagram post, Guarnaschelli showed just how proud she is of her daughter Ava. The post shows a video of Ava singing at a camp event a few years back. "​​I love the confidence, the uncertainty, the earnestness — all qualities she will never lose," the chef captioned, demonstrating her unwavering support for her child. "Makes me cry that I get to be her mom," she added, joking that if Ava saw the post, she would be in big trouble.
What do her fans say?
The comments make it clear that Alex Guarnaschelli's fans are obsessed with her sweet motherly post and the close look at her family life (via Instagram). Taking a cue from the lyrics, "she's on fire," designer Isaac Mizrahi commented the same about Ava, to which Guarnaschelli promptly replied, "No you are!" Ava's talents were not only perceptible to her mother, as dozens of people equally praised her extraordinary voice. Ree Drummond, aka The Pioneer Woman and fellow Food Network star, commented, "The dimension of this remarkable kid continues to amaze me." Clearly, the two women are friends because Guarnaschelli thanked her, adding, "Well, besides yours."
Celebrity fitness trainer Tracy Anderson was left totally amazed, commenting, "Oh my heart! She is a superstar!" One fan wrote, "Time to step aside mom," pointing out that the Guarnaschelli family would soon count two stars. Meanwhile, another wondered if Guarnaschelli could secretly sing, noting that singing voices were often hereditary. The chef quickly brushed off that hypothesis with a resounding, "NOPE." Lots of parents were moved by Guarnaschelli's post, sharing her pride in her offspring. Ava better enjoy the spotlight because she has her own set of fans eager for more!