Giada De Laurentiis Enjoyed This Sunday Dinner With Her 'Girl'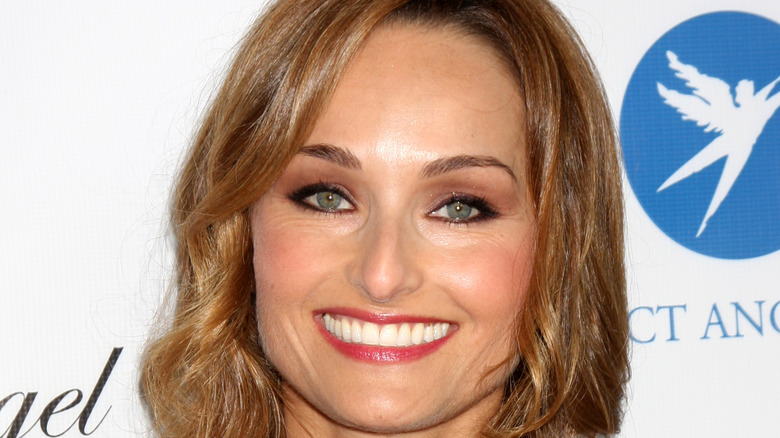 Kathy Hutchins/Shutterstock
Chef and television personality Giada De Laurentiis has been showing her fans how to whip up all kinds of Italian staples for nearly two decades now. De Laurentiis first started popping up on television screens across the country back in 2003 when her Food Network show "Everyday Italian" began airing (via IMDb). Although this particular show lasted until 2008, she also started up a variety of additional shows, including "Giada in Paradise," "Giada in Italy," and "Giada's Holiday Handbook." And those are just the shows that she's the star of — De Laurentiis has also served as a host on a variety of culinary competition shows, from "Food Network Star" to "Winner Cake All."
Given how much De Laurentiis has showcased her culinary skills over the years, you may wonder what exactly she eats when the cameras are off, and she's just making dinner for herself or for herself and her daughter, Jade. Well, if her Instagram stories are anything to go by, it seems she's devoted to Italian food through and through. Recently, she gave her 1.8 million Instagram followers a glimpse into what a Sunday dinner looks like when she's just cooking for her family by sharing a dish on her story. And given her skill with Italian fare, it's no surprise that it was a mouthwatering dish that had fans wishing they could sample it through their screens.
Mother-daughter moments
For a hearty Sunday dinner, Giada De Laurentiis made some simple pasta with broccoli, pecorino, and bacon, opting to treat her fans to a close-up of the delectable dish with a wooden spoon lingering in the shot. Small green pieces of broccoli were studded throughout, and rather than opting for a common pasta like fusilli or penne, she picked an unexpected choice for her base — campanelle, which look like little bells that have ruffled edges. (According to The Daily Meal, the Italian name for the specific type of pasta actually means "bells.") De Laurentiis paired the shot of the dinner with pale pink text that declared she was having "sunday dinner w/ my girl," adding a blushing smiling emoji that seemed to articulate how pleased she was with the time spent with good food and good company.
It isn't the first time De Laurentiis has referred to her daughter by that particular moniker. Just a week ago, she shared an adorable shot on Instagram in which she and daughter Jade were perched at the top of a set of stairs in Brooklyn, both holding plates and indulging in a tasty breakfast. While Giada still had what looked like a pancake surrounded by a few fresh raspberries on her plate, Jade had already finished her meal. And it's not just food-centric content that "her girl" features in — on Halloween, she posted a sweet Instagram shot in which the two were all dressed up in their costumes.