McDonald's Is Celebrating 50 Years Of Egg McMuffins With Throwback Price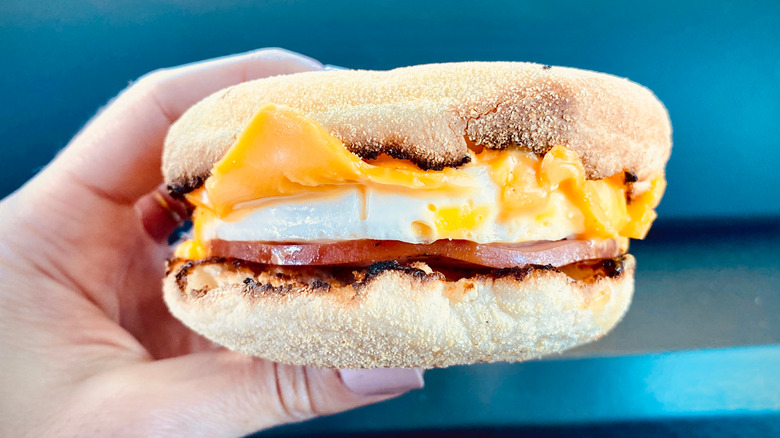 N K/Shutterstock
Egg McMuffin lovers have cause to celebrate this week as one of the world's largest burger and breakfast chains revealed a limited-time deal on its most iconic morning menu item. In a press release, McDonald's announced that in honor of the McMuffin's 50th anniversary, the price of the classic sandwich will go down to 63 cents for one day only: this Thursday, November 18th (via PR Newswire).
The famed breakfast sandwich, which McDonald's proudly touts as "the first-ever quick service restaurant breakfast sandwich," has been a staple on the company's menu since its debut in 1971. The concept for the sandwich came from Herb Peterson, a Santa Barbara, California franchisee of the chain (via the McDonald's India Blog). Peterson, who was a fan of Egg's Benedict, wanted to make a handheld version of the classic breakfast dish — and give his customers a reason to show up before noon.
After Peterson's delectable breakfast sandwich was a hit, McDonald's officially made the Egg McMuffin a part of the chain's nationwide menu in 1975. Since its inception, "customers have been getting creative with it," said Molly McKenna, McDonald's Senior Director of Brand Communications. Fans have long requested personalized adjustments to the classic sandwich, which standardly features Canadian bacon, an egg, and melted American cheese on a toasted English muffin.
The chain is encouraging customers to remix their McMuffins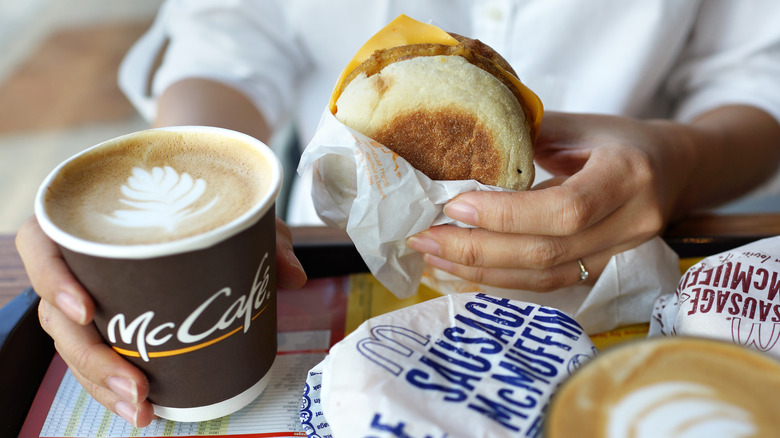 AngieYeoh/Shutterstock
"It's been fun to see all the ways [customers have] made it their own — whether it's adding some heat with salsa or sweetness with jam or combining it with the Sausage McMuffin, they're always innovating," McKenna noted in a press release, adding, "I personally love to add a little heat to my Egg McMuffin" (via PR Newswire).
In honor of its customers' creative twists on the sandwich over the years, McDonald's used this momentous occasion to encourage customers to customize their McMuffin to their heart's content. "From adding a McChicken patty and syrup for a DIY take on chicken and waffles, to swapping the English Muffins for two Hash Browns ... the ways to mix it up are endless," the brand shared.
Egg McMuffin fans who want to cash in on the limited-time price reduction should plan on rising early and getting their smartphone ready. The 63-cent throwback McMuffin price will be available exclusively through the McDonald's app and only during breakfast hours. After that, you just might have to wait another 50 years for this deal to come around again.