Auntie Anne's Is Bringing Back This Festive Favorite For 2021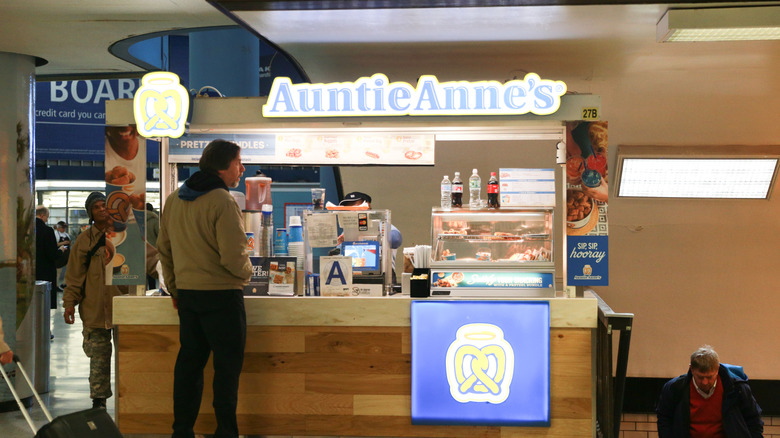 Helen89/Shutterstock
The first bite of a warm soft pretzel is truly something to savor, and perhaps no better pretzel comes to mind than a fresh pretzel from Auntie Anne's. From humble beginnings in a Pennsylvania farmer's market in 1988 (via Auntie Anne's), the pretzel company has found a home in everywhere from mall food courts to freezer aisles in your grocery store. Per Delish, the pillowy, slightly sweet, salty pretzels are baked fresh in-store every day and topped with melted butter, which is enough to get anyone in a twist. Any good mall-walker worth their salt could tell you a shopping trip isn't complete without those scrumptious pretzel dogs and a cup of ice-cold Auntie Anne's lemonade. 
Although the classic soft pretzels and little hot dog-pretzel nuggets are enough to beat the band, Auntie Anne's has a few items that are held with great esteem, not just for the delicious quality but the exclusivity. From items like the Peach Lemonade Frost to the Sriracha-flavored pretzels, there's no denying you would wait all year-round just to get another taste of those limited-time snacks. Fortunately, thanks to the magic of Christmas wishes, you don't have to wait very long to get not one, but two, limited-time Auntie Anne's menu items. They're charmingly festive, they're savory-sweet, and they're perfect for enjoying on a cold, snowing winter's night — or maybe just in the front seat of your car as you head home from Christmas shopping at the mall.
Auntie Anne's is bringing back Snowball Nuggets
For those of you who may not know what Snowball Nuggets are, imagine taking a tray full of those soft, buttery pretzel nuggets and, while they're still fresh and warm, you toss them around in powdered sugar until each nugget resembles a perfect handcrafted snowball. While you could probably eat these salty, sweet snowflakes all on your own, executives at Auntie Anne's think the treats would be perfect for snacking on while you watch a classic Christmas movie. 
Via People, Auntie Anne's and Freeform have teamed up to celebrate the 25th anniversary of the network's 25 Days of Christmas. Cynthia Liu, Auntie Anne's vice president of marketing, talked about the collaboration in a press release (via PR Newswire). "Auntie Anne's is thrilled to introduce a new, limited-time, sweet and salty duo for pretzel lovers to enjoy this holiday season," said Liu. "Whether shopping at the mall for gifts, or binge-watching Freeform's '25 Days of Christmas' at home, our Peppermint Chocolate Frost and Snowball Nuggets are the perfect addition to any holiday plans."
Not only is Auntie Anne's bringing back Snowball Nuggets, it is also bringing back the Peppermint Chocolate Frost. The Peppermint Chocolate Frost is a frozen chocolate and peppermint drink, topped with a mountain of whipped cream and sprinkled with crushed peppermint candy pieces. You can purchase the Snowball Nuggets in cup-size or in bucket-size, depending on if you're sharing or not this holiday season.