How Domino's Is Supporting Small Business Owners
Since the onset of the COVID-19 pandemic, more than 110,000 U.S. restaurants have closed permanently, with many others struggling to get by on a daily basis. To combat the closure of restaurants in their own communities, a group of Domino's Pizza franchisees recently joined forces to put their monetary support behind locally-owned eateries, while encouraging others across America to do the same.
The five participating Domino's stores — which are based in the Denver, Louisville, Phoenix, Laredo, and Boston areas — purchased over $100,000 worth of $50 gift cards from restaurants of all kinds in their local communities. The gift cards were given out throughout early November to roughly 2,600 randomly selected Domino's delivery customers who were encouraged to use the cards to order directly from the restaurants, rather than through delivery apps. While food delivery orders have more than doubled since the onset of the pandemic, the steep fees charged by third-party food delivery apps are often destructive to small businesses that already have a thin margin of profit.
In a press release shared with Mashed that celebrates the grassroots initiative, Domino's noted that a large portion of their worldwide presence is "made up of stores owned by hundreds of independent franchise owners, with more than 95% of them starting as Domino's delivery drivers or pizza makers."
"Running a restaurant is tough," said Russell Weiner, COO of Domino's, in the release. "Our franchisees benefit from being part of a brand that has operations and technology built for delivery. However, many small restaurants don't have a system for delivery ... [and] third-party delivery apps are charging local eateries high fees to deliver, which are taking away much of their earnings."
Domino's franchisees have teamed up to help local mom-and-pop restaurants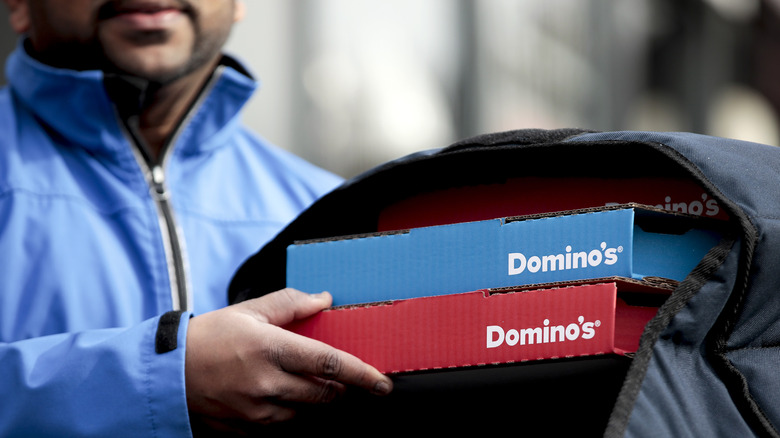 Bloomberg/Getty Images
In a YouTube video, Domino's highlighted a number of local restaurant owners and the Domino's franchisees supporting them in this new initiative, emphasizing the importance of ordering direct from small businesses rather than going through third-party delivery apps.
"Owning a restaurant over the past year-and-a-half has been incredibly brutal," said Irene Li, owner of Mei Mei Dumplings in Boston, MA. "[The delivery apps] take a huge chunk of our bottom line. They actually take our bottom line five times over and all of that comes out of our pocket and goes to them. We love that Domino's has supported other restaurants, and driven their customers to these mom-and-pops that can really use the help."
"Friends of mine that own restaurants were struggling, because they were having to reinvent themselves overnight," added Steve Dolan, an Arvada, CO-based Domino's franchisee. "The best way that customers can support local restaurants now is go back to those restaurants directly — don't use delivery apps."
Dolan was one of the four franchisees that purchased a bulk order of gift cards from local businesses to dole out to Domino's customers. "Our customers were able to go visit these restaurants again and no one got hit by delivery app fees," he said. "It just feels really good to do that for people that I know are going to help impact our community in a positive way."
"Being locally owned and operated myself, I love the idea that we were able to help other local restaurants in the area," said Boston-area Domino's franchisee David Jenks. He and the other participating franchisees (plus one corporate-owned store) hope that their show of support for local restaurants will inspire diners nationwide to ditch the delivery apps and support mom-and-pop eateries directly, one meal at a time.