Cicis Is Bringing Back This Popular Pizza Style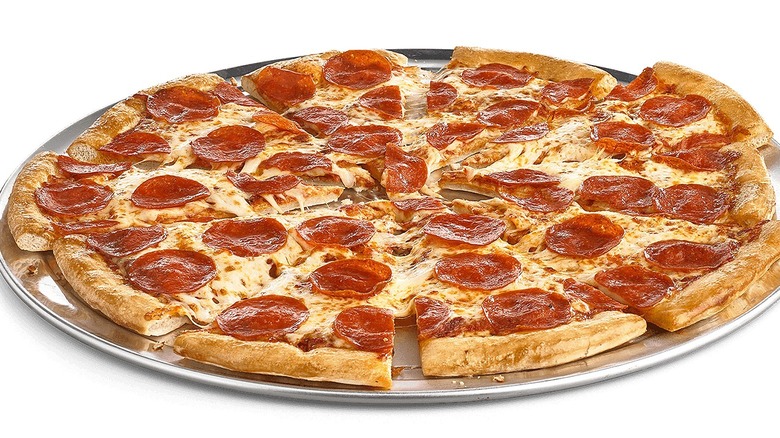 Cicis Pizza
Cicis Pizza, known across most of the 50 United States, anyway, for affordable buffet pizza, announced this month that it is bringing back a crowd-pleaser. Cicis' deep-dish pizza, with the toppings that go all the way to the edges, is back, according to QSR.
Early rumors that COVID-19 would kill off the buffet restaurant (via Marketplace) turned out to be exaggerated. As Politico and Today report, the buffet experience made a comeback with the rest of the restaurant industry, although with major modifications. Cicis continues to offer its buffet, with wings, salad, pasta, and pizza of course — now including the deep dish pizza. Like other restaurants that rely heavily on the buffet format, Cicis is investing in its digital presence, per QSR. As an alternative to wading through the buffet next to all those strangers with unknown contact histories, Cicis invites its customers to order meals online or through its new MyCicis app, for pickup or delivery.
Deep dish is one of many pizza options at Cicis
Cicis' wide-ranging pizza menu, which you can find online, includes the standard pie — round, with a thinnish crust — in addition to the even thinner flatbread pizza, the innovative stuffed crust pizza, and the beloved deep-dish pizza. (Regarding the stuffed crust pizza, to give credit where it's due, that particular innovation belongs to Pizza Hut, per Pie Five Pizza.)
Deep-dish options include cheese, pepperoni, and Meat Eater. That last one piles on the ham, beef, and sausage, in addition to pepperoni. Cicis says you can customize your deep-dish pizza order, whether you're online or about to jump in line for the buffet (via QSR).
"We're excited to bring back this beloved menu item with even more delicious options," Cicis President and Chief Operating Officer Jeff Hetsel said. "This just adds to the endless ways Cicis is able to continue expanding offerings both on the buffet and beyond our storefronts, to reach customers from the comfort of their homes."
The single-topping deep-dish pizza is $9.99, per QSR, which shouldn't hurt Cicis' reputation, originally from a CNN Money report, as "the No. 1 Casual Dining Pizza Chain (for your money) in America," as mentioned on the chain's website.