The Sweet Reason Eric Wareheim Loves Friendsgiving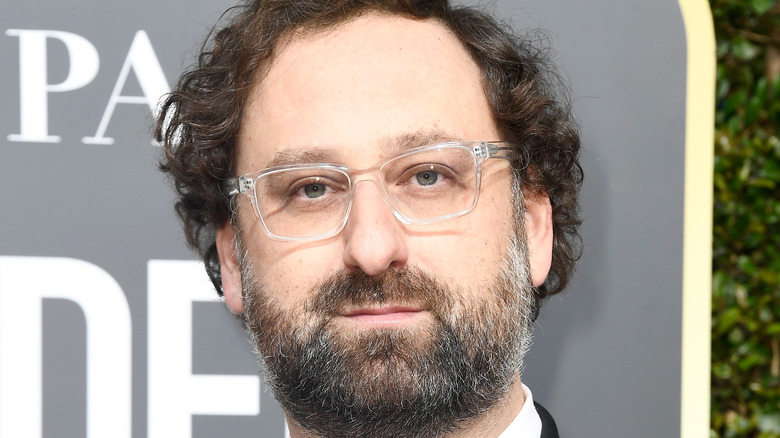 Frazer Harrison/Getty Images
We may receive a commission on purchases made from links.
Eric Wareheim might be best known for his part in the comedic duo, "Tim and Eric," but the actor also has some cooking chops. This year, Wareheim published his first cookbook, "Foodheim," which hit the New York Times bestseller list and had Hollywood comedic icon Jack Black drooling over the recipes with a pretty awesome endorsement. "A book with all the recipes to Wareheim's insanely delicious secret sauces? And a sneak peek at the man behind the curtain?? I'll take two please ... extra crispy!!!" Black wrote (via Amazon). The book is full of tips on how to host an "epic" party, which is just the kind of info we are looking for as we begin our coast into the Thanksgiving holiday week and prepare our Friendsgiving. 
If you are not familiar, Friendsgiving, as defined by Merriam Dictionary, is a blending of the words "Thanksgiving" and "Friends" and is a feast had with friends either in place of or around Thanksgiving. As Delish pointed out, it is an opportunity to create some fun and meaningful traditions with friends whom you may not be related to by blood, but are still very much family. Wareheim shared with Eater that he is a big fan of the gathering and there is a very sweet reason why Friendsgiving is so meaningful to him.
Wareheim hosted a Friendsgiving at 18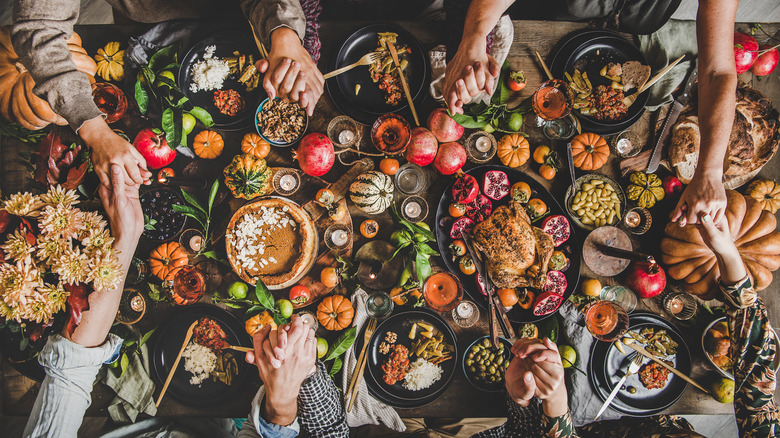 Foxys Forest Manufacture/Shutterstock
Eric Wareheim shared with Eater that his first Friendsgiving happened while he was growing up in Philadelphia. "I grew up in Philadelphia, and I was part of the hardcore punk rock scene, and we were all vegetarian at the same time for political and animal rights reasons," Wareheim recalled. "We would get together and make these huge Friendsgivings together, and we'd all try a dish."
Of course, Wareheim was just a teenager — 18 — and as he explained, the cooking was either amazing or not so much. While food is always an important part of a meal, that's really not what the gathering was about. "But it really was about getting your buddies together, and cooking together, and just hanging all night, not even thinking about the traditions of turkey and mashed potatoes," Wareheim revealed.  
It's a pretty significant holiday for the comedian, and that's why he wants to take some of that stress off you this season and bring you and your friends closer. So whether you are a newbie to Friendsgiving or a full-on expert, Wareheim is participating in Messenger's "How We Friendsgiving Watch Together" special and will walk you and your friends through how to prepare an Italian-themed Friendsgiving. The whole gang can view it together by starting a video call in Instagram or Messenger.