The Reason Trader Joe's Fans Ignore The Cook Times For Frozen Food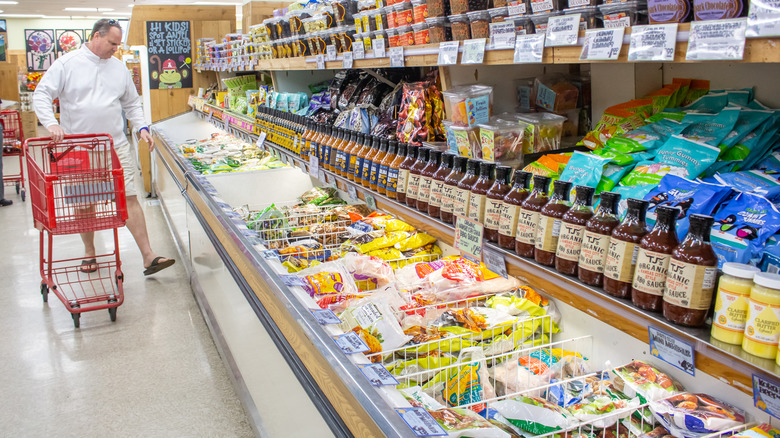 TonelsonProductions/Shutterstock
While there are a lot of reasons to shop at Trader Joe's — from the famously great customer service to the well-priced produce — people are especially obsessed with the grocery retailer's plethora of frozen foods. This became even more true in 2020 amid the pandemic, as more and more people started cooking at home. According to Winsight Grocery Business, frozen food sales increased some 23% from the year before, and Trader Joe's noticed a similar trend at its stores. Walk down the frozen food aisle at your local Trader Joe's and you'll understand why. There's something for everyone, with popular picks including mandarin orange chicken, cauliflower gnocchi, and Thai shrimp gyoza.
As with any packaged food you buy at the grocery store, Trader Joe's frozen food has instructions on how to properly prepare it, whether it's something you toss in the microwave or put in the oven to heat up. However, many shoppers have taken to Reddit claiming that they don't follow the given cook times on the back of the package. Here's why, and what you should be doing instead.
Trader Joe's cook times aren't always accurate
VH-studio/Shutterstock
In a recent Reddit thread, one user asked people to share their best Trader Joe's hacks. The responses varied, of course, but many Redditors commented that they don't follow the cook times on the frozen foods they buy from Trader Joe's. The reason? They're rarely correct, resulting in a meal that's either under- or over-cooked. "If I ever follow the instructions they never turn out right," one person said, while another chimed in, "You're better off guessing than following the instructions most of the time."
Yikes. So what should you do to avoid dried-out macaroni and cheese or shepherd's pie with a frozen center? According to some shoppers, your best bet is to increase the time and the temperature. However, it depends on your oven or microwave wattage, so adjust accordingly. Experts at the University of Minnesota also recommend stirring your food frequently as it cooks to help it cook evenly.